Fans Praise Halle Bailey Playing Ariel in 'The Little Mermaid': 'Black Girls Can Have Fairytales Too'
With the news that Halle Bailey has been cast as Ariel in Disney's upcoming live adaptation of The Little Mermaid, a number of people have taken to social media to praise the decision to introduce more diverse princesses in Disney films.
It was announced on Wednesday that the 19-year-old R&B singer has been selected by the movie's director Rob Marshall (Chicago, Mary Poppins Returns) to play the role.
"After an extensive search, it was abundantly clear that Halle possesses that rare combination of spirit, heart, youth, innocence, and substance—plus a glorious singing voice—all intrinsic qualities necessary to play this iconic role," said Marshall in a statement.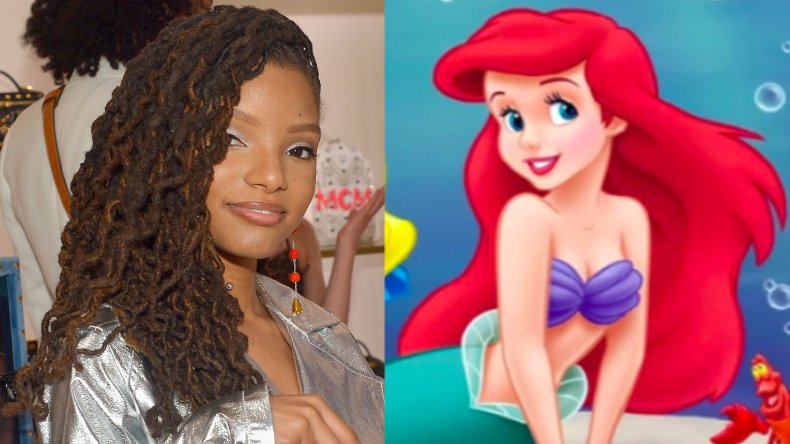 The Chloe X Halle member joins a cast that already includes Jacob Tremblay and Awkwafina. Melissa McCarthy is in talks to play the movie's villain Ursula, according to Variety.
After the news came out, a number of people took to social media to exclaim their delight that a black woman had been cast in the lead role.
One person wrote on Twitter: "For a little Black girl who grew up obsessed with the 1989 movie and made her first email addy BlackAriel - THIS IS A DREAM! I can't wait to wallpaper every inch of my belongings with images of Halle as Ariel."
"As a white-skinned redhead, I have very strong feelings about #TheLittleMermaid. Ariel changed my ginger world. The mean 'jokes' ended. I became envied for my hair. And you know what? I want little black girls to experience that same feeling with new Ariel," another posted.
Another pointed out: "first black cinderella. first black belle on broadway. first black cinderella on broadway. first black ariel. black girls can have fairytales too."
But not everyone was pleased with the decision. In a widely circulated tweet, one person wrote: "Us white girls, who grew up with The Little Mermaid, deserved a true-to-color Ariel. Disney, you made a huge mistake by hiring Halle Bailey. This is going in the TRASH."
This will be the first time a theatrically-released Disney film has cast a woman of color as a princess in a traditionally white role. In 1997, singer Brandy Norwood played the title role of Cinderella which aired as part of the The Wonderful World Of Disney made for television film series. Up until now the only princess of African heritage in a Disney film is Tiana from 2009 animation The Princess and the Frog.
The Little Mermaid will be Bailey's feature film debut. The movie is due to incorporate classic songs such "Under the Sea", "Part of Your World" and "Poor Unfortunate Souls" from the 1989 original, along with new music from original composer Alan Menken and Hamilton creator Lin-Manuel Miranda. Production is expected to begin next year.