When Is the Fracture: Tenrai Event in 'Halo Infinite'? Start Time Revealed
Fracture: Tenrai is the first big post-launch event for Halo Infinite's multiplayer and is due to kick off later on Tuesday.
In an unprecedented move, Halo Infinite was actually released a few weeks earlier than originally advertised on November 15. Since then, the game has been a chart-topping success and has generally been met with an enthusiastic response from critics and fans alike, hailed as a return to form for the storied franchise
Halo Infinite is free to play on Xbox and PC platforms, so you don't have to pay a cent to enjoy multiplayer matches with your friends. Yet, much like Fortnite or Call of Duty: Warzone, the game does incentivize you to spend money (via microtransactions and a rather grindy battle pass) so that you can unlock new cosmetic options for your Spartan super-soldier.
Specifically, you can earn new vehicle sprays, weapon charms, A.I. companions and costume pieces to help your online avatar stand out from the crowd. While most of these items can be won by simply levelling up through the battle pass, gamers have noticed that a few particular cosmetics must instead be unlocked by fulfilling different criteria.
One of these more alluring prizes is the "Yoroi" armor core, which gives you the appearance of a futuristic samurai warrior. At the time of writing, there is no way of equipping this attention-grabbing skin, but that is about to change with the imminent Fracture: Tenrai event.
What Is the 'Halo Infinite' Fracture: Tenrai Event?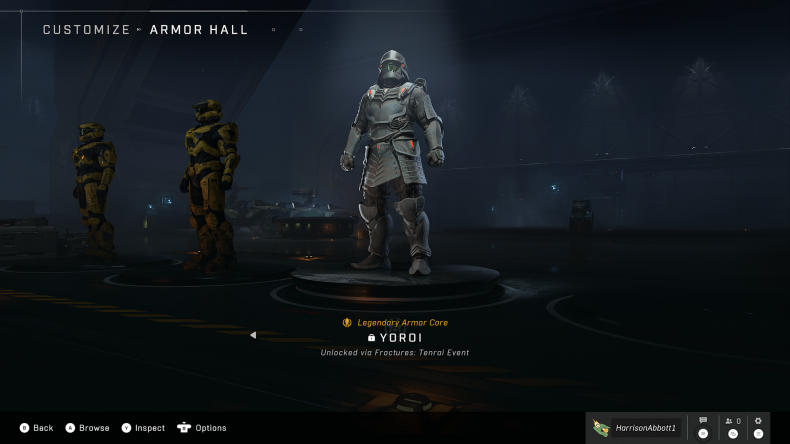 The Fracture: Tenrai event will see a bunch of limited-time challenges added to Halo Infinite's multiplayer. If they're anything like the ones already in the game, these will task you with completing various team-based objectives, racking up certain types of kills and generally just playing a lot of matches.
By participating in the challenges, you will be able to level up through a unique "event pass" (which is not to be confused with the premium battle pass). The further you progress through this tiered system, the more limited-time rewards you unlock.
According to leaks from reputable data miner @_FireMonkey, the Yorio core will be one of the earlier prizes in the event pass, unlocking at rank 5. After you have got that, you will be able to earn additional armor pieces, XP boosts and customization options for your player ID emblem.
At the time of writing, the specific details of the Fracture: Tenrai challenges are still being kept under wraps.
When Is the 'Halo Infinite' Fracture: Tenrai Event?
One thing that we do know, however, is when Fracture: Tenrai will begin. As revealed in a post from the official Halo Twitter account, the event will commence on Tuesday, November 23.
The specific release time will be at 10 a.m. PST. This translates to 1 p.m. ET and 6 p.m. GMT.
It's worth noting that you will have a limited amount of time to complete the various challenges here and to progress through the event pass. This is because Fracture: Tenrai will only be active for a single week, like the recent Halo anniversary celebration. As such, if you desperately want that Yorio armor core you need to get playing right away.
This isn't the only event planned for Halo Infinite's debut season of content, as the new roadmap indicates that there is also going to be a special winter celebration, a tactical ops experience and a "Cyber Showdown."
Halo Infinite's multiplayer component is free to play right now on Xbox One, Xbox Series X and PC.