'Fortnite Cubed': What Are Punchcards in 'Fortnite' Season 8
Fortnite Chapter 2, Season 8 has officially launched and has reintroduced punchcards. Here is everything you need to know about this unique progression system.
What Is 'Fortnite Cubed'?
Fortnite's Invasion season came to an explosive end (literally) on Sunday, 12 September when countermeasure bombs were detonated aboard the alien mothership.
This live event, titled "Operation: Sky Fire", also depicted the return of fan-favorite "Kevin the Cube", who crash-landed on the island when the vessel was destroyed. This time the interdimensional entity is not alone though, as dozens of other cubes have been scattered around the map as well.
Located at various points of interest, these mysterious blocks are now causing strange anomalies to occur in Battle Royale matches. Gravity is warped by their influence, they have created strange energy tubes that allow you to zip around at great speeds, and a gateway to the "Sideways" dimension has also been opened.
Seeing as these cosmic artefacts are so integral to the new storyline, it makes sense that Season 8 would be named after them, with it officially being titled "Cubed".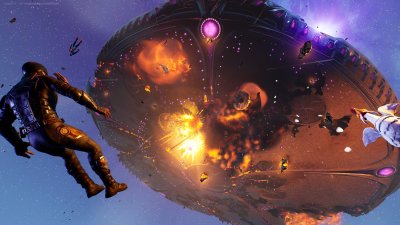 What Are Punchcards in 'Fortnite'
As expected, Season 8 brings seismic changes to Fortnite and there are plenty of new concepts to wrap your head around.
The weapons roster has been expanded with guns from the sideways dimension, zombie-like monsters now prowl certain areas, and there is inevitably a fresh battle pass to be working through.
Another change that might catch fans off guard is the return of punchcards. As a notification explains when you first log in to Season 8, these are challenges that allow you to earn some additional experience points (XP) while competing in online matches.
You can view them by opening the "My Quests" menu and then pressing the up button to navigate to a brand-new tab. Here you will see that there are daily punchcards, weekly punchcards and character punchcards for you to be undertake.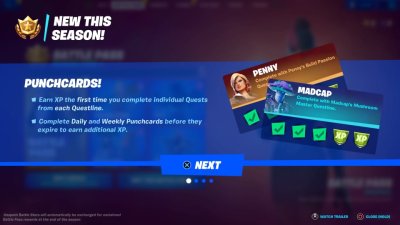 Punchcards are basically multi-stage challenges, and you will be rewarded for finishing each of their respective tasks. In other words, you can partially complete one and will still be rewarded in some capacity, but there is more XP up for grabs if you manage to complete everything.
The character punchcards are exactly the same as the lengthier quests featured in Fortnite Season 7. In a nutshell, you can talk to various NPCs dotted around the island and they will assign you a string of optional missions to complete. Some of these could be fetch-quests that task you with gathering specific resources, while others might require you to do things like rack up kills with certain weapon types.
For instance, Fabio Sparklemane is currently offering a questline that task you with dancing in increasingly hazardous situations (like in the middle of a firefight). There are five objectives in his punchcard, with each stage offering more XP than the last.
Meanwhile, the daily and weekly punchcards track more generic milestones that must be completed before a given expiration date. For instance, one of the current weekly challenges is to spend 500 gold bars.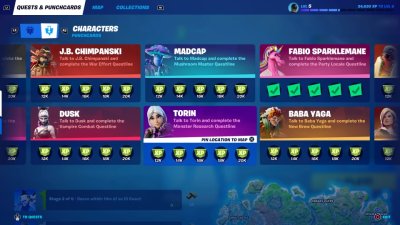 'Fortnite' Season 8 Punchcards: Week 1
The punchcards at the time of writing are as follows:
Daily (13 September)
Complete 5 quests
Complete 3 quests from Fabio Sparklemane
Complete 4 uncommon or better quests
Weekly (13-20 September)
Complete a daily punchcard
Place Top 10 with friends 5 times
Spend 500 bars.
By completing punchcards, you can increase the rate at which you earn XP and level up through the battle pass. In turn, you will then be able to unlock more battle stars that you can use to redeem cosmetic rewards of your own choosing. These include new loading screens, lobby tracks, skins, harvesting tools and back bling. Not to mention, you can also use battle stars to procure V-bucks for your item store wallet.
Fortnite's "Cubed" update is available to play now on Xbox, PC, PlayStation, Android and Nintendo Switch.