'Fortnite': Week 14 Full Legendary Quest List and Walkthrough
This week marks the end of Fortnite's Invasion season, which is looking to go out with a bang when "Operation: Sky Fire" hits in just a few days. In anticipation of this, the final legendary questline for Season 7 has been released and tasks you with preparing for the imminent live event.
Legendary quests in Fortnite offer limited-time assignments with generous XP rewards. They can be distinguished by their orange color coding on the mission log, and you typically have a full week to complete them.
However—with "Operation: Sky Fire" scheduled for Sunday, September 12—you will have far less time to complete the latest batch of missions.
What Is 'Operation: Sky Fire'?
For a bit of context, Operation: Sky Fire will see the Imagined Order (IO) finally putting an end to the Kymera invasion that has been plaguing Fortnite island for the past three months.
Earlier this week, the aliens began abducting the landmass of Corny Complex into their mothership. Unbeknown to them, IO had previously hidden explosive devices in the region and plans on detonating all of them once they are aboard the enemy vessel.
It is reminiscent of the famous Trojan horse ploy, only instead of concealing soldiers the Corny Complex islands are rigged with bombs. The upcoming "Operation: Sky Fire" event will allow gamers to see how this all plays out in real time.
'Fortnite' Season 7 Week 14 Legendary Quest List
Week 14's legendary questline is dedicated to making preparations for "Operation: Sky Fire" over the course of six different missions.
It is worth noting that you can only complete one stage per battle royale game, so it will take a minimum of 6 matches for you to be able to finish the whole thing.
Below is the full list of every stage in this week's legendary questline in Fortnite.
Stage 1: Answer a payphone
Stage 2: Warn 3 characters about the "impending doom"
Stage 3: Place down 4 warning signs
Stage 4: Shut down power to 2 radar dishes
Stage 5: Spoil the mole's sabotage attempt
Stage 6: Confront the mole
'Fortnite' Legendary Quest Stage 1
The first mission is straightforward enough and simply asks you to take a call from Doctor Sloane at any given payphone on the map. If you look at the mission briefing in the quest tab, you will see that markers have been placed at every phone location on the island, so you can easily find them.
'Fortnite' Legendary Quest Stage 2
After speaking with Doctor Sloane, you will then need to begin spreading the word about the mothership's imminent destruction and how the UFO will soon be crashlanding on Fortnite island. To do this, you will need to speak with three random NPC characters (locations pictured below) and alert them of the upcoming danger.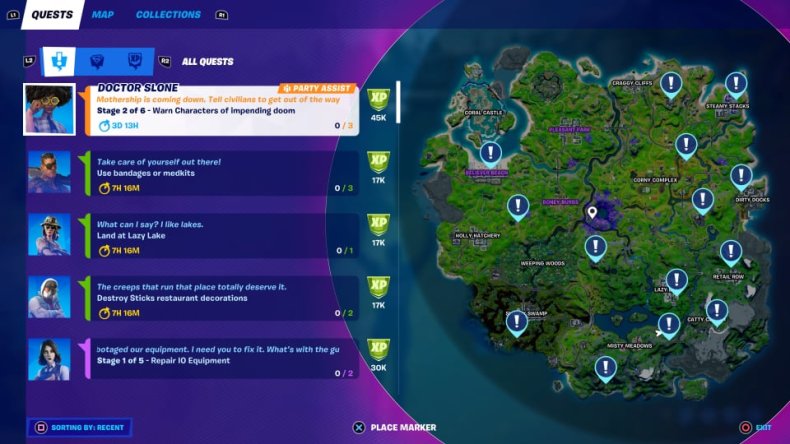 'Fortnite' Legendary Quest Stage 3
Once you have done that, you must then put up at least 4 warning signs at either Pleasant Park, Dirty Docks or Misty Meadows.
To do this, you will need to look out for the blue outlines indicating where the signs can be planted at each of these locations.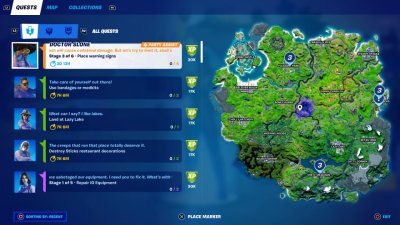 'Fortnite' Legendary Quest Stage 4
Next, you will have to deactivate 2 satellite dishes that the aliens are using to communicate with their secret mole. Again, looking at the map will give you the positions of every radar on the island. To disable these dishes, you will need to interact with their respective control box, like the one pictured below.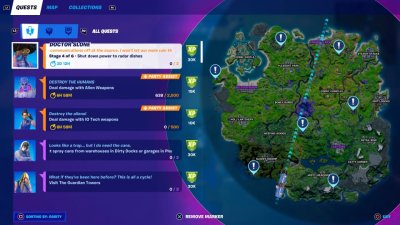 'Fortnite' Legendary Quest Stage 5
The fifth stage of this week's legendary questline is undoubtedly the trickiest, asking you to "spoil the mole's sabotage attempt." This one is a little more complicated than the rest, but Newsweek has got you covered with a separate guide here.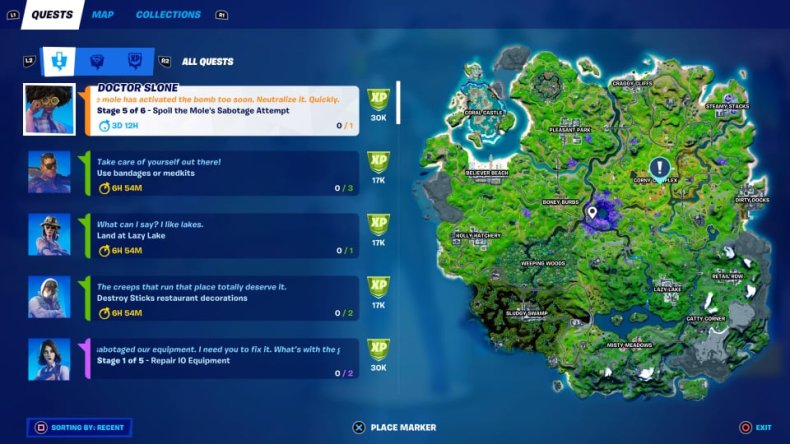 'Fortnite' Legendary Quest Stage 6
Finally, the last mission in this week's legendary questline tasks you with confronting the aforementioned mole.
They can be found in an IO base, halfway between Craggy Cliffs and Steamy Stacks. Before you speak with this NPC, make sure that you are ready for a firefight as they will immediately turn hostile and try to kill you.
With Fortnite Chapter 2, Season 7 drawing to a close, you only have a limited amount of time left to complete any outstanding quests and to redeem your battle pass rewards. This means that the window for participating in the "Best Friendzy" challenge is also rapidly closing.