'Fortnite's' Best Friendzy Event: Rewards List, End Date and How to Earn Points
A brand-new way of unlocking extra cosmetic rewards in Fortnite, entitled "Best Friendzy", has just launched and will be running until the end of Chapter 2, Season 7.
Newsweek has prepared the following guide to walk you through how it works.
How to Earn Points Through "Best Friendzy"
The new event allows you to accumulate points by tallying up as much playtime as possible with somebody from your in-game friends list.
For every 10 minutes that you spend with your companion in Fortntie's battle royale mode (whether that is in duos, trios or squad matches) each of you will earn a point. You do not have to accomplish anything specific or even do particularly well in the game, you just need to play together.
You can also earn these points in the creative hub, although you are limited to receiving just a six a day from this mode (with the cap resetting daily at midnight ET).
Finally, you also have the option to activate a "daily bonus", which is a special multiplier that will treble the amount of points you earn for up to an hour.
"Best Friendzy" Rewards List
There are currently four cosmetic rewards that you can unlock by participating in the "Best Friendzy" event.
First, there is the "Outer Space Handshake" emoticon, which is redeemed after you have accumulated 3 points. From there, you will be able to unlock the "Invasion Remix Track" lobby music , followed by the "Life's a Beach" weapon wrap and finally the "Aquari-Axe" harvesting tool.
The unlock criteria for each of these is as follows:
Outer Space Handshake Emoticon: 3 Points
Invasion Remix Track: 10 Points
LIfe's a Beach Weapon Wrap: 20 Points
Aquari-Axe Tool: 50 Points.
These cosmetics will be added to your item locker automatically once you have fulfilled their unlock criteria.
The rewards can only be unlocked through the "Best Friendzy" event for the time being. However, according to the official FAQ section on Epic Games' website, they may later become available through alternative means too.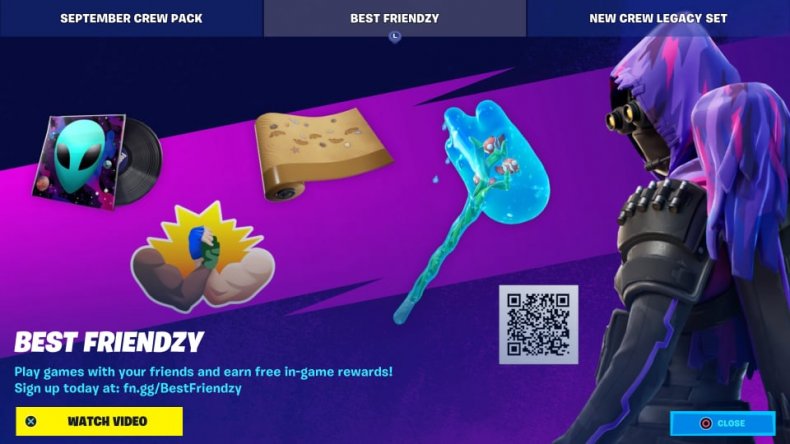 How to Sign up for the "Best Friendzy" Event
To start earning points through the "Best Friendzy" event, you will need to head over to the Epic Games website and register (for free) on the relevant page. Once you are here, you will need to sign in to your Epic Games account, which is the same one that you use for playing Fortnite.
After you have signed in, you will be prompted to choose the time window for your daily multiplier bonus (which grants you triple points for up to an hour). Please note that you can edit your choice later, but will only be able to do so once.
It is not necessary for your friend to also register for "Best Friendzy", as you will still get your cosmetics items regardless. However, if they do register then they will be able to track their own progress and how many points they have built up.
In terms of adding friends in Fortnite, you can do this quite easily from the main menu. Just press the pause button to open the side panel. From there, switch to the "Add Friends" tab and then type in the display name of your chosen friend. They will then receive an invite which they will obviously need to accept in order to complete the process.
The "Best Friendzy" event will run until Sunday, September 12 at 4 p.m. ET. This will coincide with the official end of Fortnite's eventful "Invasion" season, which has seen the introduction of pilotable spaceships, alien parasites, and Superman.
Fortnite Season 8 will begin shortly after the conclusion of "Invasion", most likely on Monday, September 13.