The True Story Behind Halston's Perfume and That Jockstrap Scene
Netflix series Halston features a number of pretty wild scenes, from a woman dying in the air vents of Studio 54 to Halston's (played by Ewan McGregor) phone getting so clogged up with cocaine that it stops working.
Perhaps the most audacious scene, however, comes when Halston is working on his first perfume with parfumier Adele (Vera Farmiga). She asks him to suggest some scents to her from his past and present to make his perfume, and he replies by bringing her a used jockstrap from his lover Victor Hugo (Gian Franco Rodriguez). In a deliberately provocative moment, she smells this by draping it over her face and inhaling deeply.
The true story behind Halston's perfume
Unsurprisingly, this scene did not actually happen—or, if it did, it was not recounted in Simply Halston, the biography that the Netflix show was based on.
This scene seems to be a screenwriter's fantasy, with Halston and Adele's conversation about scents put in to give the show an opportunity to explore the character's backstory.
The jockstrap is not the only invented part of that scene. The scents that Halston chooses for his perfume are tobacco, orchids and that jockstrap—tobacco to represent his incessant smoking and his general lust for life and partying, orchids because of his love of beautiful things and his extravagant flower bills, and the jockstrap to represent his gay identity that was hidden from the public.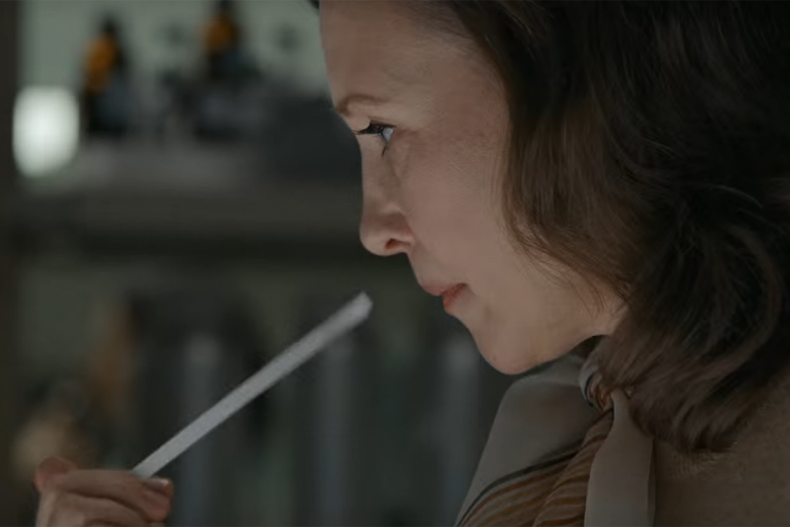 These scents have been chosen because of what they say about Halston, but are not what the real Halston scent smells of—after all, a perfume that brought together flowers, cigarettes and the smell of sex would probably be a bit much for the mass market. Per its official description, the real scent has: "Top notes [of] mint, melon, green leaves, peach and bergamot; middle notes are carnation, orris root, jasmine, marigold, ylang-ylang, cedar and rose; base notes are sandalwood, amber, patchouli, musk, oakmoss, vetiver and incense."
This scent was not achieved by essence of jockstrap as the show would have you believe but via the discovery of a brand new essential oil that had never appeared in a perfume before. "I must have smelled hundreds and hundreds of perfumes," Halston says in his biography, "they were either too green or too hot or too hot or too boring. Nothing seemed right [until they found the new oil, which was] a fantastic break for us. It was perfect, it was right, and it makes the perfume smell like nobody else's."
That unique scene made the real Halston perfume a massive success. Within two years, per Simply Halston, perfume sales alone would be bringing in $85 million a year to the company. The perfume was an instant success, with $1.5 million of it sold in the first two weeks. As of 2021, it is the second-biggest selling fragrance of all time behind Chanel No. 5.
Though the Netflix show takes dramatic license with some details of the fragrance, a number of other scenes are based entirely on the true story.
The scene in which Halston put his own money into the project so that he could have the bottle he wanted, for example, is true. In the biography, Paul Wilmot, vice president of promotion and marketing for Max Factor, says: 'Halston became passionate about the Peretti shape. He decided to spend his own money finding a way to get it filled, and he spent almost $50,000 to develop a technique to fill it. Although it took virtually redesigning the filling nozzles, the blob it was."
"Peretti" is Elsa Peretti, the model-turned-jewellery designer played by Rebecca Dayan in Halston. She designed the bottle Max Factor disparagingly called "The Blob" Simply Halston has it that she accepted $25,000 for the design, but Peretti remembers it differently. In 2014, she told Vanity Fair: "He said, 'Would you like $25,000 or a sable?' I said, 'The sable.'"
This sable coat would be central to the eventual falling out of Halston and Peretti, after she threw it in a fire after a heated argument with the designer, leaving New York for Spain soon after.
Halston is streaming now on Netflix.