Hamas Calls for Iran-Saudi Unity, Israel Issues Warning to Any Who Join Its Foes
Palestinian Islamist movement Hamas is calling for unity between Middle East rivals Iran and Saudi Arabia in hopes that their recent diplomacy will develop into more robust regional support for Palestinians embroiled in a sharp escalation in their decades-long conflict with Israel, which issued a threat against any foes seeking to join in on the spiraling conflict.
Hamas and fellow Gaza-based group Palestinian Islamic Jihad have launched a barrage of what the Israel Defense Forces estimated to be at least 630 rockets so far targeting Israeli cities and settlements in response to an IDF raid on Jerusalem's revered Al-Aqsa Mosque. The operation came amid a spike in unrest surrounding an attempt to evict Palestinian families living in the neighborhood of Sheikh Jarrah.
"The reason for the demonstrations and the firing of the rocket is trying to deter the Israeli occupation and its settlers and extremist Knesset Members who insist to desecrate Al-Aqsa Mosque, which is the third holiest place for all Muslims around the world and the holiest site for us as the Palestinians," a Hamas spokesperson told Newsweek. "In addition, to deter the Israeli authorities which have been working along with the settlers' organizations to expel the Palestinian families in Sheikh Jarrah from their homes and replace them with settlers."
The events have triggered an alignment across the region, including from Turkey and Iran, both of whom publicized calls with Hamas political chief Ismail Haniyeh on Monday, as well as from across the Arab World, including influential Saudi Arabia.
The conflagration began the same day that Iran confirmed widespread reports that it had engaged in quiet discussions with Saudi Arabia. The two nations cut ties in early 2016 amid a dispute stemming from the largely Sunni Muslim Saudi Arabia's execution of a Shiite cleric on terrorism charges and the burning down of Riyadh's embassy in majority-Shiite Muslim Iran.
A potential rapprochement could mean a de-escalation in their regionwide contention for influence and a recalibration of their top priorities. In Hamas' eyes, it could also mean a shared focus on the Palestinian cause at a time of increased turmoil and diminished political leverage as more Arab states established ties with Israel.
"We hope the talks [between Iran and Saudi Arabia] will succeed, and we expect that this would help stabilize Iran and the whole region," the Hamas spokesperson said. "This for sure will help increasing solidarity with the Palestinians."
But as Hamas sought to flex its international ties with calls from both Iranian Foreign Minister Mohammad Javad Zarif and Turkish President Recep Tayyip Erdogan, the IDF issued a warning to any foes considering linking up with the Palestinian paramilitary force firing rockets at Israel.
"We're prepared for a wide range of scenarios. And as we saw earlier, we see this attack by Hamas as a very severe attack, and we intend to hold them accountable for their aggression against Israel," IDF spokesperson Lieutenant Colonel Jonathan Conricus told Newsweek. "And I really don't recommend for any of our enemies to join Hamas, because then they will be on the receiving end of the same type of attacks on military infrastructure that Hamas is now receiving and will be receiving."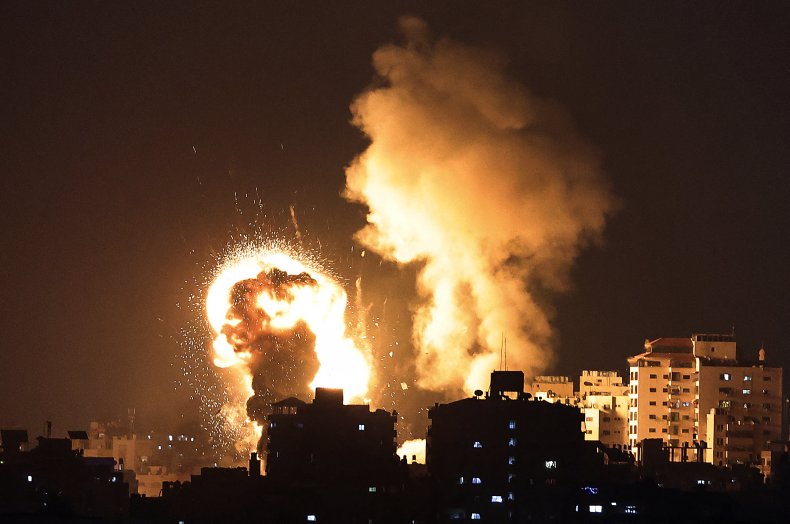 Israeli airstrikes and shelling have hit more than 100 positions suspected to belong to Hamas and Palestinian Islamic Jihad in Gaza, including sites used for rocket launches, weapons manufacturing, intelligence gathering and a tunnel used to infiltrate beneath the fortified security fence separating the coastal enclave from Israel, according to the IDF, which said Tuesday it had killed up to 20 Hamas and Palestinian Islamic Jihad personnel in the process, including some senior officials.
The Gaza-based Palestinian Ministry of Health has so far reported at least 30 Palestinians killed, including 10 children. Conricus said the force was investigating civilian casualties claims but could not corroborate.
He said Tuesday that the IDF was "trying to minimize collateral damage in a very challenging environment where terrorist and military infrastructure is embedded in a civilian population."
At least two Israelis have been killed by rocket fire, and many more injured. Also wounded were hundreds of Palestinians over the course of recent days as Israeli security forces cracked down on protests and stormed the Al-Aqsa Mosque compound in recent days.
One Israeli official accused Hamas of having fueled the ongoing strife in order to enhance its own image against that of Palestinian National Authority President Mahmoud Abbas, who recently postponed what would be the first election among Palestinians since a 2006 vote favoring Hamas led to a rift with the secular West Bank-based Fatah faction.
"Hamas was hoping to gain strength in the West Bank, and they couldn't do it because the election was postponed," the Israeli official said. "So they tried to succeed in having terrorist attacks on Israel in the West Bank."
Israel announced last Wednesday they had apprehended a Palestinian man last Wednesday accused of conducting a drive-by shooting days earlier that killed a 19-year-old Israeli man and injured two others waiting for a bus at the Tapuah junction south of Nablus. Also on Wednesday, Israeli forces shot and killed a 16-year-old Palestinian boy in Nablus during a series of raids in search of the gunman.
The Israeli official argued that after inciting the violence in the West Bank and in response to the dispute over Sheikh Jarrah, Hamas then directed its efforts "to the most explosive place on earth, I think, which is Temple Mount."
"We know, we have evidence of Hamas, inciting these people and sending their own people to the Temple Mount, so they will cause all of this unrest," the Israeli official said. "They know that by doing that they're getting a lot of support from Palestinians in the West Bank, and actually, this whole thing about shooting rockets from the West Bank to Israel, that was their way to show the people in the West Bank that they are in charge of the situation."
It also carried an international message, however, one seemingly validated by the calls from Iran and Turkey.
In his call with Tehran's top diplomat, Haniyeh "asked Foreign Minister Zarif for Iran's support for the Palestinian people's resistance, according to an Iranian Foreign Ministry readout. Zarif "reaffirmed Iran's solidarity with the oppressed people of Palestine, and condemned the usurping and brutish Zionist regime's measures against the fasting people of Palestine as well as its attack against Al-Aqsa Mosque and martyring and wounding defenseless worshippers."
Another leading Iranian official, Parliamentary Speaker Mohammad Bagher Qalibaf also spoke with Haniyeh, as well as Palestinian Islamic Jihad Secretary-General Nakhaleh Ziad. In separate calls Tuesday, Qalibaf too criticized Israel and said Iran's Islamic Consultative Assembly "supports the Palestinian people and resistance in line with the permanent policy of the Islamic Republic of Iran," something for which the two men both expressed gratitude.
In a readout of Erdogan's calls with Haniyeh and Abbas a day earlier, the Turkish leader described Israel's recent operations in Jerusalem as "terror," and said he and his officials "would do everything in their power to mobilize the entire world, first and foremost the Islamic World, with a view to stopping the terror and occupation carried out by Israel."
The Israeli official expressed a lack of surprise at this development given the relations the group has with Tehran and Ankara.
"It's not a secret that Hamas is backed by Turkey and Iran. It's well known, it's a fact," the Israeli official said. "It's just now it's being echoed when something like that happens, and they need the support right away, those are the first countries that they go to for support. It's not a new thing. They're supporting them. Turkey is more of a moral support and civilian support, but with Iran, it's military support, their rocket technology and not just technology, some of the hardware itself comes from Iran."
Erdogan also spoke with Abbas, as did a number of Arab leaders including Jordanian King Abdullah II and Tunisian President Kais Saied, both of whose countries have long histories backing Fatah and the Palestine Liberation Organization it leads.
Hamas' relationships across the Arab World are more complex, however.
Hamas has traditionally been more closely aligned with the ideology of the Muslim Brotherhood, a transnational organization that some countries such as Saudi Arabia have banned. But in addition to Riyadh's quiet talks with Tehran, the Kingdom has also reached out to the Muslim Brotherhood's biggest international supporters, Turkey and Qatar, whose foreign minister and ruling emir, respectively, visited Saudi Arabia on Monday in a sign of possible easing of tensions with these two countries as well.
The U.S. considers Hamas a terrorist organization, but is close to both Saudi Arabia and Qatar, which hosts the biggest U.S. military base in the Middle East, and is allied with Turkey under NATO. The relationship between the U.S. and Iran has long been defined by mutual hostility, and both have accused one another of sponsoring terrorism. But they are engaged in diplomacy, albeit indirectly, as part of an ongoing effort to oversee a U.S. reentry into a 2015 nuclear deal abandoned three years ago by former President Donald Trump.
Trump aligned much of his Middle East policies closely with that of Israel. He recognized Jerusalem as the capital of Israel and moved the U.S. embassy there from Tel Aviv, a reversal of longstanding U.S. policy that has stoked major tensions since 2018. He also attempted to broker a peace agreement in which Palestinians would have had to further forfeit and fracture their territory in exchange for promises of investment and a possible path to U.S.-recognized statehood.
Currently, the State of Israel maintains diplomatic relations with 164 U.N. member states, while the State of Palestine maintains diplomatic ties with 138, though its role at the international body is that of a non-member observer state due to the unresolved nature of the conflict that's raged between the two peoples since the end of the United Kingdom's colonial mandate in 1948.
The decades since have seen three major Arab-Israeli wars. Egypt and Jordan were the only two Arab nations to make peace with Israel before last year, when Trump helped oversee the Abraham Accords that also normalized Israel's relations with the UAE, Bahrain, Sudan and Morocco.
All six have since condemned Israel's raid on the Al-Aqsa Mosque and its handling of Palestinian protests.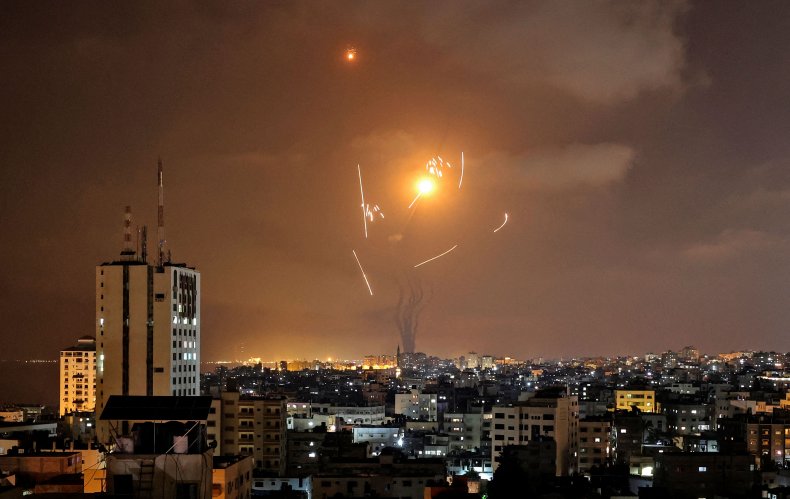 The U.S., for its part, has focused its strongest language on denouncing the rocket attacks while asserting that Israel, its top regional ally, had the right to self-defense. Both the State Department and the White House have also called for de-escalation from both sides of the dispute.
Saudi Arabia did not mention the rocket attacks in statement shared with Newsweek by Riyadh's embassy in Washington, but said it "calls on the international community to hold the Israeli occupation responsible for this escalation, and to immediately stop its escalatory actions, which violate all international norms and laws."
According to the statement, the Saudi Foreign Ministry "reaffirms that the Kingdom stands with the Palestinian people, and supports all efforts aimed at ending the occupation and reaching a just and comprehensive solution to the Palestinian issue, enabling the Palestinian people to establish their independent Palestinian state on the 1967 borders, with East Jerusalem as its capital, in accordance with international resolutions and the Arab Peace Initiative."
As for Washington's take on the burgeoning discussions between Riyadh and Tehran, Secretary of State Antony Blinken told reporters last week that the two rivals' talks could be a "good thing."
"Talking is usually better than the alternative. Does it lead to results? That's another question," Blinken said at the time. "But talking, trying to take down tensions, trying to see if there's a modus vivendi, trying to get countries to take actions on things they're doing that you don't like—that's good, that's positive."
Iranian Foreign Ministry spokesperson Saeed Khatibzadeh has suggested that dialing down the temperature in the Persian Gulf was among the goals of communicating with Saudi Arabia. He told reporters Monday that the discussions were focused on both "bilateral and regional" issues, and that Tehran would "wait for the results and assess accordingly."
Another Iranian official, cabinet spokesperson Ali Rabiei, elaborated on Tuesday.
"We have supported and welcomed talks among neighbors, including Saudi Arabia, over the past years, and today there are glimmers of hope for the settlement of disagreements," told a press conference.
He declined to go into specifics but displayed some optimism that countries are "moving in the right direction."
"We believe this is the proper time to end these differences and restore the good and brotherly neighborliness," he said, adding that the doors of "diplomacy are currently open between us and our neighbors, and in some cases, there are positive signs, but all sides still need to work harder to ensure that stability is restored to the region and that lasting peace is established for all."
Among the outstanding concerns that Saudi Arabia and a number of other Arab countries have expressed regarding Iran is the Islamic Republic's large advanced missile arsenal capable of striking across the Middle East and beyond, as well as its sizable network of allied militias that also extends across the region. Iran's most powerful partner, the Lebanese Shiite Muslim Hezbollah movement, has also weighed in on recent unrest between Israelis and Palestinians.
Hezbollah Secretary-General Hassan Nasrallah, whose group has twice fought cross-border wars with Israel, suggested during a speech last Friday that Israel was "terrified" of recent regional developments, including the Iran-Saudi negotiations, which he said were "in the interest of the Axis of Resistance."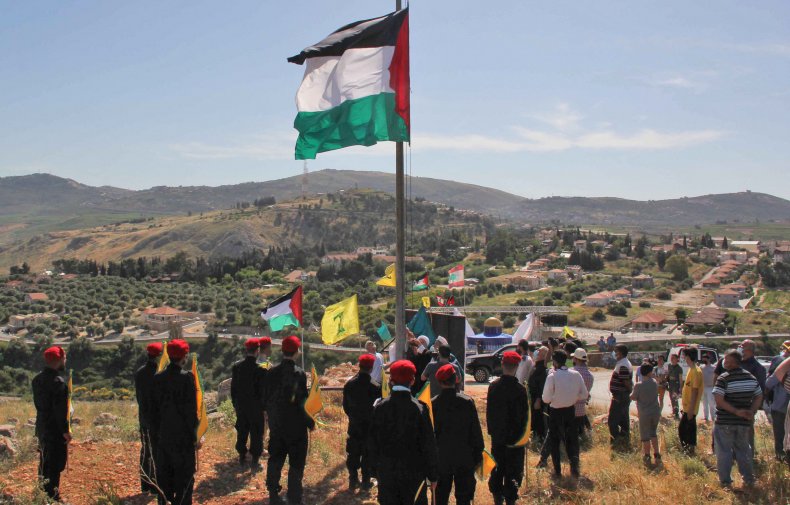 This article has been updated to include the latest figures provided by both Israeli and Palestinian factions regarding rocket attacks, airstrikes and casualties.