U.S. Calls Iran and Saudi Arabia Talking to Ease Tensions 'A Good Thing'
President Joe Biden's top diplomat has said that talks between Iran and Saudi Arabia geared toward easing tensions in the Middle East would be a welcome development, as Washington pursues its own diplomacy with Tehran in order to reinvigorate a multilateral nuclear agreement.
Secretary of State Antony Blinken would not confirm widespread reports of quiet talks held between regional rivals Tehran and Riyadh, but told the Financial Times on Tuesday that, "if they're talking, I think that's generally a good thing."
"Talking is usually better than the alternative. Does it lead to results? That's another question," he said. "But talking, trying to take down tensions, trying to see if there's a modus vivendi, trying to get countries to take actions on things they're doing that you don't like—that's good, that's positive."
While Blinken said he felt Washington still played a central role in international diplomatic efforts, he also thought it could be even more beneficial for countries to take the initiative themselves.
"We have, I think, still, when we're acting at our best, a greater ability than any other country to mobilize others in positive, collective action," he said. "But if countries are talking directly together without us in the middle, that's maybe even better."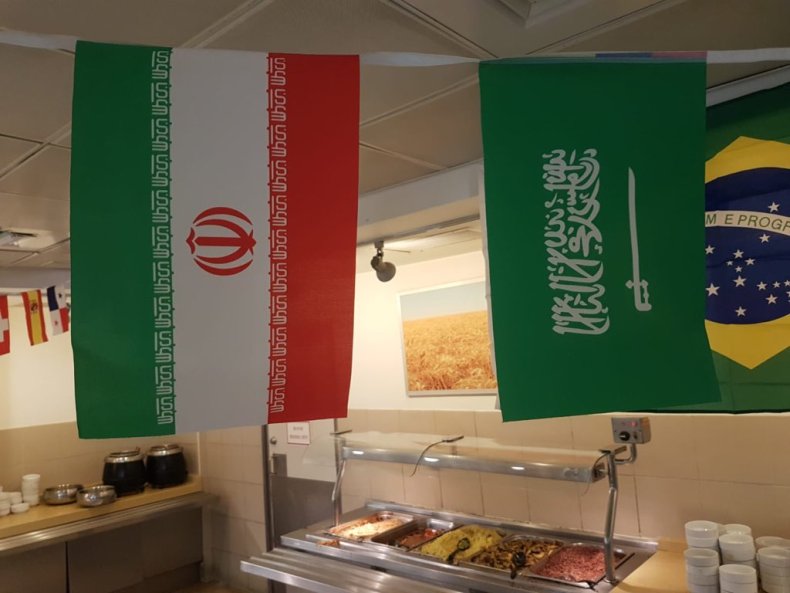 The remarks came a week after Saudi Crown Prince Mohammed bin Salman said he aspired for his country to have a "good and distinguished relationship" with Iran, despite outstanding disagreements on a number of issues, including Iran's pursuit of advanced missile technology and support for foreign militias.
The remarks came as Iranian Foreign Minister Mohammad Javad Zarif emphasized a need for stronger ties between Iran and its Arab neighbors in the Persian Gulf during a tour of Qatar, Iraq, Oman and Kuwait.
The Saudi royal's statements were received warmly by Iranian officials. Tehran's ambassador to Kuwait Mohammad Irani on Tuesday also praised the prospect of a rapprochement between the Shiite Islamic Republic and the largely Sunni Muslim kingdom that is home to Islam's two holiest sites, Mecca and Medina.
"The series of developments that are taking place indicates positive signs in the reduction of regional tensions," Irani told the official Islamic Republic News Agency. "Whether these statements are influenced by the internal developments in the United States and the change of power in that country, or the progress of the nuclear talks or the developments in Yemen, they are considered positive in any case."
Tehran and Riyadh have long feuded over influence across the Middle East and the broader Muslim world, and their relations have waxed and waned over the decades since the 1979 Islamic Revolution ousted a West-backed government in Iran.
Washington has not had diplomatic ties with Tehran since. Relations between Iran and Saudi Arabia were severed in early 2016 after Iranian protesters torched Riyadh's embassy in Tehran amid outrage over Saudi Arabia's execution of a Shiite Muslim cleric accused of inciting terrorism.
Hostility between the two was further fueled by President Donald Trump's administration, which abandoned a 2015 nuclear deal among Iran and world powers in 2018 and instituted a "maximum pressure" campaign of sanctions and military threats against the country.
Saudi leadership shared Trump's skepticism of the accord, and even threatened to build a nuclear bomb of its own if Iran pursued one—an endeavor Iranian officials have always denied undertaking.
The Biden administration has vowed not to allow Tehran to acquire nuclear capabilities, but has maintained that returning to the original deal is the best way to ensure such an outcome. U.S. officials have traveled to the Austrian capital of Vienna to participate in indirect talks with Iran and direct discussions to coordinate a reentry with the other parties to the nuclear deal: China, the European Union, France, Germany, Russia and the United Kingdom.
Obstacles remain, however.
The U.S. seeks to ensure that Iran reimplements the steep nuclear enrichment caps it abandoned in response to the non-compliance of the Western signatories as a result of the previous administration's sanctions, which remain in place.
Both the U.S. and Iranian sides have noted signs of progress, but have offered no guarantee that they would reach an understanding.
Added pressure has come as well in the form of potentially consequential deadlines later this month. These include the expected announcement of Iran's Guardian Council for presidential candidates to succeed Iranian President Hassan Rouhani following the end of his second and final term in elections next month, as well as the scheduled suspension of International Atomic Energy Agency inspections should sanctions not be lifted by May 23.
Unrest also continues to play out in the region, including rocket attacks by Iraqi paramilitary groups supportive of Iran against military positions associated with the U.S. presence in the country. One such strike was launched Tuesday at the Ain Al Asad Air Base, the site of an intensive Iranian missile barrage against U.S. positions early last year in retaliation for the killing of Iranian Revolutionary Guard Quds Force Major General Qassem Soleimani.
U.S. and Iranian vessels also engaged in at least two encounters last month in the Persian Gulf, where nations are closely following the track of diplomacy between Washington and Tehran.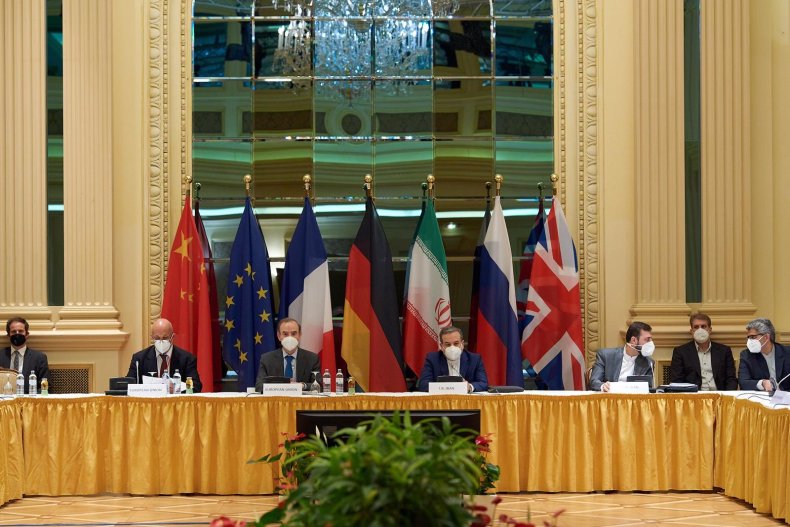 U.S. officials have maintained contacts with Middle East stakeholders through the Vienna talks, including top ally Israel, the most vocal opponent of the nuclear deal and the only country in the region widely believed to possess a nuclear arsenal of its own.
"We have had many discussions with various U.S. partners about the U.S. approach, including our partners in Israel and among Gulf Arab states," a State Department spokesperson recently told Newsweek. "We will continue consulting closely with these key partners as this process proceeds."
"We respect that there are different perspectives," the spokesperson added, "and that is why we undertake these important discussions and why we're committed to being as transparent as we can during this process."
The spokesperson referred Newsweek "to the respective governments of Saudi Arabia and Iran for details on their diplomatic engagements." Representatives of the two countries did not immediately respond to request for comment.
Biden spoke Tuesday with a top official of another important regional player, the United Arab Emirates, whose relations with Iran were strained last August by a decision to normalize relations with Israel. In his call with Abu Dhabi Crown Prince Mohammed bin Zayed Al Nahyan, Biden praised the burgeoning UAE-Israel relationship and discussed other issues, such as the perceived threat from Iran and a need for peace among all actors in the region.
The pair "discussed regional and global challenges, including Afghanistan, the nuclear and regional dimensions of the threat posed by Iran, as well as the common quest for de-escalation and peace in the Middle East," according to a White House readout.