Hamas Promises Further 'Surprises' for Israel After Tel Aviv Attack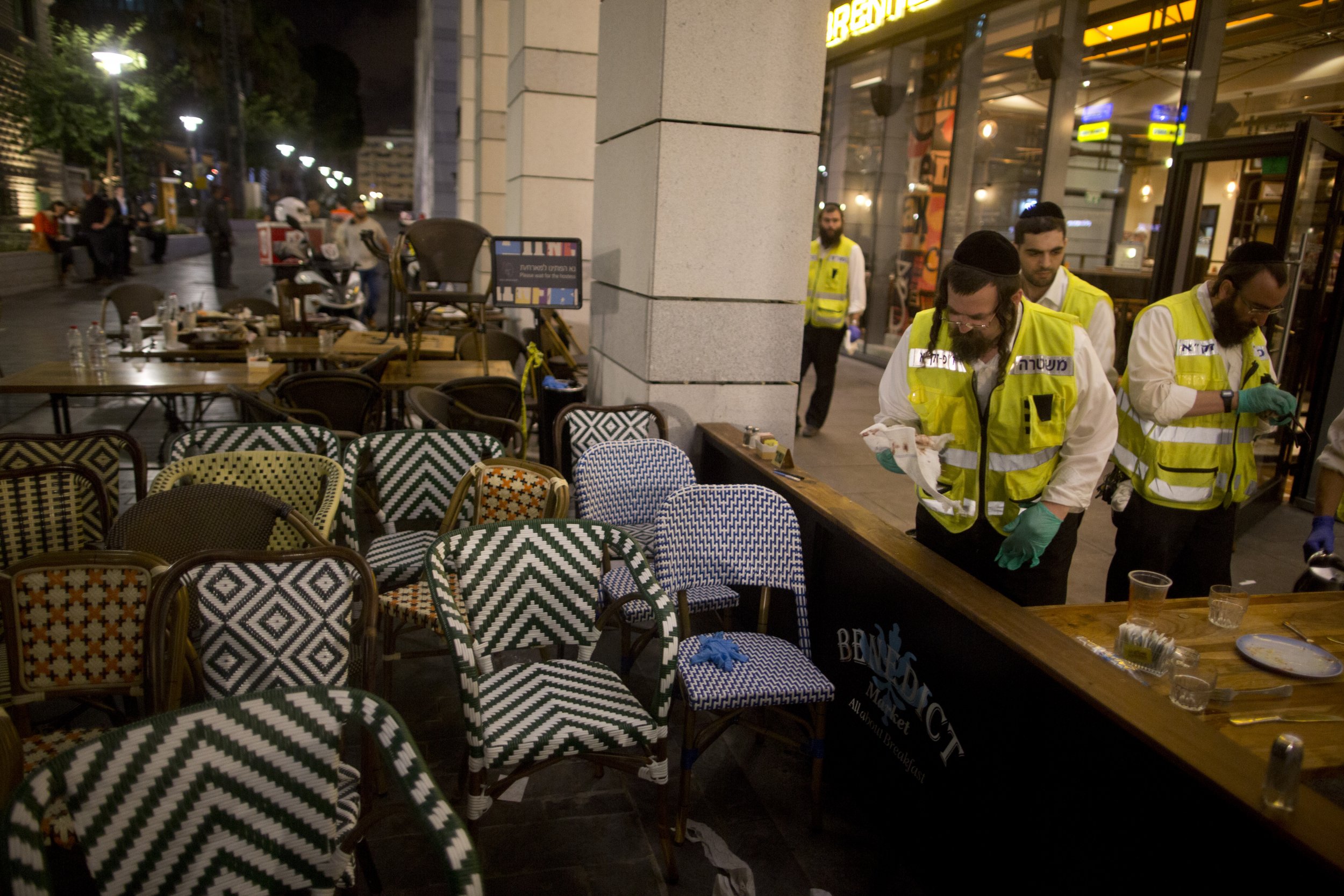 Palestinian militant group Hamas promised Wednesday that Israel will face further "surprises" during Ramadan after the shooting attack that left four people dead in central Tel Aviv.
Hamas said in a statement released after two Palestinian gunmen carried out the attack at the Sarona Market food and retail center Wednesday that the incident "is the first of many surprises that will be waiting" for Israel in the next month. The group stopped short of claiming responsibility for the attack.
The two attackers, clad in black suits, ordered drinks at the Max Brenner chocolate shop in Tel Aviv, breaking their Ramadan fast, before opening fire on diners outside the store. Israeli security forces shot and detained both shooters after the attack.
CCTV footage from the attack showed diners scrambling to escape the gunfire. The two gunmen are cousins from the West Bank town of Yatta near Hebron and the Israeli military raided their properties late Wednesday.
Authorities identified the victims of the attack as Ido Ben Ari, 42, Ilana Neve, 39, Michael Feige, 58, and Mila Mishayev, 32.
Michael Oren, former U.S. ambassador to Israel and current Israeli lawmaker, says Israelis will have to "ratchet up our vigilance" against further attacks in the Muslim holy month of Ramadan.
Speaking from the Max Brenner restaurant, he tells Newsweek: "Particularly in areas like this one, Sarona, which is an open high-end restaurant and shopping area, with multiple accesses from virtually every corner. We've had attacks like this before, every time we try to derive lessons from it and improve. The war on terror is not an exact science but we are getting better at it."
A wave of violent attacks carried out by Palestinians against Israelis in Jerusalem, the West Bank and other Israeli cities since October 2015 has left 32 Israelis and two Americans dead. In the same period, Israeli forces have killed 207 Palestinians, the majority of whom Israel said were attackers.
Wednesday's attack, the deadliest to strike Tel Aviv since the wave of violence began, threatens to spark a similar spiral of violence to that seen in 2014 before the seven-week Gaza conflict. Israel now has its most right-wing coalition government in history, with new Defense Minister Avigdor Lieberman previously speaking of his wish to assassinate Hamas leader Ismail Haniyeh.
Haniyeh, in response to last night's attack, posted an image on Twitter of one of the shooters and labeled him a "hero" for his actions.
Israel has already ordered extra security measures following the attack, revoking 83,000 special permits for Palestinians from the West Bank, who live under Israeli military occupation, and from Gaza, who live under Hamas rule and an Israeli blockade, to travel into Israel to worship for Ramadan.
The freeze on the permits will prevent Palestinians traveling out of Israel's international airport in Tel Aviv, visiting relatives in the country or praying at the Al-Aqsa compound in Jerusalem.
Oren says that Israel wants to accommodate Palestinians who wish to travel into Israel during Ramadan, but the latest attack has scuppered peaceful and free movement.
"It's unfortunate because 20 percent of our population is Muslim," he says. "We want to have the fullest possible freedom of movement during the special time for Muslims. It's tragic that the vicious acts of a few would have impacted the celebration of so many."