Hamas Targets Israel Nuclear Site, Oil Line to Arab World as Conflict Death Toll Rises
The military wing of Palestinian Islamist movement Hamas has targeted Israel's nuclear facility, key oil facilities and other sites across the country amid a violent escalation between the two sides.
Hamas' Al-Qassam Brigades said Wednesday in a message seen by Newsweek that they were "directing a rocket strike involving 15 rockets for Dimona," which houses Israel's secretive nuclear site.
Rocket warning sirens could be heard there as well as in a number of areas across Israel's Negev region and further north including the cities of Ashkelon and Tel Aviv.
As hundreds of rockets were launched by Al-Qassam Brigades and fellow Gaza-based forces like Palestinian Islamic Jihad's Al-Quds Brigade, a spokesperson for the Israel Defense Forces said the results of the attack toward Dimona were unknown.
As a matter of strategy, Israel neither confirms nor denies that it possesses nuclear weapons. However, the country is estimated by the Freedom of American Scientists and the Stockholm International Peace Research Institute to have about 90 such warheads.
Last month, a missile described by the IDF as an errant projectile fired by a Syrian S-200 surface-to-air defense system landed near Dimona, stirring anxiety. Al-Qassam Brigades also announced Wednesday an additional series of rocket launchers targeting an Israeli gas platform off the coast of Gaza.
IDF spokesperson Lieutenant Colonel Jonathan Conricus could not confirm whether the rockets reached their targets, or even came close, but said there was "no significant damage."
On Tuesday, at least one rocket appeared to score a direct hit, damaging an Ashkelon facility connected to the Trans-Israel pipeline running from the Mediterranean to the Red Sea.
The pipeline dates back to a time when Israel and Iran, its top current foe, had friendly relations. Last fall Israel also signed an oil agreement involving the pipeline with the United Arab Emirates, one of several Arab states with which it normalized ties over the last six months.
A blaze reportedly continued to consume the oil facility on Wednesday as temperatures remained high across the region. Iran, Turkey and Arab states including the UAE condemned Israel's recent storming of the Al-Aqsa Mosque amid a crackdown on protests against efforts to evict Palestinians from the Sheikh Jarrah neighborhood of Jerusalem.
Hamas has identified these Israeli actions as the catalyst for its launching of what the IDF has estimated to be more than 1,050 rockets, many of which have been intercepted by the Iron Dome defense system.
Israel, for its part, has conducted a sweeping campaign of airstrikes that have targeted launch sites, command centers, senior commanders and hidden tunnels. At least two high-rise buildings have been leveled, described as Hamas facilities by the IDF, though the Palestinian group has argued they were residential structures.
The casualties of the Palestinian side number 56, including 14 children, and hundreds injured, according to the latest update provided by the Gaza-based Ministry of Health. Hamas also confirmed the killing of its Gaza commander Bassem Issa, also known as Abu Imad, along with a number of his comrades.
Israel has identified six killed. The IDF announced Wednesday that a staff sergeant was killed and another soldier seriously injured by anti-tank missile fire from Gaza.
The fight is the worst to beset the decades-long Israeli-Palestinian conflict since a devastating 2014 conflict that lasted seven weeks and involved an IDF ground invasion of the Gaza Strip. Conricus said the IDF is "prepared for various scenarios" and did not rule out an invasion, though he said forces deployed to the security fence were currently tasked only with blocking any sort of infiltration on the part of Palestinian forces.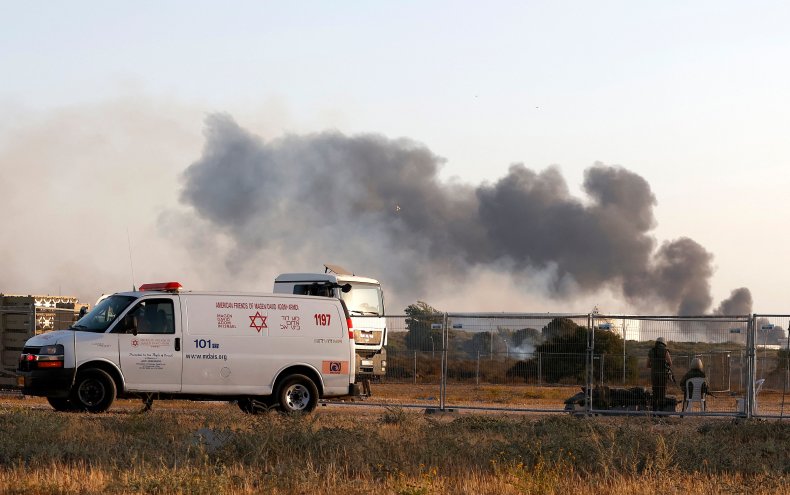 This a developing news story. More information will be added as it becomes available.