Israel Bombs Syria Positions After Missile Lands Near Nuclear Site
Israel has targeted a number of positions in southern Syria after a missile landed in the direction of a secretive nuclear facility.
"A short while ago, surface-to-air missile fire was identified from Syria, which landed in the Negev area," the Israel Defense Forces said in a statement sent to Newsweek on Wednesday, early Thursday local time.
Sirens and explosions had been heard in the southern town of Abu Qrenat, near the Dimona nuclear facility.
Israel neither confirms nor denies that it possesses nuclear weapons as part of a doctrine known as strategic ambiguity. It has, however, targeted the nuclear programs of enemy states such as Iraq and Syria in past decades, and has been tied to assassinations and acts of sabotage that continue to disrupt the nuclear facilities of its top foe, Iran.
An Israeli official told Newsweek that the missile system involved was "a stray Syrian SA-5," the name given by the NATO Western military alliance to the Russia-built S-200 surface-to-air missile system. The official said there were no casualties or damage, and that the missile was not aimed at Dimona nor did it come close to hitting the nuclear site.
The IDF, which later revealed that it had failed to intercept the Syrian missile, also announced its retaliation.
"In response, a few minutes ago, the IDF struck the battery from which the missile was launched and additional Syrian surface-to-air batteries in the area," the Israeli armed forces said.
The state-run Syrian Arab News Agency reported around this same time that the country's air defense systems were responding to an Israeli attack in the vicinity of the Al-Dumayr region northeast of the capital Damascus.
The Syrian Defense Ministry then confirmed the attack.
"The Israeli enemy carried out aerial aggression with bursts of missiles from the direction of the occupied Syrian Golan, targeting some points in the vicinity of Damascus, and our air defense systems intercepted the aggression's missiles and dropped most of them," the ministry said, adding that "the aggression resulted in the wounding of four soldiers and some material losses."
The Syrian Observatory for Human Rights, a U.K.-based monitor tied to Syria's opposition-in-exile, also reported that Syrian air defenses near Al-Dumayr were able to intercept some incoming missiles, though batteries were damaged and casualties suffered.
A source in Syria confirmed to Newsweek that Israeli forces struck the S-200 regiment outside of Damascus.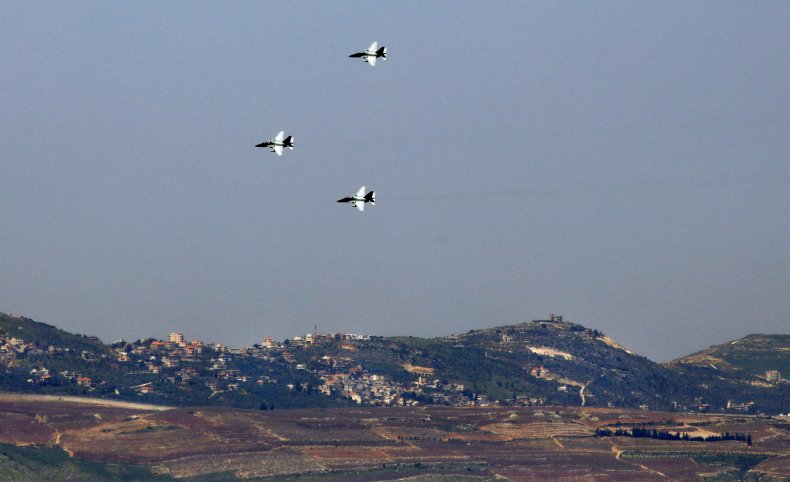 Israel has frequently targeted Syria throughout the country's decade-long civil war, largely focusing on targets suspected to be tied to Iran as well as Syrian anti-air systems trying to defend against such raids. Israel has accused the Islamic Republic of setting up forward operating bases and moving precision-guided missile technology through Syria, where Iranian forces have supported President Bashar al-Assad in his campaign also backed by Russia against rebel and jihadi forces active since a 2011 uprising.
Errant S-200 missiles have previously been the subject of international incidents while attempting to hit attacking Israeli aircraft. One such launch accidentally hit a Russian spy plane in September 2018, resulting in the deaths of all on board, and another landed all the way in Turkey-controlled Northern Cyprus in July 2019.
Other kinds of missiles have also been deliberately launched from Syrian territory toward Israel on several occasions in acts often blamed by the IDF on Iran's elite Revolutionary Guard.
The latest exchange on Wednesday plays out during a sensitive time for nuclear issues in the Middle East.
Parties to the Joint Comprehensive Plan of Action, a 2015 nuclear deal that saw major world powers lift sanctions on Iran in return for tight restrictions on the country's nuclear program, are currently negotiating in Vienna for a U.S. return to the agreement.
Former President Donald Trump abandoned the accord in 2018 and instituted heavy sanctions on Iran as part of a "maximum pressure" campaign. President Joe Biden has since sought to return to the deal, though his administration has also set out to ensure Tehran reinstated nuclear enrichment caps it suspended in response to non-compliance by Western signatories.
Israel has vehemently opposed a U.S. reentry to the JCPOA, warning the arrangement did not sufficiently prevent Iran from potentially obtaining a nuclear weapon, something Iranian officials have denied pursuing. Israeli Prime Minister Benjamin Netanyahu and his administration have nonetheless vowed to take action against any Iranian nuclear ambitions.
"We know there's a disagreement with Israel's perspective and we respect that," a senior State Department official told reporters earlier Wednesday. "We'll try to be as transparent as we can about how we see things and how we want to go and listen to their perspective as well."
The official reported "some progress" so far in the indirect contacts between Washington and Tehran, but said there were "many differences that would need to be overcome" before a comprehensive agreement that would see both sides return to their initial commitments to the JCPOA.
Meanwhile, unrest continues to grip the region.
Earlier this month, Iran's Natanz nuclear enrichment site was rocked by an explosion and subsequent blackout that Iranian officials blamed on Israel. Days later, Iran announced that it had begun enriching uranium at 60%, the closest the country is believed to have ever come to weapons-grade 90%, a figure that President Hassan Rouhani has not ruled out achieving in light of recent events.
Recent acts of sabotage have also played out at sea, as vessels belonging to both Iran and Israel have been the target of apparent attacks for which no country or group has claimed responsibility.
Instability continues to plague Iraq as well, where militias supportive of Iran also operate and have targeted bases hosting U.S. personnel with rockets. In response to one such attack in February, Biden ordered airstrikes against what his administration called Iran-backed paramilitary positions in Syria, whose government condemned the operation and has called for the withdrawal of all U.S. forces from the country.