Iranian Scientist's Killing Part of Dangerous Game for Supremacy in Middle East
The assassination of a leading Iranian nuclear scientist has applied yet another shock to the precarious equilibrium in Iran and the wider Middle East, a region long beset by unclaimed acts of high-profile violence, with fingers pointing to Israel as the most likely culprit in an event that puts all the key players, both local and remote, on high alert.
The details of Mohsen Fakhrizadeh's murder remain murky, as is typically the case in targeted assassinations in the region. By all accounts, the former Revolutionary Guard officer, who was widely regarded as the godfather of the Iranian Defense Ministry's nuclear program, was gunned down in the streets of Absard, east of Tehran, in a brazen attack in the heart of the Islamic Republic.
Iranian officials, including Supreme National Security Council Secretary Ali Shamkhani, quickly alleged that the country's top foe, Israel, was behind the slaying. Experts, such as Douglas Wise, a former deputy director of the Defense Intelligence Agency and a retired Central Intelligence Agency career officer, saw that as a likely scenario.
"I think if you look at who has the motivation, who is the beneficiary and who has the capability, I think it's pretty obvious that it was Israel," Wise told Newsweek. "And I don't exclude helpful allies as well."
The questions that remain are why – Why Fakhrizadeh? And why now?
A key component of Israel's national security policies – as well as that of the United States toward its top Middle East ally – is maintaining a qualitative military edge, or QME, over potential adversaries in a hostile region. This policy applies not only to Iran but Arab nations that have historically boycotted Israel or even fought with it in support of the Palestinians, but today are increasingly doing business with the former foe.
When it comes to confronting Iran, Wise said Israel's first and only option was military force.
"If you look at the algorithms that nation-states use, it's diplomacy, it's intelligence, it's military and economic," Wise said. "If you look at what Israel kind of applies to Iran – diplomacy, probably not intelligence. It is an enabler, but it's not the solution. Economic – they don't trade with Iran, Iran's already undergoing massive sanctions, and their [nuclear] program seems to be alive and well."
Out of the so-called DIME menu, he said Israel only had the "the M part, which is the military part, so the State of Israel is going to have not just qualitative, they are going to want to have a significant, if not existential advantage over their potential adversaries."
But what exactly Fakhrizadeh's death accomplished remains unclear.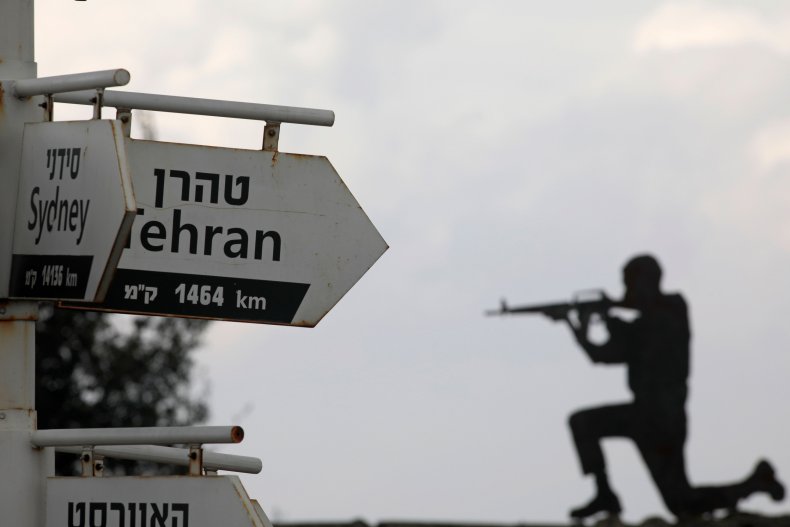 "While Fakhrizadeh played an important role in the past, he is hardly essential to Iran's nuclear work, and less relevant to Iran's current efforts regarding enrichment, advanced centrifuges etc.," Barabara Slavin, director of the Future of Iran Initiative at the Atlantic Council's South Asia Center, told Newsweek.
She said that Iran has always officially denied seeking nuclear weapons, and its stockpile remains verified by the International Atomic Energy Agency. Israel, on the other hand, is widely believed to have such weapons, and does not allow international inspections.
"Israel has an undisclosed number of actual nuclear weapons and Iran has none," Slavin said.
Israel routinely neither confirms nor denies that it possesses a nuclear arsenal. International groups such as the Federation of American Scientists estimate its stockpile holds around 90 weapons. U.S. officials also regularly refuse to speak openly about Israel's suspected nuclear weapons, but historically respond quickly to ensure that Israel preserves its qualitative military edge.
"For over forty years and across seven presidential administrations, America has demonstrated and will continue to demonstrate its iron-clad commitment to Israel's security," a State Department spokesperson told Newsweek. "Under our 10-year Memorandum of Understanding, Israel is the world's single-largest recipient of U.S. security assistance, and our governments cooperate closely in joint military exercises, military research, and weapons development."
The spokesperson emphasized that this principle was so intrinsic to Washington's foreign policy that it was encoded in U.S. law.
"We are required by law to account for Israel's Qualitative Military Edge (QME) for potential arms sales to the region," the spokesperson said, "and the U.S. government remains committed to helping Israel maintain its QME."
The State Department declined to comment directly on Fakhrizadeh's killing and its potential perpetrators.
Keeping in line with a policy of strategic ambiguity, the Israel Defense Forces told Newsweek its personnel "remain vigilant as ever, prepared for various Iranian attacks, and they stand ready to defend Israeli civilians," declining to speak further on the subject of Fakhrizadeh's death.
Israel similarly continues to maintain silence on allegations it was also involved in a series of assassinations targeting other prominent Iranian nuclear scientists that began a decade ago, or that they had any part in the Stuxnet computer virus that took out Iranian centrifuges and was uncovered around that same time.
Israel has, however, openly admitted to staging daring raids that destroyed nuclear reactors in Iraq in 1981 and in Syria in 2007. The latter operation was conducted just a few years after the U.S. invaded Iraq on the premise of halting an alleged active weapons of mass destruction program that never was uncovered.
But Israel was not the only potential culprit named by Shamkhani in Fakhrizadeh's murder. The senior Iranian official also raised the possibility that an outlawed dissident group, the People's Mojahedin Organization of Iran (PMOI), or Mujahedin e-Khalq (MeK) played a role in the deadly operation as well.
The group was once a U.S.-designated terrorist organization before being stricken from the list in 2012 with the lobbying support of two future Trump administration associates: John Bolton, former White House national security adviser, and Rudy Giuliani, the president's personal lawyer.
Paris-based PMOI/MeK spokesperson Shahin Gobadi accused Shamkhani of directing "rage, rancor, and lies" against his group. Gobadi connected Shamkhani's allegations to the ongoing trial of Iranian diplomat Assadollah Assadi for alleged involvement in a supposed 2018 bomb plot against MeK officials in Villepinte, France.
"Accusing the Mojahedin of killing the regime's nuclear experts is nothing new," Gobadi said, "and is a reaction to the exposure of the entirety of the mullahs' nuclear structure and program as well as those involved by the Iranian Resistance."
The MeK has taken credit for exposing Iran's alleged nuclear weapons program as early as 1991, and in revealing key facilities in Natanz and Arak in 2002, which was part of a leak believed to have Israeli and U.S. intelligence involvement. Gobadi told Newsweek that two years later his group "identified Mohsen Fakhrizadeh as the official in charge of the regime's bomb-making apparatus."
"The Iranian Resistance saved the world and the Iranian people from the danger of the mullahs' speedy access to a nuclear bomb," Ghobadi said, "and blocked their path in this field, which the regime leaders emphasize is the guarantee to preserve the rule of the medieval theocracy."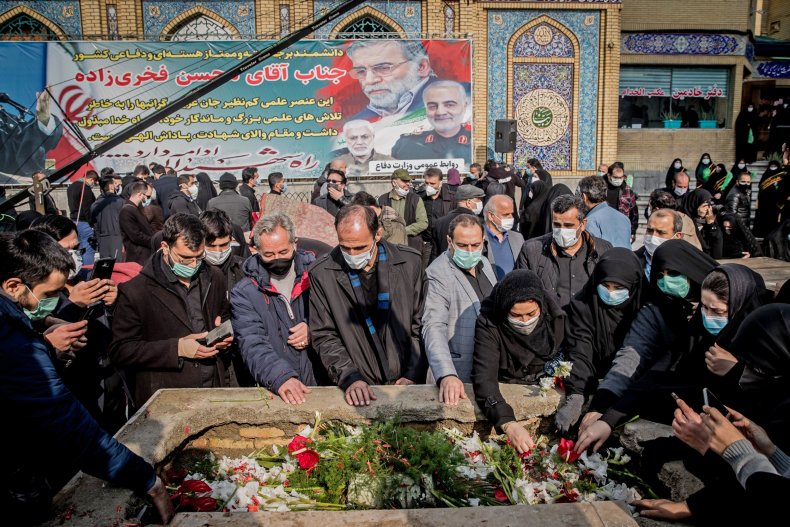 The extent to which Israel and MeK could collaborate has been the subject of debate, though neither side acknowledges any official ties. Slavin spoke of likely links between the two in past operations against Iran, but cautioned against ascribing too much influence to the overseas-based opposition group.
"In the past, the Mossad has used MeK agents in Iran to carry out assassinations," Slavin told Newsweek. "I don't know if the same was true this time, or whether Israel has succeeded in infiltrating Farsi-speaking Israelis or others to carry out operations. In general, I believe the MeK's relevance has been exaggerated."
Regardless of who actually pulled the trigger that ended Fakhrizadeh's life, the spotlight on Israel has serious implications as Iranian officials move to react.
Iran's parliament has already voted in favor of enriching uranium further past the markers set by the 2015 nuclear deal, which was pioneered but later abandoned by the U.S. after President Donald Trump took office. The enrichment vote was later opposed by Iranian President Hassan Rouhani's administration, who has been careful to ensure that all steps made away from the nuclear deal could be undone should President-elect Joe Biden return to it.
Two former State Department deputy lead coordinators for Iran nuclear implementation, senior fellow in the Geoeconomics and Strategy Program at the Carnegie Endowment for International Peace Jarrett Blanc and Nuclear Threat Initiative senior director for Fuel Cycle and Verification Richard Johnson, recently told Newsweek that, while concerning, Iran had not taken any measures that would preclude a return to the deal should the U.S. agree.
Iranian mission to the U.N. spokesperson Alireza Miryousefi confirmed his country's steps were in direct response to other parties' violations, such as the U.S. imposition of crushing sanctions on the Iranian economy and European failures to normalize trade ties in response.
"Iran makes decisions on its nuclear program based on national interests," Miryousefi told Newsweek. "As you know, the steps taken since the U.S. withdrew from the JCPOA are incremental and will be in effect as long as other parties are in violation of the accord and/or are not fulfilling their obligations."
But he said further retribution was in store.
"Retaliation for Dr. Fakhrizadeh's assassination will come in due course against the perpetrators of the terrorist action, and at a time and place of our choosing," Miryousefi said.
Asked about Iran's national security given Israel's extensive efforts to maintain a qualitative military edge in the region, the Iranian diplomat said Fakhrizadeh's killing does not indicate any weaknesses in the Islamic Republic.
"As to ensuring our defenses, Iran is perfectly capable of defending its people and its territory," Miryousefi said. "One recent terrorist action, that can and does happen in every country, does not diminish Iran's vigilance in disrupting plots, which it has done dozens of times in the past 41 years."
The Revolutionary Guard announced Thursday it crushed a three-person team of "counter-revolutionary elements and mercenaries of global arrogance who intended to carry out terrorist acts" in West Azerbaijan province, seizing a sizable amount of weapons, communication equipment and ammunition.
Tehran has also engaged in expeditionary operations across the region and beyond, and has sought to distance itself from events that often carry suspicion of its involvement. These include rocket attacks on U.S. and Israeli forces, as well as the complex missile and drone strike last year against Saudi oil sites, all acts in which Iran denies having any part.
A stunning departure in this narrative came in the form of the Iranian missile barrage against U.S. forces in Iraq that followed the U.S.' open killing of Revolutionary Guard Quds Force Major General Qassem Soleimani at Baghdad International Airport in January. The thunderous exhibition of the largest and most advanced missile arsenal in the Middle East was accompanied by the Iranian motto of "hard revenge," now repeated in the wake of Fakhrizadeh's death.
With both Israel and Iran acting in the shadows, experts could only speculate as to how far either country would go to defend its interests, But Atlantic Council senior fellow Hagar Hajjar Chemali said Israel was willing to go to nearly any length to ensure its qualitative military edge was preserved, even in the face of now friendly nations in the neighborhood.
"For numerous reasons, Israel has always looked to maintain its qualitative military edge," Chemali told Newsweek, "and I expect it will continue to do so regardless of the number of normalization and peace deals signed with other states in the region."
Among the most widely touted achievements in the Trump administration's deeply pro-Israel legacy – which also includes recognizing the country's annexation of East Jerusalem and the Golan Heights, recognized as Palestinian and Syrian, respectively under international law – is his overseeing of agreements in which Arab states the United Arab Emirates, Bahrain and Sudan normalized their relations with a country they had formally boycotted for decades.
Israelis for the first time can now openly travel to countries just a few miles across the Persian Gulf from Iran. Not even these historic deals, however, have ensured that friendly Arab states could receive equipment with even the perception of compromising Israel's qualitative military edge.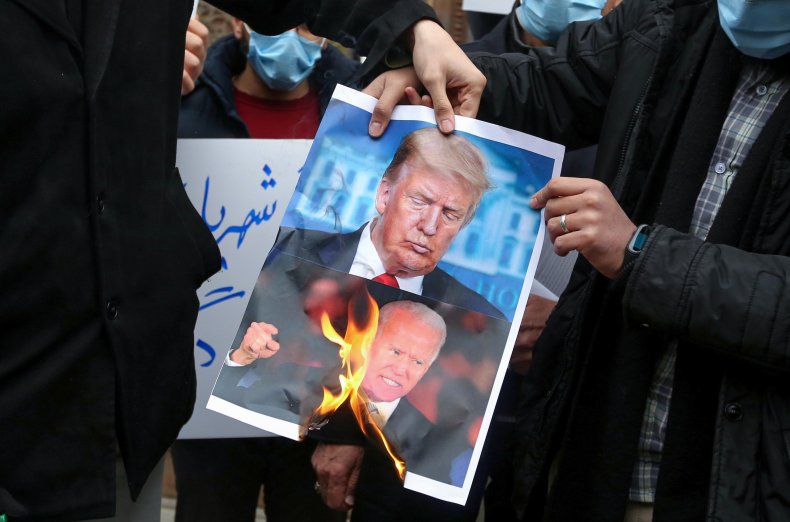 With a proposed F-35 sale to the UAE still in limbo, U.S. lawmakers such as Sen. Chris Murphy (D-Conn.), a member of the Senate Armed Services Committee, says it remains to be seen how such an agreement could affect Israel's posture vis a vis other countries in the Middle East.
Even on its face, he argued "there's no doubt" that such an agreement "reduces Israel's military advantage in the region."
Murphy reiterated the importance of ensuring Israel retained its competitive lead over the rest of the region, including Iran, and emphasized mistrust of its neighbors. He added e an explicit reference to the UAE sale.
"We should also be aware that the weapons we sell into the region don't often remain in the hands of the original purchaser," Murphy said.
In a statement published Thursday by the UAE's embassy in Washington, Emirati ambassador Yousef al-Otaiba said "there has never been a report of US technology being diverted to an adversary by the UAE."
In any case, neither Israel nor the UAE is eager to see Biden live up to his commitment of returning to the Iran deal, the Joint Comprehensive Plan of Action (JCPOA), as regional tensions soar. With the qualitative military edge at the forefront of Israel's strategic outlook, Chemali said this concept far more likely played into Fakhrizadeh's death than any attempt to sabotage the JCPOA.
"The assassination of Iran's top nuclear scientist, assuming it was conducted by Israel, would also support this reason," she said, " which is why I don't believe the driving factor was to prevent diplomacy between the Biden administration and Iran, but rather to get it done before the Biden administration comes in."
With the Trump administration unlikely to admonish Israel, she said the timing may have been just right.
"It could also be that the opportunity simply presented itself at this time," Chemali said. "Israel likely felt that assassinating Mohsen Fakhrizadeh now allowed them to pursue a step they feel helps maintain their qualitative military edge while avoiding complicating the U.S.-Israel relationship under a Biden administration."
Iran's next steps in a deadly game playing out across the region may be determined by the Biden administration's own choices as it prepares to inherit U.S. foreign policy in the wake of a series of severe escalations.
"A lot will depend on whether the U.S. returns to the JCPOA as Joe Biden has promised," Slavin told Newsweek. "Iran may not want to jeopardize sanctions relief by retaliating in a major way for Fakhrizadeh's killing."
She offered a travel advisory.
"However, if I were an Israeli business person or tourist," Slavin said," I might avoid Dubai for the time being."
Ramsey Touchberry contributed to this story from Washington, D.C.