Iranians Cheer Biden Win, Hope for End to Sanctions and War Threats But Still Fear for Future
The declarations by major news outlets of the victory of former Vice President Joe Biden in this year's presidential led to celebrations in the streets of many major U.S. cities. But 6,000 miles away, people added their cheers, though somewhat muted, in a capital city where the United States is more typically the object of threats: Tehran.
Iranians looked with guarded hope on the prospects of a change in the U.S. administration, which under Donald Trump has meant crushing economic sanctions and constant threats of war.
"Needless to say, Trump, both in his personality and his Iran policies, are not much appreciated here," Ali Ahmadi, a Tehran-based researcher and analyst focused on U.S. foreign policy towards the Middle East, told Newsweek.
It's been some five years since Iranians took to the streets in support of the Joint Comprehensive Plan of Action (JCPOA), popularly known in America as the Iran nuclear deal. The diplomatic milestone brought longtime foes the United States and Iran together along with other major powers for an accord that promised a new path forward for the long-troubled relationship between the Islamic Republic and the West, and especially with Washington.
President Donald Trump's decision to abandon the agreement in 2018 and instead impose increasingly tight economic restrictions has brought the country's embattled economy to its knees. It has also brought the U.S. and Iran to the brink of war on at least a couple of occasions, exhausting a population already accustomed to hardships, while it deals with a particularly deadly outbreak of COVID-19.
"The U.S. abandoning the JCPOA and reimposing sanctions have certainly harmed the livelihoods of many and undermined the country's ability to import medicine during this pandemic," Ahmadi said.
As it became apparent that voters in the United States had decided to abandon Trump for Biden, who served under former President Barack Obama as he forged the JCPOA nuclear deal, which he has stated he wants to reenter, some Iranians could not hold back expressing their delight, despite the strict quarantine and lockdown measures that prevented any large gatherings.
"The news that he is losing the election was met with some joy," Ahmadi told Newsweek. "Some people even set off some fireworks in my neighborhood."
Alex Shams, a Tehran-based Iranian American academic and writer, also said he heard fireworks in the Iranian capital as the voter tide turned against Trump's early lead on election night.
"People in Tehran have met the news of Biden's election with a great sigh of relief," Shams told Newsweek. "The last four years have been extremely difficult. It's hard to believe this nightmare might be coming to an end."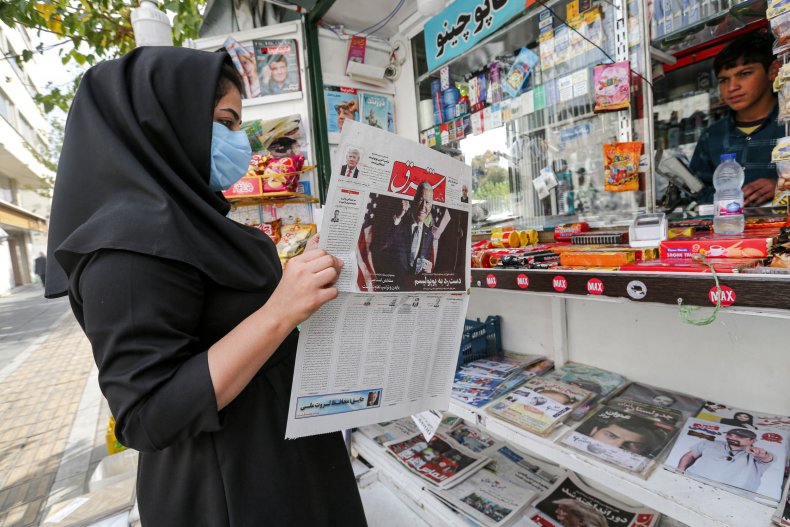 He recalls the jubilation in the immediate aftermath of the nuclear agreement deal years ago.
"People felt there was a reason to hope again," he said, "and that peace between the U.S. and Iran was possible."
But he said not everyone was as optimistic as he was.
"Unfortunately," Shams said, "Trump's presidency killed many of those hopes."
In addition to the suffering inflicted by the U.S. exit from the JCPOA, Shams decried Trump's "racist and insulting policies like the Muslim Ban," the name bestowed by critics of the policy that banned the issuance of U.S. visas for citizens of Iran and several other majority-Muslim countries. Shams also said the president's "brinkmanship and attempts at starting a war have been terrifying for ordinary people."
But, noting the collective disappointment experienced by Iranians in the past, both men noted that Iranians have reason to be pessimistic.
"Many also see hawkishness as somewhat built into the American body politic, so they don't know what to expect of Biden," Ahmadi told Newsweek.
"Understanding what Biden's policies will be, what that means for the sanctions and how that affects your life is a complicated calculus," he said. "Most people are taking a wait and see approach."
Shams shared his reservations.
"I think people are wary of Biden too, and they're especially worried about being deceived by the U.S. again," Shams said, "which is how the nuclear deal is now remembered—that Iran and the U.S. made peace, and then the US broke that promise. Iranians remember that the U.S. policy of collective punishment of Iran didn't start with Trump."
Obama initially introduced toughened sanctions against Iran, targeting companies and financial institutions as he accused the Islamic Republic of backing foreign militias, developing advanced missiles and secretly pursuing a nuclear weapon.
A number of economic restrictions were rolled back by his administration's signing of the JCPOA, through which Iran agreed to significantly curb its nuclear production. The International Atomic Energy Agency repeatedly certified Tehran's adherence, but the Trump administration questioned the very integrity of the deal itself, unilaterally exiting in May 2018.
While Biden has said he planned to return to the accord, he's also promised to pursue efforts to expand the agreement and challenge Tehran on other activities. Some Iranians feel it's too early to tell if the new president is serious about changing the course of U.S.-Iran relations.
One Tehran-based journalist who asked to be identified simply as "Farin," told Newsweek that before drawing a conclusion, "we have to wait and see, at least for the next three to four months until the new administration takes power and the president-elect Biden will start his job."
She expressed support for the former vice president's vows to immediately reverse Trump-era restrictions, including the so-called "Muslim Ban," but said more must be done as the country struggles to access crucial medicines amid daily record-breaking coronavirus infection numbers.
"I know he's promised to lift the Muslim Ban, especially from countries such as Iran," Farin said, "but at the height of the coronavirus where Iranians can't even travel to Turkey for, say, the American visa, and the hiking price of the dollar to the Iranian rial, the lift would be a show rather than a real action."
She saw the removal of the ban as more being more symbolic than practical.
"Lifting the Muslim travel ban is good," Farin said, "but it neither solves any of our problems nor eases the burden of sanctions."
She said the perspective on the street varies as well. Farin said she spoke with two individuals, a middle-aged man and woman, who both felt that the new American administration should first demonstrate its goodwill by reentering the deal without conditions before any new talks are held.
Two younger men, however, told Farin that Iran should negotiate because the country's economic situation is so dire. One young woman went even further, suggesting that Iran should accept new conditions if imposed by the U.S., though she did not specify which conditions would be acceptable.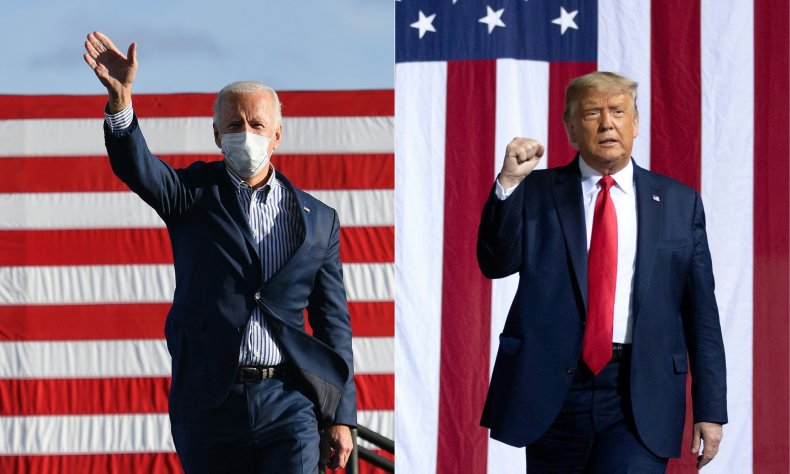 The differences run deep inside classrooms and households as well.
Mohammad Ali Dahaghin, an Iranian student living in Tehran, said many family members, friends and colleagues were among the more conservative strains of society that are especially supportive of the state and its revolutionary Shiite Muslim ideology. Their discontent, he told Newsweek, was aimed not so much at Washington, but at Iranian President Hassan Rouhani, who joined Obama in forging the JCPOA in the first place.
Rouhani's two-term limit runs out in June, and Iran is then set to hold its own elections, in which there is a strong likelihood that his successor will not be as open to dealing with the West as he was.
This mindset is gaining momentum among political hardliner circles within Iran's government, fueled by supreme leader Ayatollah Ali Khamenei's November 3 speech that coincided with the U.S. vote.
"No matter which one will be elected...there is a completely clear point, which is the political, civil and moral decline of the American regime," Khamenei said in his televised address.
Iran's top authority argued that this was inevitable, though, "if some hold office, they will destroy it sooner than the others, and there are some who make it last a little while longer should they hold office."
Iranian policy would remain the same regardless of the winner, Khamenei emphasized.
Such thought has been further supported by certain outlets such as the semi-official Islamic Republic of Iran Broadcasting network, Dahaghin explained to Newsweek, pointing to an interview broadcast on election night with a factory owner criticizing those who felt the outcome of the U.S. vote would fundamentally affect the situation in Iran.
Iranian officials speaking to Newsweek have also consistently denied having a favored candidate, instead focusing only on the necessity for a U.S. return to the JCPOA and an end to sanctions.
Even so, Iranian media and its viewers continue to follow the affair with great interest, consistent with the reputation of Iranians as a people who are well-informed and voracious consumers of world news. One widely shared video clip showed a father speaking to his young son, who argued that, should Biden win, everything would become cheaper; if Trump wins, life would be more expensive.
The boy dreams of a bicycle and a trip to Hawaii in the event of a Democratic victory, and even recites the number of electoral votes the candidates have accumulated.
Dahaghin, for his part, took a middle road.
"I am glad that Biden is winning the election, not because of his win, but because Trump's loss," he told Newsweek. "He hardly sanctioned our country and we completely feel the impact of sanctions on our life. Some medicines can hardly be found and many lives put at risk—recently the lack of insulin injector pens stormed Persian social networks—and prices two, three times higher, sometimes up to eight, compared with four years ago."
And while Iranians hope political change in Washington will translate into an economic upturn in Tehran, they especially hope for a lessening of the lingering fears of a military confrontation. Those anxieties have run high since last year's Persian Gulf tensions that erupted in January with the Trump administration's killing of renowned Revolutionary Guard Quds Force commander Major General Qassem Soleimani in Iraq.
"Some days we closely felt the shadow of war on our country, for Trump's madness on the assassination of Qassem Soleimani," Dahaghin told Newsweek. "I don't believe Biden to have any goodwill for Iran, but what is clear is that he could make restrictions easier, like travel to the U.S., and could make a deal with the Iranian government, so this could lead to a better situation for Iranian people."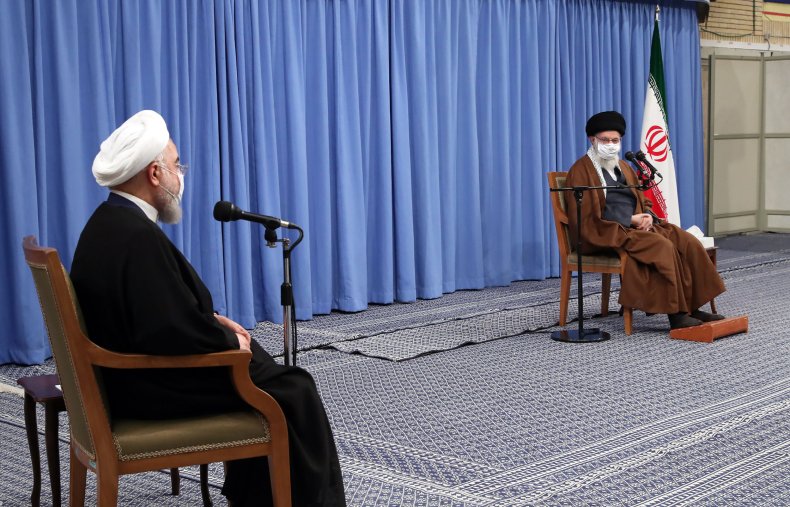 Yet another social strata was identified by Maryam Majd, a Tehran-based documentary and women's sports photographer. She told Newsweek that a certain class of wealthy Iranians had their wealth multiplied by sanctions who did not welcome the victory of a potentially more moderate Biden.
There is also the matter of Iranians abroad, a number of whom, including in the United States, are opposed to the Islamic Republic. Majd said this group supported Trump's push for regime change in Iran.
As for the general public in Iran, however, she said "many were awake days and nights following the news," most longing for a Biden victory to alleviate the maximum pressure campaign imposed by Trump.
"This is significant for them," Majd told Newsweek, "because they believe that Biden and Democratic policies can give hope to the United States to return to the Comprehensive Joint Action Plan and end the suspension of the P5 + 1 talks and re-establish Iran's position in international cooperation."
And while she fundamentally questioned why one country's fate should be so tied to the elections of another, she said she was pleased to witness the triumph of Biden and his running mate, former Senator Kamala Harris, who would be the first female vice president.
"I'll really like Joe Biden and Kamala Harris to sit in power in America," Majd said. "I've read a lot of articles from Harris during this time. I listened to her as a woman who has endured many hardships. I appreciate a woman who thinks about peace and equality."
She cheered the ascent of a woman into the highest level of American government.
"I believe that the presence of women in politics can always play a main role," Majd said, "so it is definitely based on Biden's decision to choose a woman as a U.S. vice president-elect, based on the personality, social characteristics, and activism of a woman like Harris, that I had this positive reaction to be happy for him to be elected."
She described herself "as an ordinary person who wishes to continue her life in secure, pleasant and peaceful conditions, an end to the nightmares and fears." Majd said she could only hope the best for U.S.-Iran relations, while noting the unpredictability of international politics and the inevitability of differences of opinion emerging.
She then struck a note of caution, as others with whom Newsweek spoke had, and she recalled being disappointed in the not-so-distant past. She told of photographing the exuberant crowds greeting the signing of the JCPOA five years ago, hopeful for a better future that never arrived.
"It didn't take long and everything changed," Majd said, "and we never saw those happy people again."