Hamas Threatens to Hit Israel With Barrage of 5,000 Fire Kites
Tens of thousands of Palestinian demonstrators are expected to head to the Gaza-Israel border fence today, as protests against the Israeli government continue.
Numbers are expected to swell as residents of the Gaza Strip mark the first day of Eid al-Fitr, the end of the monthlong Ramadan fast. But behind the crowds, Islamist group Hamas said it would launch as many as 5,000 fire kites across the fence, The Times of Israel reported.
Israeli emergency services have battled numerous fires started by Gazan kites and balloons since a new round of anti-Israel protests began on March 30, in which at least 120 Palestinians were killed by Israeli troops.
Demonstrators launched kites, dangling coal embers or burning rags and carrying flammable material, in order to damage land in southern Israel. Like the protests themselves, the kites were originally a grassroots strategy. Hamas has since co-opted the method and created its own "kite unit."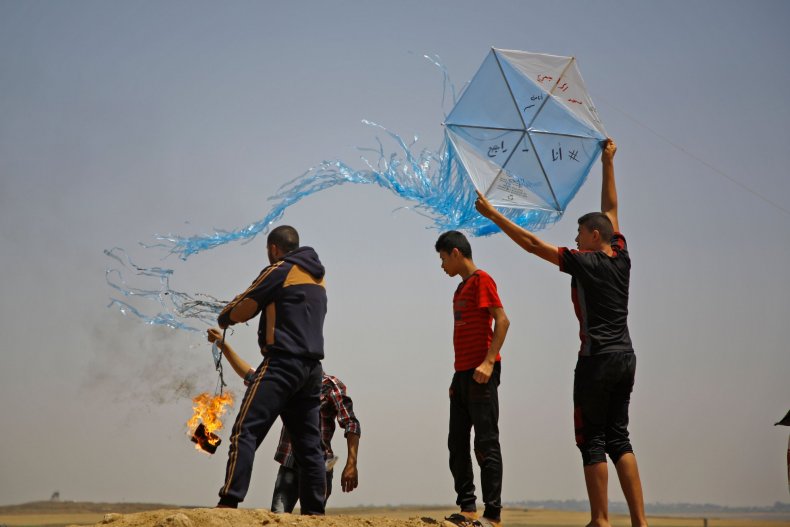 Though no one has been hurt by the fire kites, about 6,000 acres of fields and nature reserves have been burned, to the cost of some $2.5 million. The Israeli government said about 600 kites had been sent across the border since March 30, of which 200 reached Israel.
Hamas claimed its kites could travel as far as 25 miles into Israel, and said Israelis close to the fence would "live under a siege of kites."
Israel's Prime Minister Benjamin Netanyahu said that tax funds collected on behalf of the Palestinian Authority (PA) would be used to compensate the victims of the fire kites. Critics questioned this policy, as the kites are coming from areas controlled by Hamas rather than the PA. With the two factions currently at odds, such a move will not likely diminish the number of launches.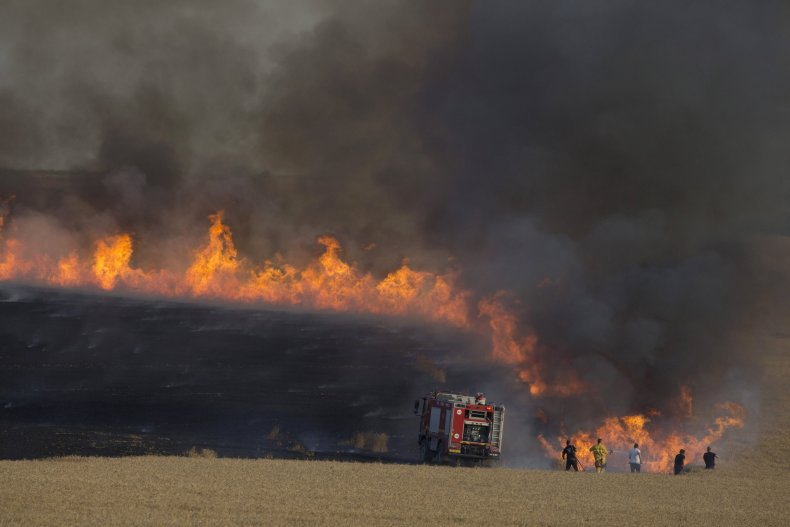 Gazans have been calling for the right of refugees to return to the lands they left or were forced from upon the creation of Israel in 1948. Hamas also demands an easing of the strict Israeli-Egyptian blockade on the coastal enclave, which has been in place since 2007. The blockade prevents spare parts and construction materials from entering Gaza for fear they would be diverted to military use.
The Israel Defense Forces (IDF) has been experimenting with methods to stop the kites, including using drones to intercept them and force them to the ground. Though the drones do not have a 100 percent success rate, the IDF said the method is working.
Israeli Public Security Minister Gilad Erdan lobbied for a more extreme approach, arguing for "targeted assassinations" to stop kite launches. The IDF has fired warning shots at those about to send kites and balloons skywards, and there have even been reports of IDF drones targeting those launching kites. The Times reported Thursday that the IDF was considering targeting launchers directly but that it must first legally define the kites and balloons as weapons.