'Hamilton' Wins 11 Tony Awards as Lin-Manuel Miranda Makes Emotional Orlando Tribute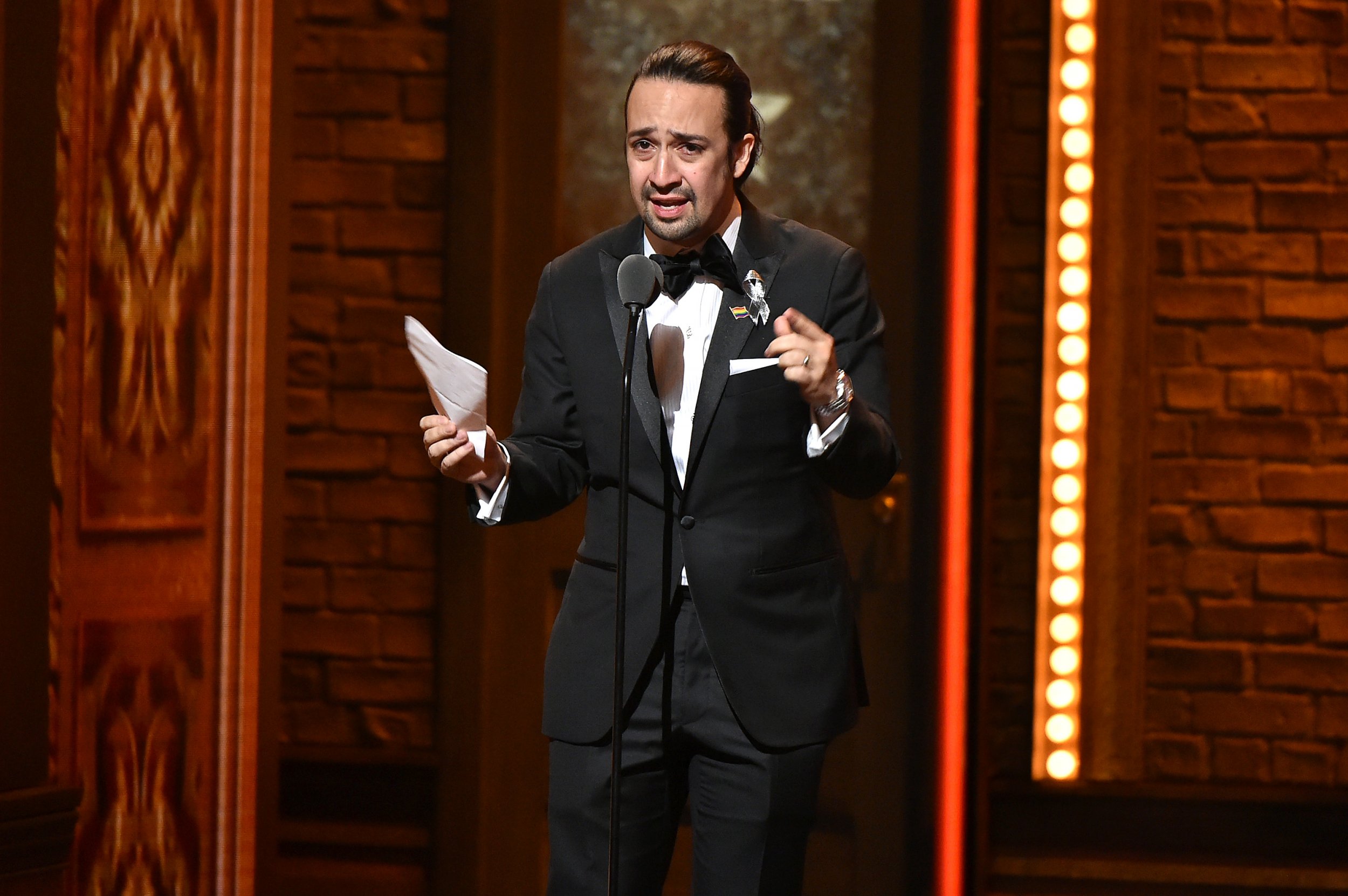 Updated | Less than 24 hours removed from the worst mass shooting in U.S. history, there was a poignancy in the air at the Tony Awards Sunday night as Hamilton, Broadway's buzziest musical in some years, predictably swept the board with 11 wins.
Lin-Manuel Miranda's hip-hop musical scooped the best musical prize, in addition to wins for its book and original score. The production's awards haul was just one trophy shy of matching The Producers' record-setting 12 wins at the 2001 Tony Awards.
Miranda's powerful acceptance speech in tribute to the victims of the Orlando, Florida, gay club shooting early Sunday morning has been widely shared in the hours since the awards aired. The Hamilton creator performed a sonnet, in part an ode to his wife as well as a message of love and acceptance, as he took the prize for best original score.
"We live in times where hate and fear seems stronger," he said. "Love is love is love is love," he continued, fighting back tears.
See a clip below:
Tonys host James Corden also paid tribute to the victims as he opened the show, saying: "Your tragedy is our tragedy. Theater is a place where every race, creed, sexuality and gender is equal, embraced, and loved. Hate will never win."
Hamilton has been nothing short of a cultural phenomenon since it debuted on Broadway in August 2015. The musical, based on U.S. Founding Father and first secretary of the treasury Alexander Hamilton, has won critical acclaim and already triumphed at the Grammy Awards in February and won a Pulitzer Prize for drama.
Backstage at the Tonys, Miranda confirmed speculation that he will leave his role as the titular character "sometime this summer"—but said he will return to the role in the future.
Fresh from its success at the awards, a West End transfer was announced early Monday morning. The £30 million production is due to open in October 2017 at the Victoria Palace Theatre. Tickets will go on sale in November but fans can sign up for priority access via the musical's official U.K. website.
Announcing the transfer, Miranda said: "The support Hamilton has received from our British fans has been incredible—I have been reminded of their love, which is just as our King George would want it to be! I'm thrilled the show will be shared with U.K. audiences starting in the fall of 2017 at the beautiful Victoria Palace Theatre."
Elsewhere at the Tonys, the revival of The Color Purple was also a big winner, taking home best musical revival and best actress in a musical for its British star Cynthia Erivo.
Stage and screen veterans Frank Langella and Jessica Lange won best actor and actress in a play, respectively.
Tony Awards 2016—selected winners:
Best Musical: Hamilton
Best Musical Revival: The Color Purple
Best Actor in a Musical: Leslie Odom Jr., Hamilton
Best Actress in a Musical: Cynthia Erivo, The Color Purple
Best Play: The Humans
Best Play Revival: Arthur Miller's A View from the Bridge
Best Actor in a Play: Frank Langella, The Father
Best Actress in a Play: Jessica Lange, Long Day's Journey Into Night
Best Musical Book: Hamilton
Best Original Score: Hamilton
This article has been updated to include details of the announcement of Hamilton's U.K. transfer.