Grenades Found Outside McDonald's as Bomb Squad Rushes to Scene
Army bomb disposal experts were sent to defuse explosives after the discovery of two hand grenades in a van close to a McDonald's restaurant in England on Wednesday evening.
The area was cordoned off by police after the sighting in the British city of Birmingham in the West Midlands during the 5 p.m. rush hour on April 27. Police sealed off the area opposite a McDonald's branch at the junction of The Meadway and Garretts Green Lane, while experts from the Royal Logistics Corps Bomb Disposal Unit raced to the scene.
The grenades, which dated back to World War II, had originated from a house that had been cleared earlier in the day, with a number of items being loaded into a van. It was only later that the two grenades were spotted amongst the items in the vehicle and the police were called.
A picture taken by an onlooker from the McDonald's parking lot showed police cars and a large truck marked "RLC Bomb Disposal" blocking off the road. Police tape and a man in an Army uniform were also visible in the photograph, which was published on the website of the regional newspaper the Birmingham Mail.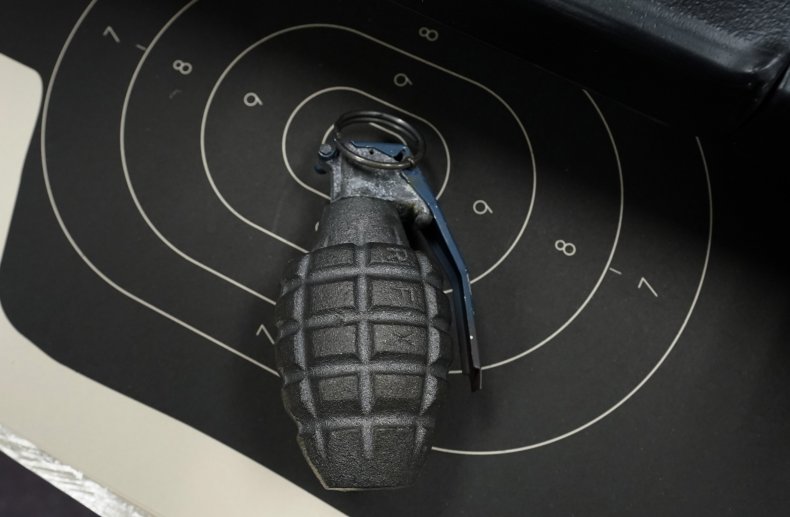 However, following an investigation, the grenades were determined "to be safe." A West Midlands Police spokesperson told Newsweek: "We were alerted to two grenades being found in a van on The Meadway at just before 5 p.m. yesterday following an earlier house clearance. A cordon was put in place as a precaution until they could be assessed by the EOD [Explosive Ordnance Disposal]. They were established to be safe and the cordon was lifted by around 8.30 p.m. There were no suspicious circumstances. We thank everyone for their patience."
An Army spokesperson told Newsweek: "An Army Explosive Ordnance Disposal team was called out to Yardley North, Birmingham, at the request of West Midlands Police and two grenades from the WWII era were safely removed."
The McDonald's restaurant was not evacuated and remained open as normal, a spokesperson said, although they added that no police or bomb squad officers visited to buy a burger after they had finished with their work.
Last month, a home inspector was horrified when he spotted a hand grenade apparently being used as an artistic feature in a home he was reviewing. The grenade was hung on a hook and painted in the same silvery paint as the wall behind it. It was not clear where the home was located, but the inspector's brother shared a snap of the grenade on Reddit's WTF forum, with the caption: "My brother is a home inspector, this one is definitely going in his report."
And in February, police said staff at a thrift store in Junction City, Oregon, stumbled across a hand grenade among donations. The entire road and the surrounded streets had to be evacuated. Explosive experts removed the grenade and took it away to be destroyed.
Update 4/28/22, 9:40 a.m. ET: This story was updated with additional information.
Update 4/28/22, 10:26 a.m. ET: This story was updated with comment from a McDonald's spokesperson.