Hand Sanitizers Recalled Over Risk of Methanol Poisoning
Global Sanitizers, a Las Vegas-based producer and distributor, said Thursday that it is voluntarily recalling 50,000 units of its Medically Minded wholesale hand sanitizers after the Food & Drug Administration (FDA) found the products contained methanol.
According to the FDA, large quantities of methanol exposure can result in a coma, seizures, permanent blindness, permanent damage to the central nervous system or death.
"Although all persons using these products on their hands are at risk, young children who accidentally ingest these products and adolescents and adults who drink these products as an alcohol (ethanol) substitute, are most at risk for methanol poisoning," the FDA warned.
The Medically Minded hand sanitizers in question have lot numbers E212020 & E082020 and a Best Buy date of 5/21/2022, according to the company. The product is typically packaged in 8.5 oz clear bottles with caps that have the Universal Product Code 7675300359 printed on them.
The hand sanitizer was distributed to wholesale companies nationwide, and those companies further distributed the product between July 2020 - August 2020.
So far, Global Sanitizers has not received any reports of adverse medical events related to the voluntary recall. The company is now notifying its distributors and customers by email, letter, telephone and press release, and is arranging for return of all recalled products, the company said.
"Consumers/distributors/retailers that have Medically Minded hand sanitizer product which is being recalled should stop using/return to place of purchase/discard/contact their doctor," the company announcement said.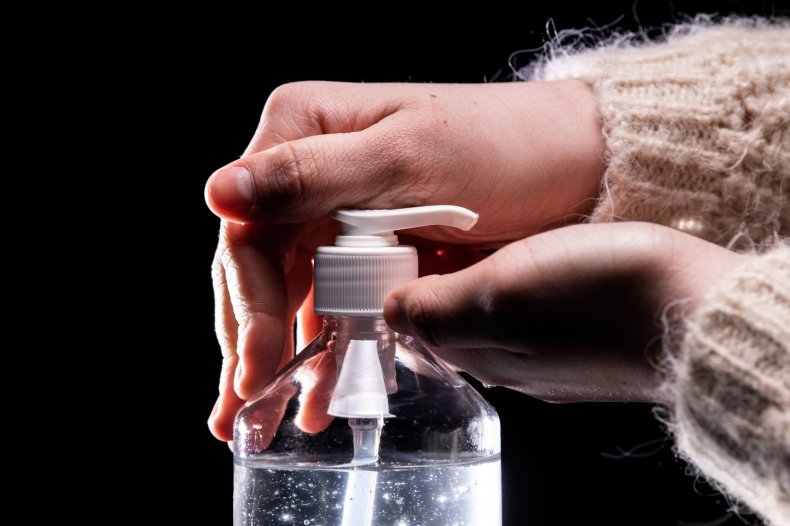 This is not the first time a hand sanitizer solution has been recalled for methanol contamination in the U.S. The FDA has published a list of 248 hand sanitizers that people "should not use" because of their toxicity.
That list, which started with just nine hand sanitizers in late June 2020, has sharply grown throughout the pandemic as the demand for hand sanitizer products has risen.
According to the FDA, just about every alcohol-based hand sanitizer product manufactured and bottled in Mexico has been on high alert for methanol contamination.
Patrick Penfield, a professor of supply chain management at Syracuse University's Whitman School of Management, previously told Newsweek that the reason some suppliers are substituting the toxic substance in products is to keep up with the demand and to cut down on costs.
"In order to meet hand sanitizer demand from the U.S., some Mexican hand sanitizer producers started replacing ethyl alcohol with methanol in order to keep prices low and to supply their customers," Penfield said.
"Unfortunately, methanol can be toxic when absorbed through the skin and the United States was lax in testing and evaluating these imported products to make sure they were safe for people to use."
Additionally, an independent lab study in March found dangerous levels of benzene, a cancer-causing chemical, in 21 of 260 batches of hand sanitizer products.
Previous studies of benzene have found that there is "probably no safe level" of exposure for people. In the case of hand sanitizers, benzene can enter the body through inhalation or absorption through the skin and is known to cause blood cancers such as leukemia.
To avoid toxic hand sanitizers, the FDA recommends that, when possible, consumers should wash their hands often with soap and water for at least 20 seconds to stay clean. If soap and water are not readily available, hand sanitizers containing at least 60 percent ethanol are recommended for public use.
"FDA remains vigilant and will continue to take action when quality issues arise with hand sanitizers," it said. "Additionally, the agency is concerned with false and misleading claims for hand sanitizers, for example that they can provide prolonged protection such as 24-hours against viruses including COVID-19, since there is no evidence to support these claims."
The agency encourages health care professionals, consumers and patients to report any adverse events or quality problems experienced with hand sanitizer products to FDA's MedWatch Adverse Event Reporting program.