'Handmaid's Tale' Costume Pulled From Shelves: A Brief History of Offensive Halloween Costumes
A "sexy" costume inspired by The Handmaid's Tale, the dystopian novel by Margaret Atwood that inspired the Hulu original series, was pulled from shelves after receiving a wave of backlash.
The Handmaid's Tale tells the story of women oppressed under an authoritarian far-right government in a society that has some parallels to our own. The Handmaids are a lower class of women, dehumanized for being promiscuous, whose sole purpose is to be impregnated by upper-class men in order to bear their children.
The costume, a skimpy and suggestive version of the formal, biblically inspired attire the handmaids wear while being effectively raped in the book and on the show, was condemned immediately when images of it were posted online.
The retailer behind the costume, Yandy, issued an apology on Thursday and removed the costume from its website. "Over the last few hours, it has become obvious that the Yandy Brave Red Maiden Costume is being seen as a symbol of women's oppression, rather than empowerment," the company wrote in a statement on Twitter. It said that was not its intention.
Newsweek subscription offers >
The statement continued: "Our initial inspiration to create the piece was through witnessing its use in recent months as a powerful protest image. Given the sincere, heartfelt response, supported by numerous personal stories we've received, we are removing the costume from our site."
Newsweek subscription offers >
Offensive and controversial costumes often come in response to a societal problem or a popular news story. The Brave Red Maiden will join a long list of culturally insensitive costumes that have been available for purchase over the years.
Disney pulled a controversial Moana-inspired costume from its shelves in 2016 after receiving pushback that the costume was racist. The costume was of the character Maui, voiced by Dwayne "The Rock" Johnson in the movie, and consisted of a brown bodysuit with tribal tattoos.
"The team behind Moana has taken great care to respect the cultures of the Pacific Islands that inspired the film, and we regret that the Maui costume has offended some," Disney said in a statement, according to CNN.
In 2014, two 12-year-old girls tried to murder their friend to appease Slender Man in Waukesha, Wisconsin. Slender Man, an internet urban legend, is a terrifying fictional horror story invented on internet forums in 2009. The girls, thinking the urban legend was real, stabbed their friend in the woods. Halloween retailers began stocking Slender Man costumes for purchase. Many local costume shops chose not to sell the costume and Party City was one of the major retailers who pulled the costume from stores and issued an apology.
Another Halloween retailer, HalloweenCostumes.com, pulled an Anne Frank costume for girls from it's website in 2017. The costume is still being sold elsewhere as a World War II Evacuee or Child's World War II Girl Costume. Also in 2017, Costumeish.com, sold a Parisian Heist Robbery Victim Kit, which allowed people to dress as Kim Kardashian after she was robbed at gunpoint.
As for homemade costumes, a photo of a Trayvon Martin and George Zimmerman costume made the rounds on social media in 2013. That same year a woman dressed as a Boston Marathon bombing victim and was subsequently fired from her job.
There will always be one person at the Halloween party dressed as something distasteful. Don't be that person. And remember: Everyone loves the person in the banana costume.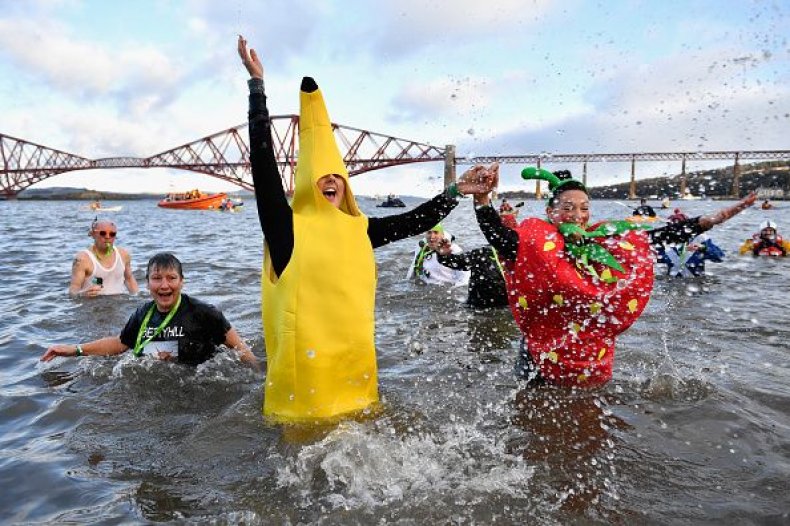 'Handmaid's Tale' Costume Pulled From Shelves: A Brief History of Offensive Halloween Costumes | Culture