Handwritten Anne Frank Poem Sold at Auction for $148,000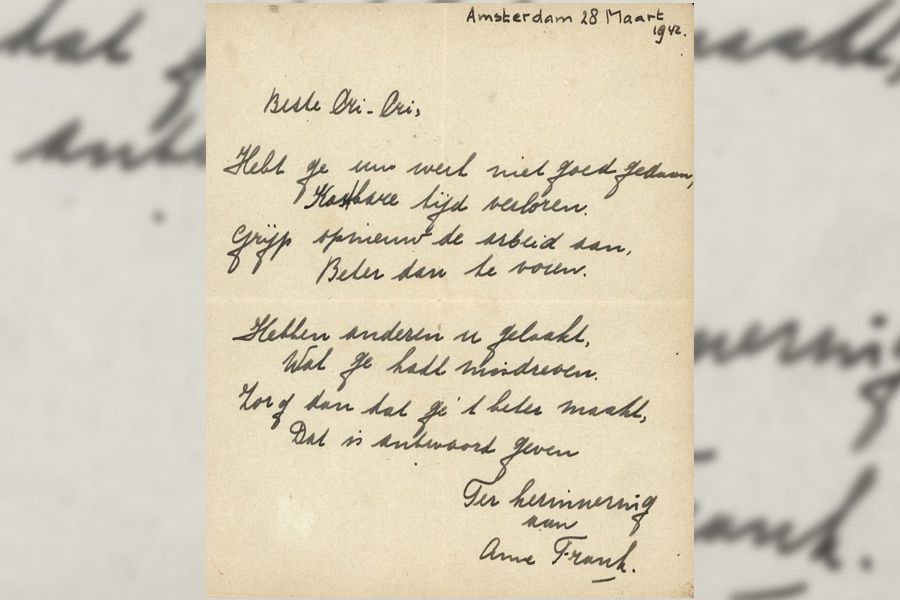 A poem handwritten by one of the Holocaust's most famous victims, diarist Anne Frank, sold for 140,000 euros (roughly $148,000) on Wednesday at a Dutch auction house. The sum, which doesn't include the auctioneer's commission, greatly exceeded the expected sale price of 30,000 to 50,000 euros. Thijs Blankevoort, director of the Bubb Kuyper auction house in Haarlem, just outside Amsterdam, told CNN that the result came as a surprise.
The item is an "extremely rare Anne Frank autograph poem," according to Bubb Kuyper's lot description. "The lines were written in the 'poezie album' (friendship book) of CriCri (Christiane van Maarsen)," the catalog explains, referring to the older sister of Anne's childhood best friend, Jacqueline van Maarsen. "It is a typically edifying poem of the sort that was often written in 'poezie albums,' exhorting the owner to do her best and be diligent at work, so that anyone who reproves her is answered in an honourable manner."
The first half of the eight-line poem, the catalog adds, can be traced to the April 10, 1938, issue of the periodical Het Ros Beiaard, but the second half does not have an identifiable source.
The poem is dated March 28, 1942, less than three months before Anne received her famous red plaid diary for her 13th birthday on June 12. The following month, on July 6, she and her family went into hiding in the "Secret Annex," a set of attic rooms behind a fake bookcase in the office building where her father worked in Amsterdam. The Franks and their fellow annex residents were discovered and arrested on August 4, 1944, after more than two years in hiding. All but Otto Frank, Anne's father, perished in the camps. Anne died at Bergen-Belsen sometime in early 1945.
According to a translation published by CNN, the poem reads:
Dear Cri-Cri,
If you did not finish your work properly,
And lost precious time,
Then once again take up your task
And try harder than before.
If others have reproached you
For what you have done wrong,
Then be sure to amend your mistake.
That is the best answer one can make.
In memory of Anne Frank
Anne Frank Foundation spokeswoman Maatje Mostart told the Associated Press there is no doubt the lot is authentic. It went to an online bidder, whose identity has not been revealed.
Jacqueline van Maarsen, now 87, put the handwritten poem up for sale. "My sister (nicknamed CriCri) tore this page out of her poezie album and gave it to me around 1970," she said in the lot's supporting documentation. "I know that my sister was not as attached to this verse from Anne to her as I am to the verse Anne addressed to me, and that is the reason that I am now putting it up for sale."
For years, van Maarsen kept her own identity a secret. Anne called her by the pseudonym "Jopie" in her diary, and van Maarsen preferred its anonymity. But "at a certain moment I felt...it was necessary because things happen around her [memory] that I didn't like," she told Newsweek in a conversation in 2015. "So I started to write about it." Her first book, Anne and Jopie, was published in 1990. She also began speaking about her experiences, especially with students and other young people, and giving interviews to the media.
"I do it to show what can happen when racism and anti-Semitism is pushed too far, and I hope it helps," she said. "People love Anne."
Her friend's name attracts audiences, and "it's very important I can talk about the Holocaust again and again," van Maarsen said.
Related: From pseudonym to speaking out: Anne Frank's best friend
The poem comes six months after another item featuring Anne's handwriting sold at the New York City-based Swann Auction Galleries. In May, the auction house put up a copy of Grimm's Fairy Tales once owned by Anne and Margot. Anne had written their names on the title page. The Museum of World War II, outside Boston, paid $62,500 (including the buyer's premium) for that lot.
"Anne Frank is one of if not the most evocative personages of World War II," Kenneth Rendell, the museum's founder and director, told The Boston Globe at the time. He told The New York Times, "When you see someone's handwriting, it's personal. It makes someone real."
Read more at Newsweek.com:
- Where Anne and Margot Frank's copy of 'Grimm's Fairy Tales' will go
- Anne Frank's stepsister: 'Donald Trump is acting like Hitler'
- Bringing Anne Frank home—to Germany
- Anne Frank out of hiding