Hannah Gadsby Fans Hit Back at Dave Chappelle's Claims She Is 'Not Funny'
Hannah Gadsby fans are backing her and her comedic talent today after Dave Chappelle declared she is "not funny."
The Australian comedian has been embroiled in the Chappelle Netflix controversy and singled out by the stand-up in his response to backlash over his recent special, The Closer.
In a new stand-up set, Chappelle said that he will not be "summoned" following criticism for transphobic jokes in Netflix special.
The five-minute video, posted to Instagram, shows the 48-year-old comedian speaking to the transgender community directly, saying that he's open to a conversation—but under certain conditions.
One of those conditions in a tongue-in-cheek jab at Gadsby who has labeled some of Chappelle's jokes as "hate speech."
"And if you want to meet with me, I am more than willing to, but I have some conditions. First of all, you cannot come if you have not watched my special from beginning to end," Chappelle says.
"You must come to a place of my choosing at a time of my choosing, and thirdly, you must admit that Hannah Gadsby is not funny."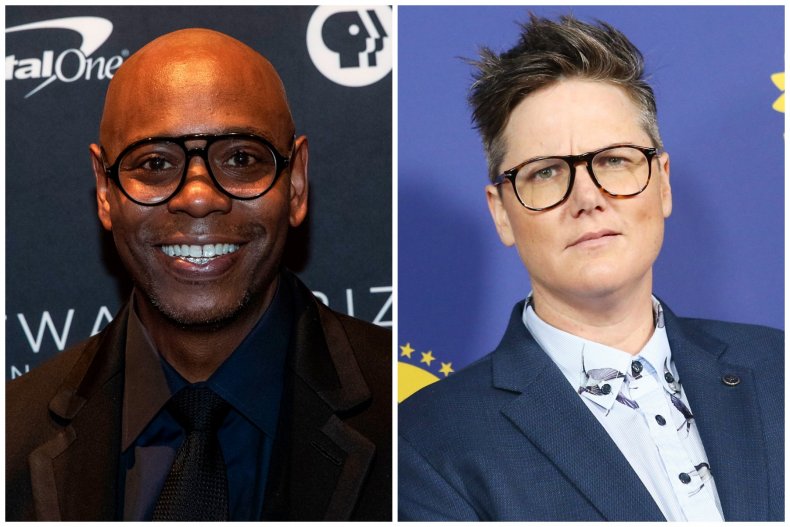 The comment has prompted many of Gadsby's fans to rally behind her and refute Chappelle's claim that she is "not funny."
"Hannah Gadsby is living rent free in the heads of every male comedian is existence—and absolutely EATING THEM UP inside—and for that (among other things) I love her very much," said healthcare advocate Kendall Brown.
Meanwhile, comedian Dan Telfer added: "Hannah Gadsby is too smart and funny to deserve having the most self-righteous dumbfucks in comedy drag her into their conversation."
"Chappelle seems super drunk and self-pitying. Totalllh unnecessary to take a shot at Hannah Gadsby and sick his internet trolls on her," said another comic, Sean Kent.
While sports reporter Sarah Spain added: "A cool thing I've seen happening recently (and also for my entire life) is men saying things aren't funny, inspiring or worthwhile because they don't appeal specifically to them. (See: Hannah Gadsby, certain Nike ads...) V. cool thing that def doesn't make me wanna start fires."
Gadsby became embroiled in the Chappelle controversy last week when Netflix co-CEO Ted Sarandos mentioned her as an example of the diverse content on the platform in a memo to staff.
"Hey Ted Sarandos! Just a quick note to let you know that I would prefer if you didn't drag my name into your mess," she subsequently responded on Instagram.