Lindsey Graham: If Brett Kavanaugh's Confirmation Fails, Trump Should Renominate Him and Let American Voters Decide
Senator Lindsey Graham said President Donald Trump should renominate Judge Brett Kavanaugh to the Supreme Court if Kavanaugh narrowly loses the Senate confirmation vote and go directly to American voters.
Speaking to Fox News host Sean Hannity on Monday night, Graham said if Kavanaugh were to fall one vote short in his Senate confirmation, he would urge Trump to "appeal the case to the American people."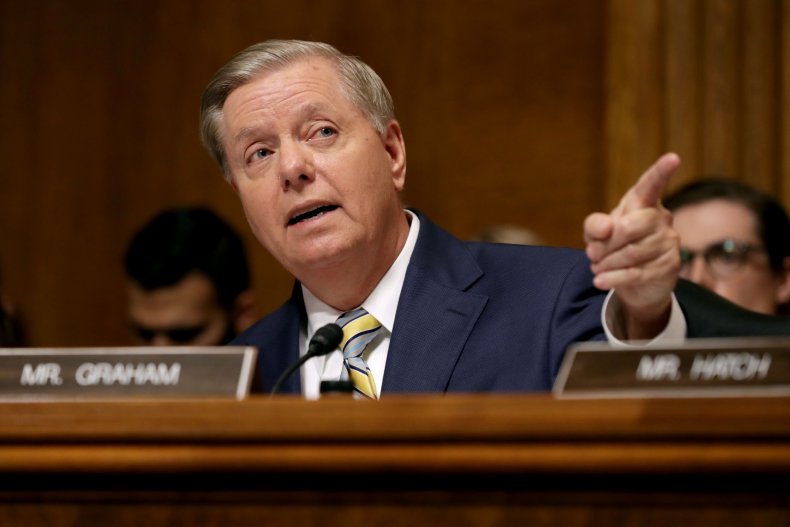 "I would appeal the verdict of the Senate to the ballot box. This good man should not be destroyed," said Graham, who sits on the Senate Judiciary Committee. "If you legitimize this process by one vote short, we'll be onto the next person. I'd hate to be the next person nominated. I would feel horrible that we destroyed Kavanaugh."
The South Carolina senator continued: "So what would I do? I would renominate him and I would take this case to the American people and ask voters in Indiana, in Missouri, in North Dakota, and other places where Trump won, saying who he would nominate...and see if voters want to appeal the verdict of their senator."
Hannity asked if it would be a referendum.
"This would be an appeal from a political body to the people who put us here and see if these Trump states that elected President Trump to do exactly what he's doing on cutting taxes and appointing conservative judges, if they're OK with the decision of their senator."
Just the threat of such a vote could put pressure on Republican senators wavering between yes and no on Kavanaugh to get behind him. Republicans currently control the Senate. They hold 51 seats to the Democrats' 47, with 2 independents who caucus with the Democrats.
Kavanaugh has been accused by Christine Blasey Ford of sexual assault, which she said occurred when the two were in high school. He denied the allegations, which are now under investigation by the FBI. Two other women, Deborah Ramirez and Julie Swetnick, have also made allegations against Kavanaugh, which he also denied. Only Ford and Ramirez will be interviewed by the FBI.
The accusations against Kavanaugh threaten to derail his confirmation to the Supreme Court. Republicans claimed Democrats were orchestrating a character assassination against Kavanaugh to keep him off the Court. But Kavanaugh's opponents said there was enough evidence of serious wrongdoing that he should withdraw from the process.
Graham believes, however, that the Senate will confirm Kavanaugh as the next jSupreme Court justice, replacing Justice Anthony Kennedy who retired in July.
Both Kavanaugh and Ford both testified before the Senate Judiciary Committee last Thursday about her allegations in a fraught and inconclusive session. A poll of Americans by YouGov after the testimonies showed that 41 percent of respondents definitely or probably believed Ford, while 35 percent said they definitely or probably believed Kavanaugh.