Hannity Responds to Hillary's Hint She Might Sue Fox News: 'Bring It On'
Sean Hannity is taking no prisoners when it comes to Hillary Clinton's recent comments that hinted she might sue Fox News and Donald Trump for defamation.
Clinton delivered a keynote speech at the New York Democratic Party's convention and took direct jabs at Fox News saying the network's recent reports, on what she refers to as a "fake scandal," were malicious "attacks" against her. Hannity shot back daring her to sue the Network.
On Fox News, Hannity played a clip of Clinton's speech telling viewers she "had a few choice words for this news channel."
"It's funny the more trouble Trump gets into the wilder the charges and conspiracy theories about me seem to get," Clinton said in the clip. "Fox leads the charge with accusations against me, counting on their audience to fall for it again. And as an aside, they're getting awfully close to actual malice in their attacks."
Hannity shot back at Clinton saying Fox reported exactly what was in the court filings.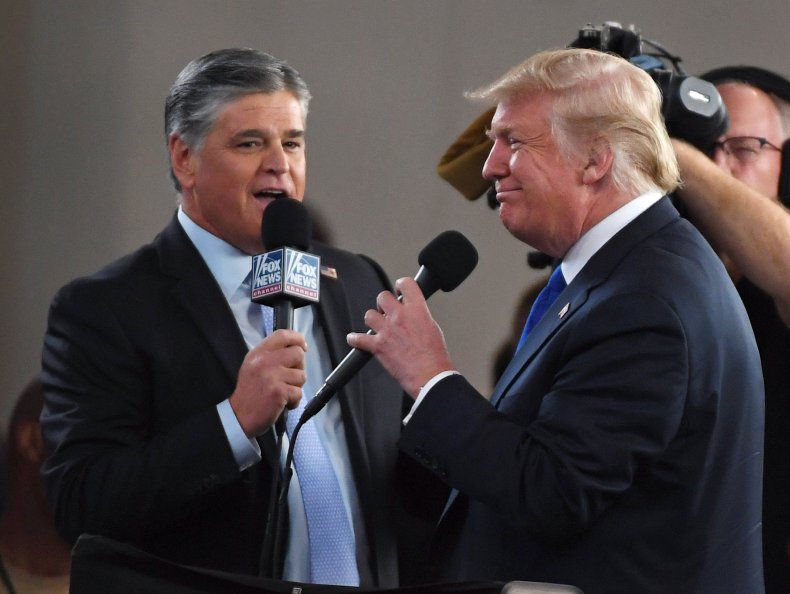 "It's called discovery and it's called depositions," Hannity said. "Bring it on. Malice? Really? It's called news. Hillary, we invite you to bring it on. It's from a legal filing we quoted exactly from the filing that was put in federal court."
The ongoing feud stems from Trump claiming that Clinton spied on his campaign during the 2016 election.
A court filing from Special Counsel John Durham claims that Michael Sussmann, a cybersecurity lawyer working on behalf of the Clinton campaign, told the CIA that someone may have used a Russian-made smartphone to connect to networks at Trump Tower and the White House.
The narrative was shifted and Fox News ran an online article stating Durham's court filing "found" that Clinton's campaign paid someone to "infiltrate" servers at Trump Tower and the White House to link Donald Trump to Russia.
"We can't get distracted, whether it's by the new culture war nonsense or some right-wing lie on Fox or Facebook," Clinton said.
Trump and his allies claim the court filing proves that former Secretary of State Clinton's campaign spied on him; however, Durham's filing does not accuse the Clinton campaign of wrongdoing. The word "infiltrate" isn't mentioned in the filings either.
Newsweek contacted Fox News and the offices of Hillary Clinton and Donald Trump for further comment but did not get a response in time for publication.