Donald Trump Jr. to Sean Hannity: Meeting with Russian Lawyer Was 'Such a Nothing'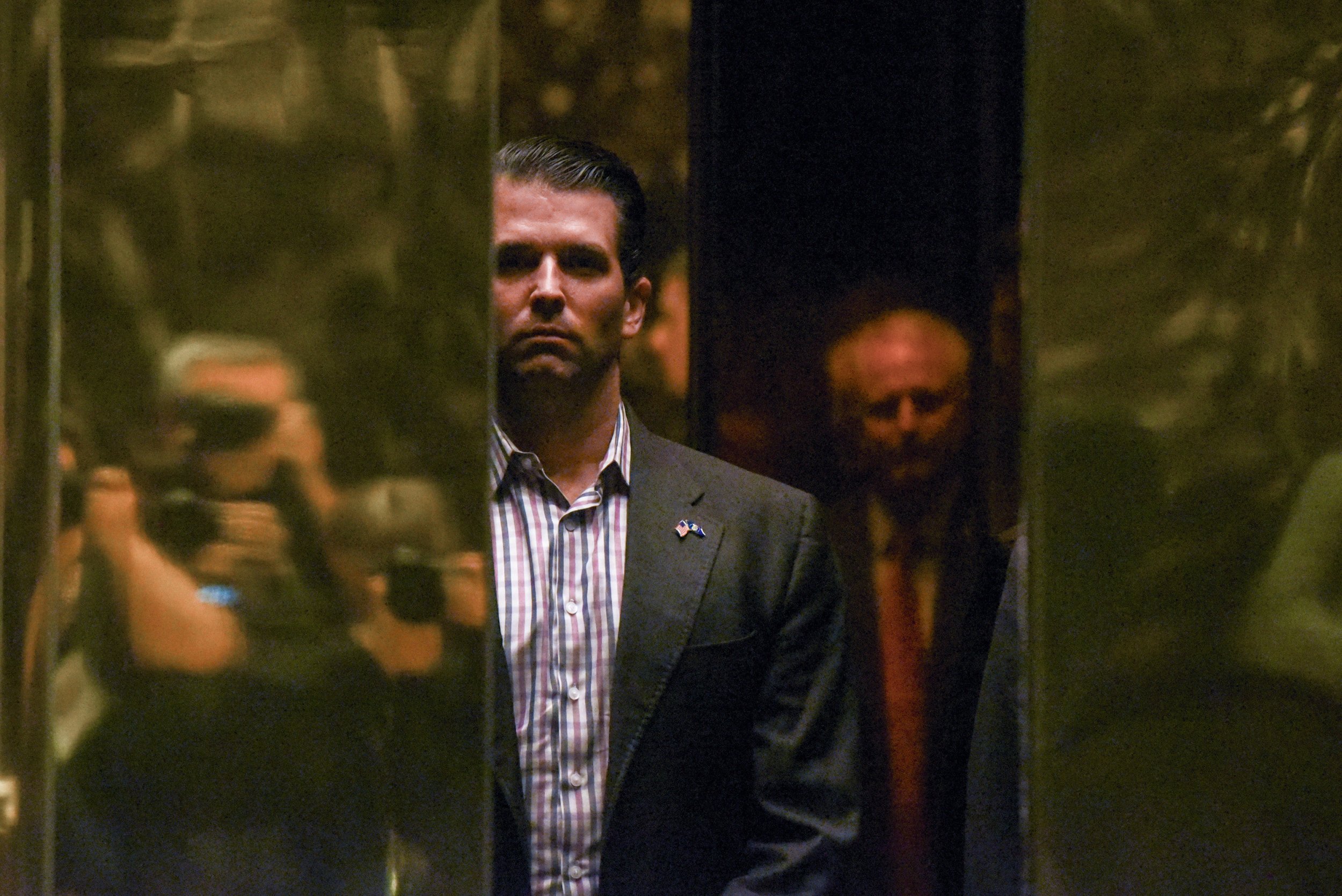 After a day that saw him battered like a Russian skiff on the North Atlantic, Donald Trump Jr. sailed into the calm harbor that is Sean Hannity's nightly show on Fox News. In a lengthy interview, the first son sought to dispel suggestions that his meeting in June last year with Russian lawyer Natalia Veselnitskaya constituted a grave breach of protocol, if not a federal crime.
During the interview, a subdued Trump Jr., his voice seemingly on the verge of breaking at times, deployed a quality not frequently used by members of the Trump family: contrition.
"'In retrospect, I probably would have done things a little differently," Trump Jr. said. There was little evidence of the combative personality he frequently adopts on Twitter, as when he, for example, taunted the mayor of London after an attack in that city.
In his interview with Hannity, Trump Jr. returned to two words: casual, to describe his relationship with music promoter Rob Goldstone, who helped set up the meeting, and nothing, to describe the meeting with Veselnitskaya itself.
"There was some puffery to the email, perhaps," Trump Jr. said of Goldstone's opening email to which Trump Jr. enthusiastically responded with "I love it." He said the ensuing meeting with Veselnitskaya, which took place at Trump Tower on June 9, 2016, was also attended by Ivanka Trump's husband, Jared Kushner, a close confidante of then-candidate Donald Trump, and campaign manager Paul Manafort. Trump Jr. told Hannity that the information Veselnitskaya conveyed was so far from being useful that Kushner left the meeting early, while Manafort was occupied with his smartphone. He said the meeting lasted 20 minutes.
To many, however, the very notion that Kushner and Manafort were at the meeting was troubling. "This is treason," tweeted Richard Painter, an ethics lawyer for President George W. Bush. "[Trump Jr.] must have known that the only way Russia would get such information was by spying." Others, meanwhile, cited federal law that prevents political campaigns from taking contributions of any kind from foreign entities.
"It's a shocking admission of a criminal conspiracy," Cornell law professor Jens David Ohlin told Vox.
Such ominous talk may have plunged the White House into "chaos," as The Washington Post reports, but Hannity presented himself as the steely (if informal) face of an administration he uncritically adores. Aware that members of the media were watching his show because of the Trump Jr. interview, Hannity addressed them directly: "We're glad you're all watching," he said sarcastically in his opening monologue.
A few moments later, he called members of the non-right media "overpaid, rigid, lazy ideologues."
And while Trump Jr. did his best to argue that the meeting with Veselnitskaya was "such a nothing," Hannity eagerly went on the offensive, listing a litany of Clinton-related scandals he complained had received too little coverage: the Benghazi attack and Hillary Clinton's private email server, a uranium deal in Russia involving President Bill Clinton, the so-called deep state and its efforts to undermine President Trump.
Hannity's interview with Trump Jr. seemed to take up an inordinate amount of time. On more than one occasion, Hannity said he'd asked every conceivable question about the meeting with Veselnitskaya. He was presumably continuing with the line of inquiry only to humor members of the "destroy Trump media" who remained unconvinced.
Trump Jr., too, seemed exasperated by his star turn this week. While the Trump family is adept at riding controversies, this one has crashed over them like a tsunami. A curiously tepid statement from Vice President Mike Pence has some wondering if he is preparing to assume the Oval Office.
Trump Jr., meanwhile, is now the latest member of the Trump camp to be ensnared by the ever-expanding Russia probe. And despite the remarkable release, via Twitter, of his email exchange with Goldstone, Trump Jr. seems aware that's not likely to pacify the investigative hounds on the trail of the Trumps.
"This is everything," Trump Jr. told Hannity, in an assertion that also sounded like a plea. "This is everything."