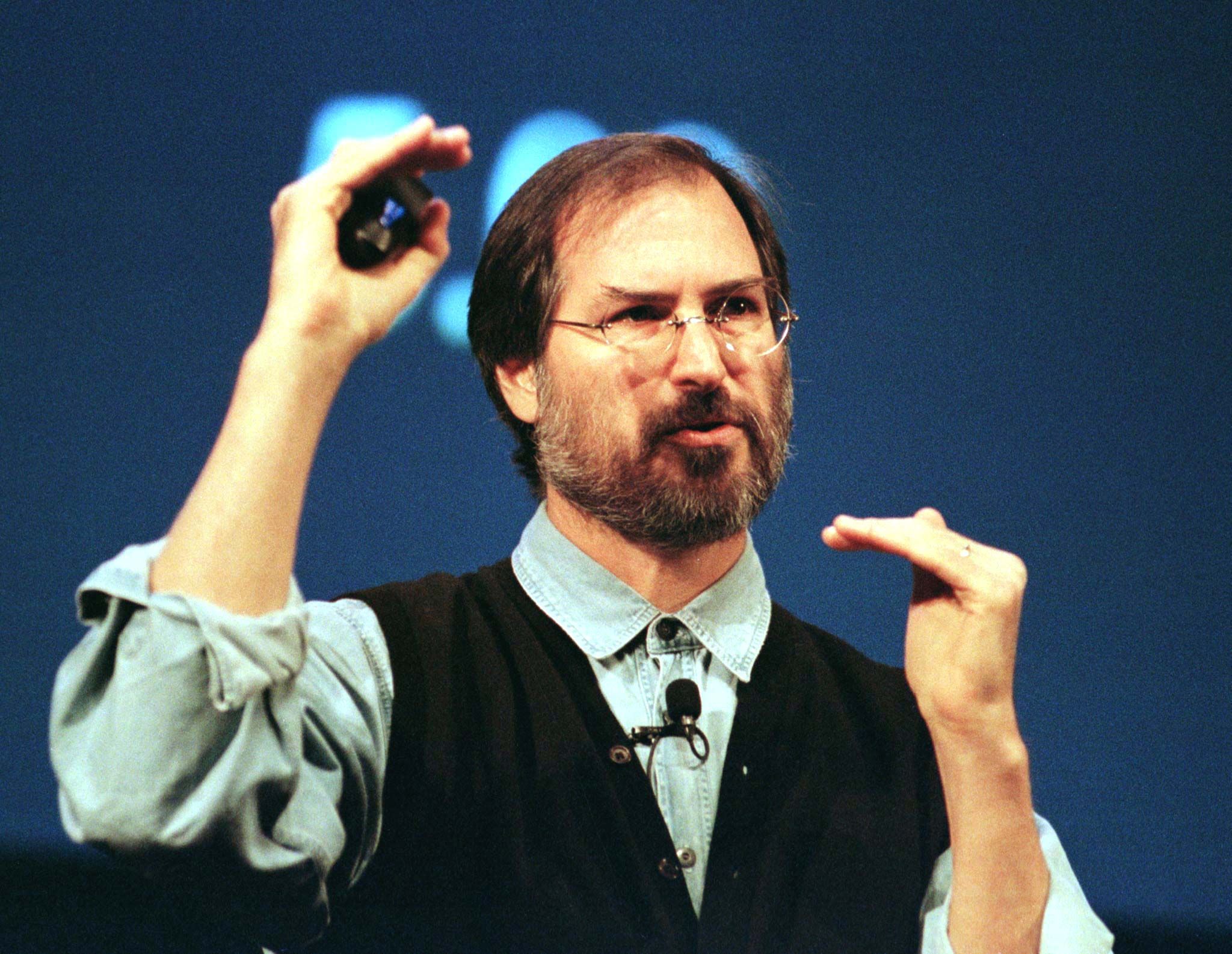 Today, Apple officially hits middle age. Ahead of its 40th birthday, Apple won a hard-fought battle with the FBI over encryption, broke into the robot business and now boasts 1 billion active Apple devices. As the second-most valuable company in the world with a market value of nearly $535 billion (Google's Alphabet recently displaced the tech giant with a market value of $560 billion), it seems the hipster company of the past has reached maturity.
In 1988, Steve Jobs was 33 years old and it had been more than a decade since he co-founded Apple. It had also been three years since he resigned as chairman of the company, and he needed a new project. Enter the NeXT computer, Jobs's newest baby at the time, and a contraption Newsweek predicted could be "the most exciting machine in years." With a $12 million investment, Jobs was hoping to reinvigorate not only the mass computing world, but his reputation as well, after his 1985 showdown with then-new Apple CEO John Sculley.
The October 24, 1988, issue of Newsweek profiled Jobs and his new endeavor designed to revolutionize the higher-education market. The following story, which ran on the cover, is excerpted from the issue.
It's less than a week before the most important day of his life, and Steve Jobs is doing what comes naturally: fussing over details. At a high-school gym in Berkeley, Calif., he's rehearsing the rollout that will introduce his new baby, the NeXT computer, to the world. Dressed in blue jeans and a red flannel shit, Jobs paces back and forth, reading lines into a wireless microphone. Jobs has hired multimedia artist George Coates to stage the unveiling in San Francisco's futuristic Davies Symphony Hall. When the first slide appears on the screen, Jobs enthuses: "I really like that green." Around him, other NeXT executives chime in: "Great green, Great green."
The computer goes through its paces, playing music with the sound of a live orchestra, pulling up images as clear as photographs, retrieving quotes from a memory bank big enough to hold a bookshelf full of classics. Then a software glitch makes the image on the sleek black monitor freeze. NeXT employees tense up, expecting an infamous Jobs outburst. Jobs just stares at the screen, then shrugs. "We're hosed," he says calmly. "We'll fix that. No problem." Later, a videio shows the automated assembly plant that Jobs has built to manufacture the NeXT machines. Wandering back to sit with a handful of employees, Jobs watches as robot hands install the state-of-the-art chips that will power the computer. For a second he looks almost teary. "It's beautiful," he says softly.
Steve Jobs was back last week—with a slick new computer and more self-dramatization than ever. It's been more than decade since Jobs, in his early 20s, cofounded the Apple Computer Corp. and brought computing to the masses with the Apple II. It's been four years since he turned industry on to user-friendly displays and software with the Macintosh. Now, at 33, he's billing the NeXT as a computer that will revolutionize the higher education market and point the industry toward the 1990s (next story). Love him or hate him, people in the computer world couldn't wait to see what Jobs had secretly worked on for three years in his Palo Alto headquarters. When a NeXT marketer called the Wall Street Journal to buy an ad for the rollout, the salesman quipped, "Why bother?"
Jobs has much more at stake than the $12 million he has invested in NeXT. He's rebuilding his reputation, too. Critics say Jobs's success at Apple was an accident, and that he is little more than a showman with a knack for packing other people's engineering. Jobs is still smarting over his 1985 showdown with John Sculley, the CEO he recruited to Apple—and who ousted him in a power struggle. The public has tended to view Jobs as a techno-punk, immensely talented and charming but a tad arrogant. Learning from his defeat and re-emerging with a mature new style and machine would show the world that Steve Jobs is a serious computer maker, can run a company—and has finally grown up.
Judging from the initial reaction, Jobs has succeeded in producing what may be the most exciting computer in years. At the San Francisco rollout, the black cube wowed a by-invitation-only crowd of 3,000 executives, analysts, educators and reporters. To show of the computer's memory and speed, Jobs had it retrieve a line from Shakespeare (whose complete works come with the machine). To display its sound quality, he laid on a duet with a real violinist. When the show was over, the audience gave Jobs and his machine a standing ovation. Perhaps most impressive was the price tag—$6,500 (with a university discount) for a system that would cost more than $20,000 to reproduce with other parts. In one morning Steve Jobs breathed a sense of fun back into an industry that has come increasingly mired in marketing wars and legal squabbles. Some analysts were almost talking Jobs-speak ("Wow!" "Cool!" "Insanely great!"). Esther Dyson, publisher of the industry newsletter Release 1.0, said: "It's a neat, neat box."
But will schools buy it? Some analysts think that no matter how impressive his computer, Jobs may have misjudged the higher-education market. He has two big failures on his record—the Apple III and the Lisa computer. With the Lisa, Jobs produced a dazzling computer that was too costly. The NeXT (which exceeds Jobs's projected price by $3,500) may be too rich for the blood of college students, who generally don't buy when the tab tops $3,000. Repeated delays have meant the new computer won't be available until next spring, missing the fall college-buying season. Jobs also has stiff competition from other producers of "workstations"—machines that combine computational brawn with dazzling graphics. Smart, smaller companies like Sun Microsystems already have the lead in the field, and giants like IBM and Apple plan to jump in.
Not everyone is bowled over by the machine. William Gates, chairman of the software giant Microsoft, argues that NeXT doesn't break any new technological ground. "He's put a microprocessor in a box," says Gates. "So what? It's not a graphic interface, like everything these days, and a mouse like everything these days." Gates dismisses the machine as a "48-rpm record." Yet other industry heavyweights with similar reservations emerged from the rollout as converts. "I was all ready to rain on his parade," says Richard Shaffer, publisher of the Computer Letter. "[Now] I'm working hard to say something bad about it. It's a machine I yearn to own."
The birth of the new machine also marks the rebirth of Steven Paul Jobs, the adopted son of a California machinist who grew up to be the most famous college dropout in Silicon Valley. After his humiliating ouster from Apple, he lured five disciples from his former company and retreated to start NeXT. Jobs kicked in $7 million of his own money, and later added $5 million. He started courting the academic community early, giving Stanford University and Carnegie Mellon a total of about 1 percent of the stock in exchange for investments of $1.3 million. Jobs came away from Apple a bit wiser, at least in one respect. "Steve once told me," says a former Apple engineer, "that the one lesson he learned from Apple was to keep 51 percent of your company, so you can't get kicked out." The boss has kept 63 percent of NeXT.
To finance the rest of his venture, Jobs made some new friends. He persuaded Texas billionaire Ross Perot to invest $20 million in NeXT and sit on its board of directors, bringing respectability and expertise to the fledgling company. Even more impressive, Jobs cut a deal with International Business Machines, Jobs's archenemy during his Apple years. Big Blue has licensed a NeXT program that gives a friendly interface [what a user sees on the screen] to the decidedly unfriendly Unix, which IBM will be offering in its high-end personal computer and workstations. IBM's blessing gives the NeXT effort greater legitimacy.
As always with Jobs, style was a top priority. Before there was even a machine, Jobs paid nearly $100,000 for a jaunty multicolor logo by designer Paul Rand—who also designed the logo for IBM. When Jobs moved into the Palo Alto building that now houses NeXT's executive headquarters, he started by remodeling it top to bottom. He tore out the interior and installed polished wood floors, stylish white furniture, 10-foot-tall cactus plants and a Sub-Zero refrigerator filled with juice for employees.
In assembling his team, Jobs turned on his legendary charm. One former employee recalls receiving a recruiting call that began: "Hey, I hear you're the hottest designer on the planet." Then, once he had wooed them, Jobs pushed his employees to the limit. In one classic display of meticulousness, Jobs demanded that all the robots in the NeXT manufacturing plant be painted in coordinated shades of gray and black. 2 of his top manufacturing engineers worked through a weekend to pain the assembly line, repeating the process 4 times until they got the finish just right.
That kind of sacrifice became part of NeXT's off corporate culture "The employees are really well coached," says one engineer familiar with the company. "When I hang out there,, it's almost like this Hare Krishna thing. There's none of the rebel spirit." Before they were hired, employees weren't even allowed to see the new machine. It wasn't just a matter of security,explains chief financial officer Susan Barnes. "Jobs believes coming to work should be a leap of faith," Barnes says. "We want people to join because of the quality of people they'll be working with, no because of the product."
During months of secretive work, jobs displayed a quality he had rarely shown before: the ability to listen, he immersed himself in manufacturing, traveling to Japan to study Robot technology. He visited universities to ask what they wanted in a learning computer. Jobs says he tried to be more of a consensus manager than he was at Apple. (Former NeXT employees have a joke about that. "You put in your 2 cents worth. Jobs puts in his $50 worth.") But if the new jobs was calmer, he wasn't that calm. He lived up to his reputation as a skinflint, bargaining relentlessly with suppliers. 9The canon optical drive that he bundles with his $6500 machine retails for $6000.) He continued to harangue employees when he thought they weren't doing their best. One engineer says he left neXT because I was tired of "riding the hero-shithead rollercoaster." Yet even employees who feel that jobs burned them retain a measure of respect for their boss. An apple engineer gripes that Jobs lied to him on numerous occasions. Then he asked that his name not be used. Why? 'I want to work for him again, because he makes the most exciting computers in the world." Jobs also kept up his image as a man who live sto work. He moved into a sprawling white mansion in Woodside, california, four years ago, but has yet to furnish it completely. A young couple takes care of the house, where Jobs is joined occasionally by his on and off again girlfriend of four years. But he often comes home just to sleep and eat. He maintains a fierce sense of privacy. Two unauthorized biographies have been written about him.; the first time he saw one of them in a Palo Alto bookstore, he says he felt robbed. Jobs insists he hasn't read the books but I assume they're not very flattering. I picked up one, and they had my birth date wrong on the first page. When told that the books have been optioned for a possible movie Jobs shakes his head. I think they'd lose a lot of money. Ultimately, Jobs new machines will be judged by what's inside the black box. If nothing else, the NeXT is a treat for the eyes, ears and mind. The 17-inch black and white screen is remarkably sharp. It dispenses with floppy disks; instead, it stores information in an optical disk that can hold more pictures and nd sound and more than 100,000 pages of text. Thanks to an advanced sound chip, the machine could be used a telephone's answering machine or a music synthesizer. It can also record with the fidelity of a compact disc. The NeXT will come with a bundle of software designed to meet the needs of educators and students; word processing, a data base, and advanced computer languages for programmers (not to mention, a dictionary, thesaurus, and 'book" of quotations).
New computers don't often succeed because software isn't available for them yet. Jobs has tried to end-run this problem. The NeXT's operating system, the link between the machine and the programs it runs) is a variant of Unix, the current favorite in the academic and technical communities. That means the computer should be able to run the programs that exist or are being written with Unix. The machine makes it easy to write 'courseware': instead of requiring complex programming commands, it uses a simplified set of software 'building blocks.' The company also offers a laser printer that beats the industry standard at a third of the standard's price.
Despite the technical wizardry, the NeXT is less revolutionary than evolutionary. Each component was within reach of Jobs's competitors. Of its pioneering 'erasable optical' disk drive, Microsoft's Gates says; 'anyone can write Sony a check." (In fact, the drive came from canon.) But even as an evolutionary step, NeXT is impressive. After all, Jobs wrote the check to Canon before anyone else and drove his staff to incorporate the device the device into his machine even though many analysts had not expected to see it emerge before 1990. "[Jobs]'s gift is assessing the risk of new technologies—gambling, that it will be ready when he's ready," says John Warnock of Adobe Systems, which produced NeXT software. "Most companies take things off the shelf." John Dvorak, computer columnist for the San Francisco examiner, argues that even the gaps in Jobs's technical knowledge are part of his strength. "Since Jobs isn't a professional engineer," Dvorak says, "he doesn't know what can't be done."
The NeXT venture does have several strikes against it, however, the most important being the cost of bringing a computer to market. Trip Hawkins, an early Jobs protege, and now president of Electronic Arts, says that the Macintosh survived only because of bountiful profits from the Apple II line and because Apple 'had a religious belief in it and went to the wall." NeXT, he says, "has the same religious leader, but not the cash cow." Critics also say any"box for the '90s" should have a color screen; Jobs says that's on the way.
Jobs's third act won't be as easy as his first, when Apple virtually invented the personal-computer market. The highly competitive workstation market has already seen its pioneer days, with plucky start-ups like Sun and Apollo. The $2.5 billion market is ripe for entry by majors like At&T and IBM—which has already launched one unsuccessful workstation, but is gearing up for another try. Meanwhile, the high-end personal computers from IBM and Apple already rival low-end workstations for performance and price.
NeXT's competitors say they aren't worried about Jobs's entry into their turf. In the nine months before NeXT reaches the market (most machines will go to software developers until then), several of the competitors are likely to launch new machines that meet Jobs's computer head-on—and offer deep discounts. "We're not out to do a 'NeXT killer'," says Curt Wozniak, vice president of the educational-products division at Sun. "We're out to capture the education market."
Despite those dangers, many industry analysts are still enthusiastic about NeXT. Adam Cuhney, a vice president and high-tech analyst at Kidder, Peabody &Co., was one of the few who warned in 1983 that the Lisa was overpriced. Although he notes that a lot can happen before NeXT comes to market, he calls it "a phenomenal product." Unlike the computer buyers of 1983, Cuhney says, today's market is now savvy enough to recognize value and pay for it. Mitch Kapor, who launched Lotus Development Corp. and its pioneering Lotus 1-2-3 business program, has now left to form a new company and is working with NeXT. Kapor predicts that "after the initial shock, when [workstation makers] realize they can't do spin control, they'll say [Jobs] is right."
Several universities have already bought into the NeXT. Brown has made room in its new computer center for 30 NeXTs in the language labs. Schools like Carnegie Mellon and Stanford will also embrace the machine early, says Michael Carter, director of Systems Development at Stanford and a member of NeXT's academic advisory board. Those schools will develop programs and pave the way for the next tier of buyers, he says. "First, 30 universities will buy, then 300, then 3,000… By the fall of 1990, it should be a very popular machine selling in the campus bookstore. Many smaller schools says that less expensive, available technology meets their needs. Joseph Moeller, director of computing for Stevens Institute of Technology in Hoboken, N.J., says his school won't jump on the NeXT bandwagon yet: "You don't necessarily have to have the latest, greatest, most comprehensive system."
NeXT faces another serious obstacle: Microsoft's William Gates. As the producer of operating systems for the IBM PC and IBM's new PS/2 line of computers—as well as many of the important applications for IBM and Apple computers—the 32-year-old Gates dominates the industry. He is Jobs's opposite. Av virtuoso software engineer with virtually zero charisma, he is the ultimate entreprenerd. Jobs invited Gates to contribute software to the NeXT machine, but Gates declined, saying there wasn't enough money in the narrow market Jobs was pursuing. In the midst of the hoopla surrounding the NeXT rollout, Gates remains its most dour critic.
Some industry observers suggest a dark motive for Gates's skepticism. The deal between Jobs and IBM centers on Unix—one major operating system Gates doesn't own. If the NeXT program helps Unix become a standard, Gates may lose money and power. The two wunderkinder have a stormy relationship. "Steve always yells at me," Gates says. "Sometimes with a positive tone in his voice, sometimes a negative tone." But analyst Dyson predicts that if NeXT catches on, Microsoft will eventually produce software for it. Gates "is a good businessman," she says.
The industry is also watching to see how another rival—Sculley—responds to Jobs's comeback. Jobs insists he bears no grudge against Apple. "I'm still happy when they ship a Mac," he says. He still owns "just enough" Apple stock "to get the annual report." But there's bitterness in his voice when he says: "I spent 10 years trying to build something, and most of what I built has been dismantled." He clearly still feels enmity toward Sculley, who seems to want to mend fences. Sculley sent Jobs a copy of his book "Odyssey." Jobs says he never read it. The day before the NeXT rollout, Sculley called Jobs to congratulate him. Jobs says the conversation was cordial: "I thought it was a gentlemanly thing to do."
The new Jobs, too, seems to be more of a gentleman. If he's not more humble, he's doing a good job of faking it. At the rollout he said self-mockingly: "We're in our 30s now. We don't need to reinvent everything." Jobs has been compared to Henry Ford for bringing computers to the public. But at NeXT, the name that comes up is Preston Tucker, the car maker who built a dream machine but couldn't market it. In the movie "Tucker," Howard Hughes meets the maverick automaker and tells him about his disastrous plane, the Spruce Goose. "They say it can't fly," whispers the multimillionaire, "but that's not the point!" For Hughes and Tucker, it may have been enough to dream big dreams. Jobs doesn't have that luxury: he will win or lose at the cash register. Those returns won't be in for months, or years. But for one week, Steven Jobs reminded the computer industry of its youth—the excitement and opportunity of the go-go early '80s. "It's great to be back," Jobs told his audience. He really was back—at least for another round.