'Hard Knocks' 2019 Recap: Antonio Brown Explains Frostbite Injury and Everything Else That Happened in Episode 2
A lot has happened since the first episode of the new series of Hard Knocks aired last week.
Antonio Brown, the franchise's new star recruit, has threatened to quit football if the NFL insisted on making him wear a new helmet, before relenting and agreeing to return to training camp.
The controversy around the headgear came as it emerged the 31-year-old suffered extreme frostbite on his feet after not wearing appropriate footwear in a cryotherapy chamber in France last month.
With Brown's off-field shenanigans in mind, the second episode of Hard Knocks was highly anticipated.
Here's what you might have missed on Tuesday night.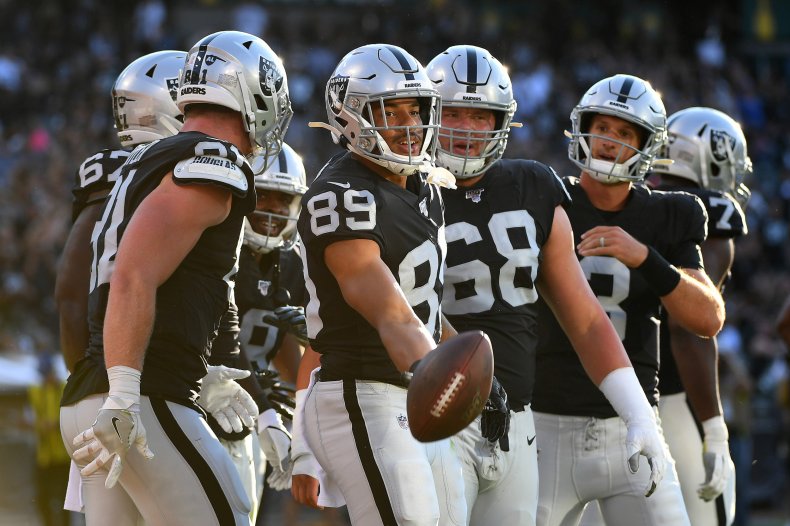 Antonio Brown gets his feet "circumcised"
The receiver shared pictures of his foot ailment on Instagram, but HBO thought well of giving viewers a closer look, just in case.
"Do you want to see it?" Brown asked the film crew, showing the blisters and cracks that cover the bottom of his feet.
"Are you sure you want to see it?
"My feet is pretty much getting circumcised, right? Right? For real [...] It's kind of like a pull back right now. I'm [...] circumcised on my feet. Hopefully my feet are born again, and I figure to run faster. Feel sorry for me later."
Last week's episode was surprisingly vague on the nature of Brown's injury, before Pro Football Talk Live co-host Chris Simms reported he damaged them after not wearing the correct footwear while in a cryotherapy chamber.
That detail, however, was not mentioned on Hard Knocks, although Brown gave a pretty graphic description of his injury.
"I got out, and I felt my foot burning," he explained. "I was like, 'Man, I feel a hot sensation.' The next like 24 hours it swelled up. It got really big. I couldn't really walk or put pressure. The doctor came over, drained a little out. Scalpel the next day. Freaking scissors the next day. Just kind of let it leak all out.
When will Antonio Brown be back?
Brown's helmet dispute gets just a passing mention but it is widely understood the seven-time Pro Bowl selection will not walk out of professional football has he threatened to do last week.
So, when will he be back with the Raiders? There are conflicting views.
"I'm not going to get into all the medical, because we're not supposed to this time of year," said Raiders general manager, Mike Mayock, who played no part in the first episode. "But at the end of the day, he's like a thoroughbred and he's going to be fine. I'm hoping he'll be back next week full speed."
Brown hasn't practiced since July 30 but returned to training camp on Tuesday and Jon Gruden is desperate to have him on the field as quickly as possible.
"I'm concerned," the Raiders head coach said. "We're missing time here. I've always said, 'Time spent; value received.' You've got to spend time at this. So we're concerned. We're optimistic, but we're concerned."
Jon Gruden loves a metaphor
Speaking of Gruden, last week we learnt the 50-year-old had a particular distaste for dreamers, while in the second episode his love for metaphors shone through.
Gruden had a go at backup quarterback Nathan Peterman—whom he signed—for being too casual.
"So casual! Like a house mouse!" he bellowed towards the former Buffalo Bills signal caller.
Gruden, however, really raised the bar when speaking about the prospect of being without Antonio Brown for an extended period of time.
"It's like playing the Masters with one golf ball," he said. Just beautiful.
Brentson Buckner takes no prisoners
In the first episode, the Raiders defensive line coach made his mark when he launched into a rant aimed at Last Chance U star Ronald Ollie, who was then cut from the roster.
Buckner was at it again in the second episode, laying down some brutal truths about life in the NFL to first-round pick Clelin Ferrell.
"Until you get the balls to do what we do every day, we ain't gonna be nothing but average-a** players," he told the defensive end.
Buckner is touted as potential head-coach material and is not hard to see why.
Maxx Crosby "needs some milk"
The rookie defensive end stole a good portion of the show on Tuesday. First he attempted to get his teammates dancing as he covered T Pain's Buy U a Drank, then he headed to a tattoo parlor to finish his sleeve tattoo.
Things took a turn for the worst in the first preseason game, as Crosby fractured his hand against in the win against the Los Angeles Rams.
The fracture gets quickly wrapped and he's sent back onto the field, after being told: "You need some milk." Just don't try it at home.