HBO 'Hard Knocks' 2019 : When Is the Season Finale, How to Watch, Live Stream
The current season of Hard Knocks is down to the season finale, with the Oakland Raiders set to finalize the 53-man roster for the upcoming NFL season.
Episode 4 provided plenty of talking points, with head coach Jon Gruden at his grumpy best after a preseason game against the Green Bay Packers turned into a farce because of a shortened field.
As if that wasn't enough, viewers were treated to more details over the ongoing farrago surrounding Antonio Brown's helmet, as well as a debate over who is the biggest Canadian icon.
Episode 5 promises to be a compelling watch as Gruden and his staff wield the ax to slim down the roster before the regular season kicks off less than a week later.
Here's everything you need to know about the season finale.
When is the next 'Hard Knocks' episode?
The fifth and final episode of this season of Hard Knocks will air at 10 p.m. ET on Tuesday, September 3, on HBO.
The Raiders open their NFL campaign six days later against the Denver Broncos.
Where can I watch 'Hard Knocks'?
Hard Knocks will be available on HBO, HBO on Demand, HBO NOW, HBO GO and HBO partner streaming platforms.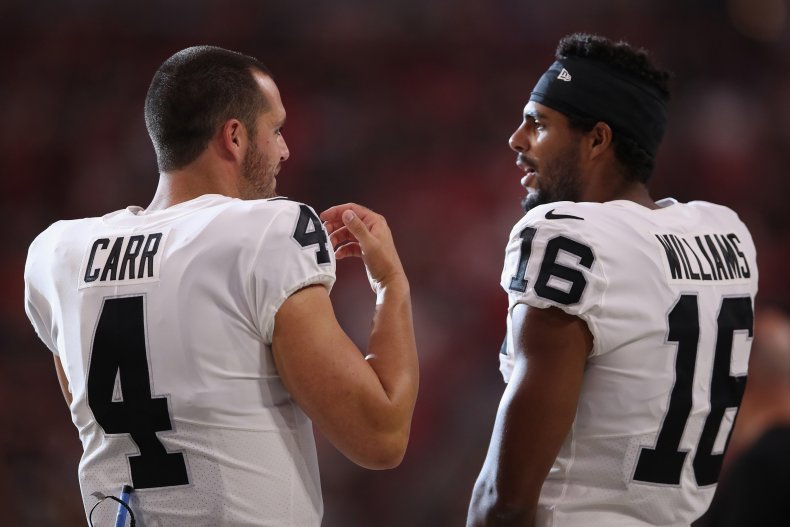 What did we learn from Episode 4?
A lot. First and foremost that Drake is Canada's biggest icon, bigger even than former NHL legend Wayne Gretzky. That's according to Raiders tight end Luke Willson.
The former Seattle Seahawk, a native of Ontario, featured heavily in Episode 4 as the Raiders traveled to Canada to play the Green Bay Packers in Week 3 of preseason.
"A lot of people are going to get mad at me for this, but I'd say right now, Drake and Wayne Gretzky are neck and neck," Willson explained to his teammates.
"Dude, I think the Raptors thing might give Drake the nod."
Aside from ranking Canada's greatest, there was a lot of football action too. Raiders coach Jon Gruden again made clear he is a big admirer of Nathan Peterman, after the quarterback led a comeback win against the Packers.
The 25-year-old and Mike Glennon are battling it out to be Derek Carr's back-up, but it's fairly obvious who Gruden prefers.
"That's as good as I've seen you since Pitt, man," he said, referencing Peterman's days at Pittsburgh.
"You saw the field great, man. Great audibles, no sacks, I mean, took care of the ball, two-minute drive. God bless you, great. Great. Proud of you, Nate."
Viewers also got to hear some more details about Antonio Brown's helmet grievances, both of which have been denied by the NFL. The wide receiver had threatened to quit football earlier this month if he wasn't allowed to wear his preferred helmet.
He has now found a replacement, but not without difficulties.
"First, they said they tested it, but it wasn't on the [approved] list," Brown said. "It's just, I only get one head and one neck so I gotta make sure when guys [are] trying to take my head off, I got the right damn lid to protect [me]."
Why has HBO chosen the Raiders?
Because of NFL regulations, teams are exempt from consideration if they have played in the postseason in the past two years or have been the focus of the series in the previous decade. Teams who have a first-year coach are also not considered.
That left HBO with just five franchises to choose from—the Oakland Raiders, New York Giants, San Francisco 49ers, Detroit Lions and the Washington Redskins.
It's hard to argue HBO made the wrong call by picking the Raiders.