'Hard Knocks' HBO 2019 Recap: Jon Gruden Loves Nathan Peterman and Luke Willson on Why Drake Is Canada's Biggest Icon
The penultimate installment of Hard Knocks carried on from where Episode 3 left off, with Antonio Brown going into more detail over the two grievances he has filed against the NFL over its decision to ban his favorite helmet.
For once, however, the Oakland Raiders wide receiver wasn't the star of the episode, nor its main talking point. That particular mantle firmly belonged to head coach Jon Gruden, who might well earn a TV series of his own at this rate.
From ranting about the length of football pitches in Canada, to his admiration for back-up quarterback Nathan Peterman, Gruden was at his best in Episode 4.
Here's what you might have missed on Tuesday night.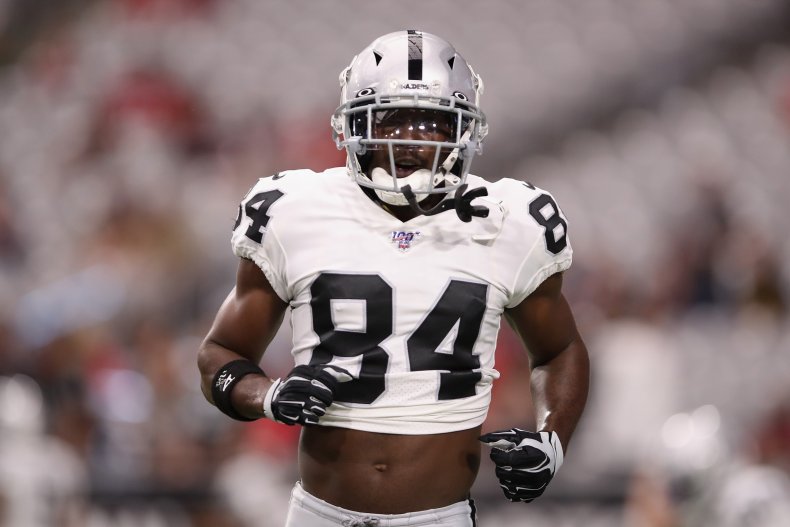 Antonio Brown helmet fiasco continues
Antonio Brown is yet to publicly speak about the two grievances he filed against the NFL after the league ruled he can't use the same helmet he has worn for the last decade.
The saga surrounding Brown's headgear has been the main topic of conversation surrounding the Raiders over the last month, with the wide receiver suggesting earlier in August that he was prepared to quit football if he wasn't allowed to wear his preferred helmet.
Hard Knocks first approached the headgear farrago in Episode 3, and on Tuesday night Brown explained the latest developments.
"First, they said they tested it, but it wasn't on the [approved] list," the seven-time Pro Bowler said of the NFL, who has denied both grievances. "It's just, I only get one head and one neck so I gotta make sure when guys [are] trying to take my head off, I got the right damn lid to protect [me]."
Luke Willson has strong opinions on Canada
The tight end enjoyed plenty of air time during Episode 4, as the Raiders traveled north to Canada to face the Green Bay Packers in Winnipeg in Week 3 of preseason.
Willson, a native of Ontario, gave a rendition of the Canadian national anthem and showed his teammates that it's impossible to rip up Canadian dollar bills.
He also expressed his views on who deserves to be recognized as the greatest Canadian of all time.
It is fair to say, his opinion will almost certainly cause a stir among his compatriots.
"A lot of people are going to get mad at me for this, but I'd say right now, Drake and Wayne Gretzky are neck and neck," Willson said.
"Dude, I think the Raptors thing might give Drake the nod."
Jon Gruden can get very annoyed
The Raiders coach has a somewhat abrasive personality but anyone who has watched Hard Knocks will know he's had his fair share of fun so far.
When his team traveled to Winnipeg to face the Green Bay Packers, however, viewers were treated to some vintage grumpy Gruden.
Due to safety concerns about the end zones, the game was played on a shortened field and kick-offs were scraped. It did not go down well with the Raiders coach, who felt the trip to Canada was a farce.
"People piss me off, Derek, I'm sorry," Gruden grumbled to quarterback Derek Carr on the sidelines.
"I've been playing this game a long time, man, we got some guy get off the bus and say he can't play here."
When a game officially had the temerity of asking Gruden to step back on the sideline, the Raiders head coach had seen enough.
"Just throw the flag on me," he exploded.
"I've had enough f*****g grief."
Jason Cabinda and his mom make their mark
The linebacker was one of the stars of the episode, displaying the over-my-dead-body attitude so dear to coach Gruden. Cabinda has been on and off the Raiders roster for over a year, but looked impressive in training and retains hopes to make the final 53-men pool.
Aside from his performances on the field, Cabinda caught the eye as he video-called his mother, Natalie, to tell her he had organized for her to attend the game against the Green Bay Packers in Winnipeg.
Natalie was ecstatic at the news and then went on to predict the Packers would try and go deep at some stage during the game. Which they duly did.
Perhaps coach Gruden can find her a spot on the coaching staff?
Jon Gruden loves Nathan Peterman
One of the Raiders back-up quarterbacks had already featured on the show earlier in the series, and he was back in the spotlight for Episode 4.
Nathan Peterman and Mike Glennon are battling it out to be Derek Carr's understudy but it's pretty evident that Gruden believes Peterman should get the job.
With the Raiders struggling to move the ball against the Green Bay Packers, Gruden replaced Glennon with Peterman.
"You know, I think the guy's a better player than you guys and I'd like to see him," the Raiders coach shouted into his headset.
Peterman eventually led the Raiders to a comeback win, proving Gruden was right all along.
"That's as good as I've seen you since Pitt, man," Gruden said, referencing Peterman's days at Pittsburgh.
You saw the field great, man. Great audibles, no sacks, I mean, took care of the ball, two-minute drive. God bless you, great. Great. Proud of you, Nate."