'Hard Knocks' 2019 Recap: Jon Gruden Speaks Out on Antonio Brown Helmet Ban and Everything Else That Happened in Episode 3
Last week, the second episode of Hard Knocks hinted that the series might finally shed some light on the controversy surrounding Antonio Brown's helmet.
After teasing the viewers, the series did exactly that, with both the wide receiver and coach Jon Gruden explaining the circumstances surrounding the story that has monopolised football's attention during the offseason.
Aside from the helmet fiasco, Episode 3 offered a valuable insight into the relationship that Gruden and Raiders General Manager Mike Mayock have with Brown.
Here's what you might have missed on Tuesday night.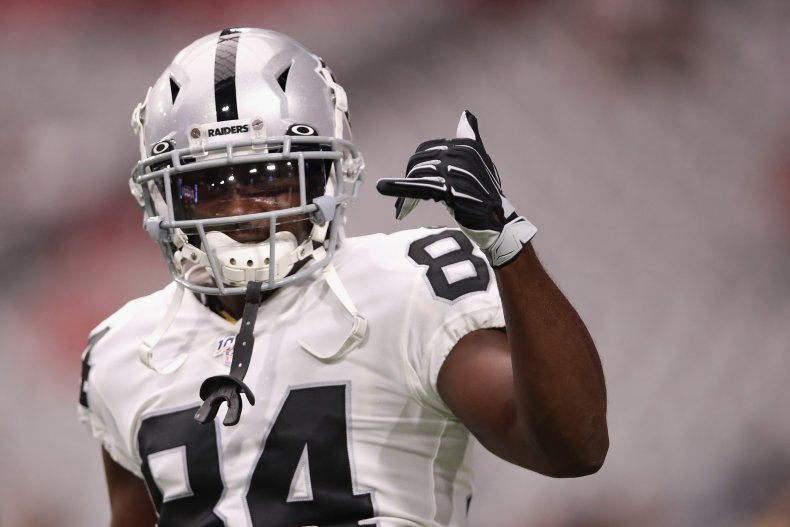 Antonio Brown helmet
Brown's grievances over the kind of helmet he is allowed to wear are well known.
Earlier this month, he threatened to quit football if the NFL insisted on making him wear a new helmet, before relenting and agreeing to return to training camp.
The receiver thought he had found a suitable replacement last week, but the new helmet did not meet some of the requirements and Brown filed a new grievance against the NFL on Sunday.
Coach Jon Gruden admitted the Raiders had been told of the problem long before it became public.
"We knew about the [helmet] grievance since the first day of OTAs, which we did," Gruden said while talking privately about his receiver.
"I don't know what the story—what the f*****g story is around here. He's tried everything, really. I give the guy credit for standing up for what he believes in. Everybody else does it in this country."
Jon Gruden really likes Antonio Brown
The controversy around the headgear came as it emerged that Brown suffered extreme frostbite on his feet after not wearing appropriate footwear in a cryotherapy chamber in France last month.
As a result, the 31-year-old was rarely seen at training camp, but appears to have retained Jon Gruden's support.
"Thanks for supporting me, coach," Brown told the Raiders coach. "My f*****g head, my feet. People after me. You've been a constant supporter."
Happy as he was to support his star player, Gruden urged him to focus on football first.
"I know you've got a lot of people in your ear, because you're like a corporation that's kind of gone global," he explained. "At the end of the day, let's keep this s**t simple. Football comes first. Everybody else is f*****g way behind."
Are we witnessing the blossoming of a new relationship? Raiders fans will certainly hope that's the case.
Mike Mayock isn't as big a fan of Antonio Brown
While Jon Gruden was supportive of Brown, general manager Mike Mayock appeared less inclined to indulge the seven-time Pro Bowler.
On Sunday, Brown again left training camp after been told the newer version of his preferred helmet does not meet the required standards.
The sudden departure prompted Mayock to tell the media that it was "time for him to be all-in or all-out." The statement marks the end of the episode and creates an intriguing dynamic, in which Brown seems to have the support of his coach, while his GM appears to have had enough of him already.
Darren Walker is the underdog 'Hard Knocks' needs
The third episode of Hard Knocks was mostly focused on Antonio Brown, but there were some other interesting characters introduced in the show.
None more so than Darren Waller, whom the Raiders recruited from the Baltimore Ravens' practice squad last season. The tight end was very candid about his substance abuse during his time in Baltimore.
"When I was in Baltimore, I was like a vegetable," he explained. "I was getting high literally every day. Whatever I could get my hands on."
After being suspended without pay for the entire 2017 season, Walker entered rehab and has now been clean for two years. It might be a cliche, but his redemption story is a reminder there's more to the NFL than just football.
Height matters
One of the staples of professional football is that height is crucial for a quarterback. Bar a few notable exceptions, signal callers who are shorter than six feet find life in the NFL very difficult.
According to Jon Gruden, however, height can also be a disadvantage.
"You're eight feet tall, so they can read your eyes," the Raiders coach told backup quarterback Mike Glennon. "So that's all they are doing is reading your eyes."
Glennon entered the league as a third-round pick in 2013, starting 13 games in his first season with the Tampa Bay Buccaneers. Since then, however, he has started a combined nine games in five seasons.