'Hard Knocks: The Dallas Cowboys' Recap—Five Key Stories From Episode 1
The Dallas Cowboys returned to Hard Knocks for the first time since 2008 and the series opener on Tuesday night did not disappoint.
From Dak Prescott discussing his grueling injury, to his friendship with Ezekiel Elliott, there were plenty of talking points in Episode 1 of HBO's behind-the-scenes documentary.
Here's a recap of what you may have missed from the first installment of Hard Knocks: The Dallas Cowboys.
Dak Prescott's return from injury
The show wasted no time in exploring Dak Prescott's injury, which ended the Cowboys' quarterback season after just five games last season and derailed Dallas' campaign.
In Episode 1, Prescott showed off the scars from the two surgeries he underwent in 2020 after suffering a season-ending leg injury in Week 5 against the New York Giants.
During training camp, Prescott suffered a minor scare as he was forced off the field with a shoulder ailment. Head coach Mike McCarthy let it be known the Cowboys can't afford to take risks with their star quarterback, whom they signed to a four-year contract worth $160 million in the summer.
Prescott, understandably, was frustrated: "I sat enough last year," he said.
Up until his injury, Prescott was on track to obliterate several NFL's passing records after throwing for 1,856 yards with nine touchdowns in five games. In those five weeks, the Cowboys put up at least 31 points in four occasions before managing just one touchdown in the first three games without Prescott.
Ezekiel Elliott's form
Prescott isn't the only Cowboy raring to go this season. Ezekiel Elliott featured prominently in Episode 1, with plenty of emphasis placed on his conditioning.
After back-to-back seasons with over 1,300 rushing yards and 300 carries, Elliott's numbers fell off a cliff in 2020, when he rushed for 979 yards over 244 carries at an average of just 4 yards per carry, the lowest since he entered the NFL in 2016.
The Cowboys running back, however, looks far slimmer and trimmer than he did last season, much to the delight of Dallas head coach Mike McCarthy.
"I don't even think we should run him this whole camp. He's up there in carries, career-wise," McCarthy told Cowboys Chief Operating Officer Stephen Jones. "He's in much better shape than last year."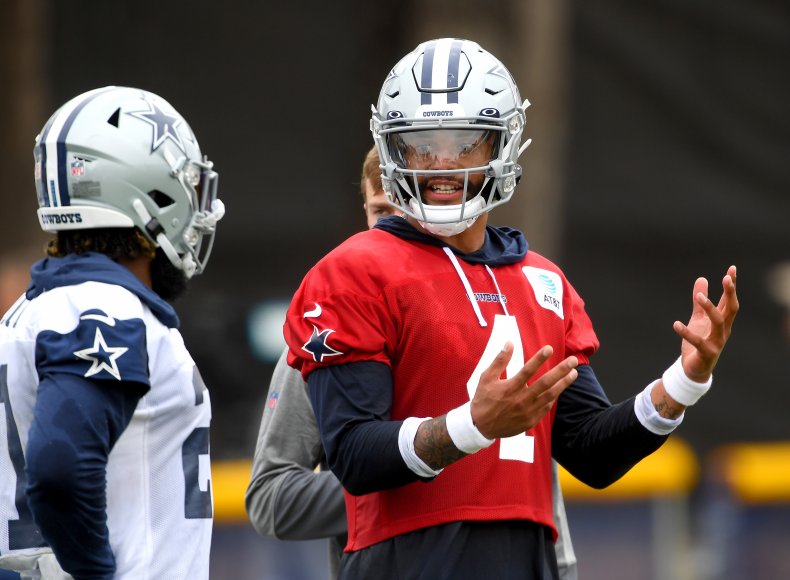 The relationship between Prescott and Elliott
If the Cowboys offense is to live up to its huge potential, Prescott and Elliott will have to fire on all cylinders. So it was encouraging for Cowboys fans to see that the duo are not only close to full fitness again, but their chemistry extends far beyond the football field.
Dallas drafted both Prescott and Elliott in 2016 and the pair have forged a close friendship, which provided some of the funniest moments of Episode 1. The series opener showed Elliott wrapping Prescott's present—the two celebrate their birthdays within a week of each other in July—and slamming the door on his teammate's face to prevent him from seeing the present.
Later in Episode 1, Elliott steals Prescott's bike for a ride around training camp, much to the amusement of fellow players.
A relaxed atmosphere in training camp is by no means a guarantee of success, but it's obvious the bond between Prescott and Elliott also translates onto the field, with the duo among the Cowboys' most vocal leaders.
Micah Parson makes his mark
There is plenty of excitement surrounding Parsons and if the first episode of Hard Knocks is anything to go by, the buzz around the former Penn State linebacker is fully justified.
The No. 12 overall pick of the NFL Draft in April, Parsons was a near-ubiquitous presence in the series opener, impressing teammates in training and recovering a fumble on the first possession of the Hall of Fame game against the Pittsburgh Steelers.
Benched after 11 snaps, Parsons almost begged defensive coordinator Dan Quinn to put him back in the game.
His request was denied but expect to see plenty of the rookie over the next episodes and during the regular season.
Jerry Jones' breakfast sandwich
A clip of one of the most powerful owners in the NFL shaking salt on his breakfast sandwich is exactly the kind of non-football related moment Hard Knocks has become famous for.
Cowboys owner Jerry Jones is in the middle of unwrapping his breakfast sandwich when he receives an update from head athletic trainer Jim Maurer, who recommends to the coaching staff Dak Prescott shouldn't be forcing any throws to avoid aggravating a shoulder problem.
As he listens to Maurer, Jones adds a large pinch of salt to his breakfast, which appeared to be a fast food breakfast sandwich. Even the man owning one of the most valuable franchises in world sports isn't exempt to picking up a bargain for breakfast.
Hard Knocks: The Dallas Cowboys airs each week on Tuesday at 10 p.m. ET on HBO, culminating in the season finale on September 7.