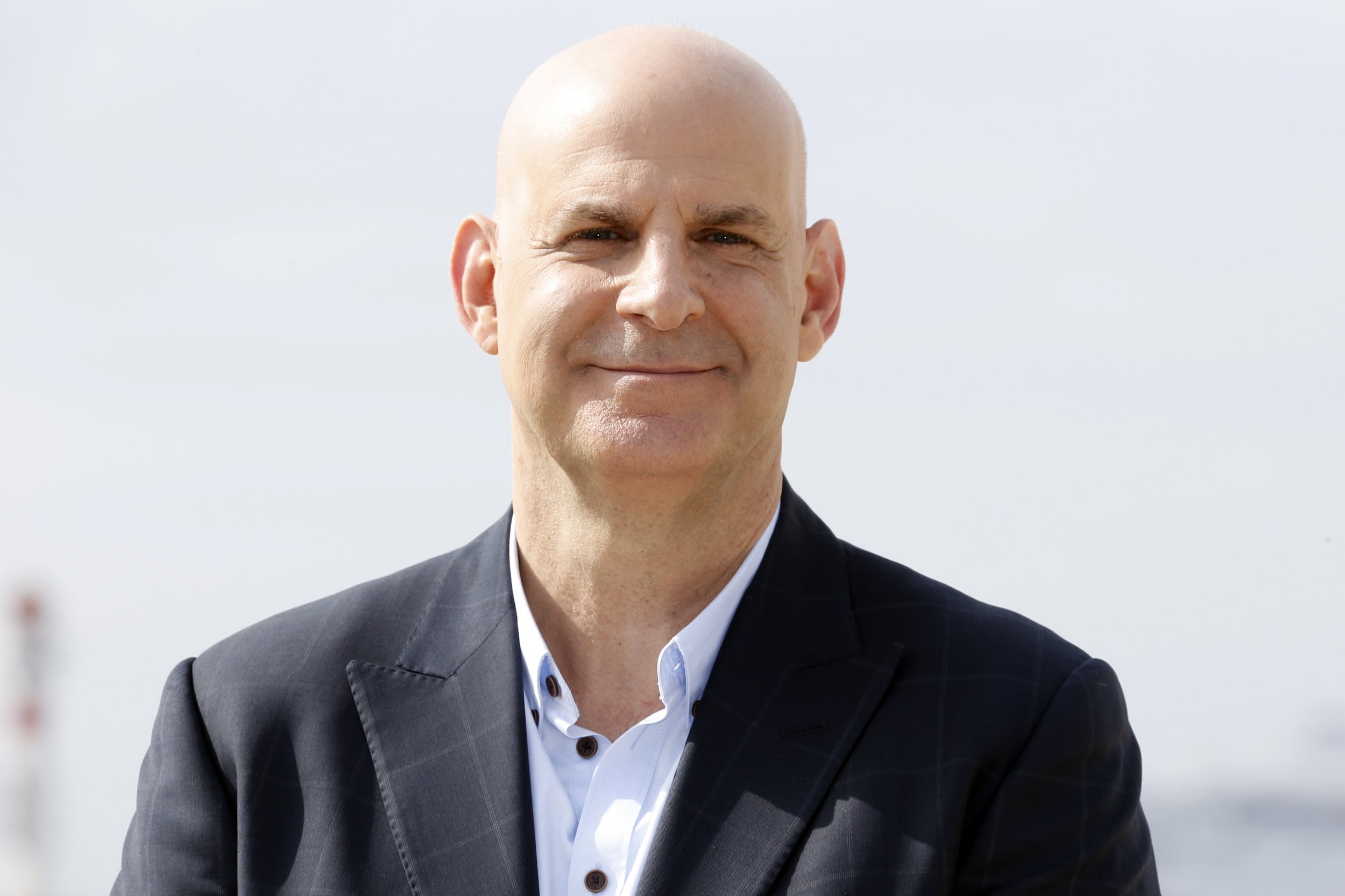 "If I got a report card home to my parents it would say: 'does not play well with others,'" admits Harlan Coben. So it's a surprise to see the best-selling author—whose 28 novels have sold 60 million copies around the world—swap the admittedly "insular" process of writing books for the far more collaborative world of television.
"It's an exciting time," the New Jersey native tells Newsweek on the eve of his first TV project, The Five, launching on U.K. channel Sky1 on April 15. The series centers on four childhood friends confronted by ghosts from the past when the DNA of a fifth friend, the younger brother of lead character Mark (played by Downton Abbey 's Tom Cullen), appears at a crime scene. The only problem is, he's been missing and assumed dead for 20 years.
If the premise feels ripped from the pages of a Harlan Coben novel, that's because it is. The idea had been long-gestating in the back of his head: "I wanted four characters of equal size and that's hard to do in a novel. For some reason, I saw this visually—popping colors, broader canvas, electricity and vibrancy," he explains.
The Five is produced by RED Productions, the company behind U.K. hit drama Happy Valley. Its founder Nicola Shindler approached Coben "because she wanted to make something like one of my novels."
It was a change of pace for the 54-year-old to be thrust into a world of producers, screenwriters and actors. "After 28 books, sitting all alone, that was a welcome change for me." But, still, some of that lone wolf mentality prevailed. "I do not suffer fools gladly. Luckily, I worked with the best in the business—Nicola and Danny Brocklehurst the screenwriter," says Coben.
Set in London, a world away from New York and New Jersey—the backdrop of all his novels—Coben did bring some of his American sentiments to the project. A man with meticulous attention to detail, the scribe ensured he had a say in every part of the process. "I told them: 'I want no trench coats, no grey, no wet streets.' We have one rain scene—which isn't easy to film in Liverpool and not have any rain. But I wanted bright colors and for it to be sunny even when the story is dark," he says.
It's surprising that an author of Coben's stature has had so few of his works adapted for the big screen or television, but that appears to be changing. He has set up a production company with Shindler after working so well together on The Five; they plan to turn his 2013 novel Six Years into a TV series in the U.S. And Julia Roberts has snapped up the rights to his latest thriller, Fool Me Once, released in March, with a view to produce and star in a feature film.
"For a while I just optioned things and didn't worry about it, that was smart for me—F. Scott Fitzgerald, William Faulkner, Chandler and Hemingway all got destroyed by Hollywood," he says of his earlier reticence to engage in the film business. "I was warned early on not to go to that dark side because you'd forget to write your novels and get distracted. I optioned stuff and had nothing to do with it."
The movie deal for Fool Me Once has only just been completed in the last few weeks. The book came out on March 22 and he spoke with Roberts just 48 hours later. She devoured the book over the course of a weekend and loved it. "She had wonderful insights on the character—she had really thought it through," Coben recalls. "We were talking like partners about how we can make this great."
And with his TV experience under his belt, Coben is looking to script the movie himself, following in the footsteps of Gillian Flynn, who adapted her best-seller Gone Girl for the big screen, and J.K. Rowling, who penned November's Harry Potter spinoff Fantastic Beasts and Where to Find Them. He says: "Normally I say no to [writing screenplays] but I think on this one, I might. I'll see what Julia wants to do also."
Money is definitely one thing Coben never needs to worry about. But he's still a blue-collar New Jerseyan at heart. The writer explains his guilt at spending money on an Uber ride of all things—surely that's chump change to a man whose last eight books have ranked No.1 on the New York Times best-seller list? "I didn't grow up with money, I didn't have money most of my life—I'm not a big spender. The beauty of having money is the freedom not to worry."
Coben reveals how he made the most of his taxi rides: "I'm sitting in the back [of the car] and feeling tremendous guilt that I'm spending money on an Uber, so I start writing—and I write really well. So I start taking Uber cars wherever I'm going for three weeks and I write a ton in the back of an Uber car. I felt such guilt that I was spending money, I had to use that time wisely, I was not going to be a man of leisure."
It's a small insight into the man who, despite his fame and fortune, very much considers himself part of Middle America. And like much of Middle America, he's watched the ongoing presidential race play out like a grotesquely gripping soap opera.
"I try not to talk politics because I don't want anyone to think, 'He's a right wing nut' or 'He's a left wing kook," he says—but he has clear opinions on one candidate in particular: Donald Trump.
"In past [U.S. presidential] elections, I had preferences but I never thought if the other guy won the country would be in shambles. I just thought, here's the far right, here's the far left and we operate in the middle. Now for the first time I could see democracy going. I can see fascism... I never imagined my country would have to [experience that]."
Does that mean he's voting for Hillary Clinton? "I'm not saying anything like that. But of the candidates running, she's the best read," he says, pointing out that the Democratic candidate is a noted fan.
The author shifts in his seat a little talking about politics. He says: "I have a picture on my phone of Bill Clinton holding one of my books after his heart surgery and George W. Bush greeting me melded into picture—politically I want to get right and left readers."
Yet, as his empire expands into film and television, Coben still faces the challenge of being forced to adapt his solitary working habits.
"I freak out sometimes because I like being alone," he admits. "As much as I love this right now, I could see myself freaking out and saying: 'I'm not doing this, I'm going right back to my books.' "
Cobden might be nervous about branching out but his track record suggests he has little to fear.
The Five airs on Fridays at 9pm on Sky1 in the U.K. Coben's latest novel, Fool Me Once, is out now.