Harry Reid Says 1993 Proposal to End Birthright Citizenship Was a Mistake After Donald Trump Tweets
Former Democratic Senate Majority Leader Harry Reid waded into the debate over birthright citizenship on Wednesday after several tweets directed at him by President Donald Trump. Reid issued a statement regarding his 1993 proposal to end birthright citizenship, saying it was a mistake.
Then a Nevada Senator, Reid said "no sane country" would grant birthright citizenship. Trump referenced the plan in two tweets on Wednesday, prompting Reid to issue a statement calling it a mistake.
"In 1993, around the time Donald Trump was gobbling up tax-free inheritance money from his wealthy father and driving several companies into bankruptcy, I made a mistake," he said in a statement on Wednesday. "After I proposed that awful bill, my wife Landra immediately sat me down and said, 'Harry, what are you doing, don't you know that my father is an immigrant?' She set me straight."
Trump told Axios in an interview he planned to issue an executive order stopping the practice of granting citizenship to babies born in the United States to non-citizen parents. In a series of tweets on Wednesday, Trump mentioned Reid's 1993 plan to end the practice.
"Harry Reid was right in 1993, before he and the Democrats went insane and started with the Open Borders (which brings massive Crime) 'stuff'," he wrote. "Don't forget the nasty term Anchor Babies. I will keep our Country safe. This case will be settled by the United States Supreme Court!"
In another tweet, Trump posted a video of Reid alongside the caption, "Harry Reid, when he was sane, agreed with us on birthright Citizenship!"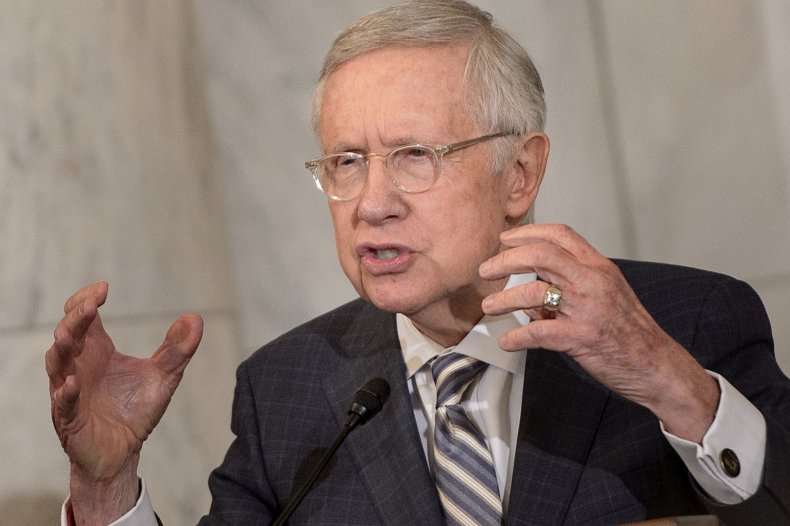 Reid's 1993 proposal would have eliminated the practice of granting citizenship to children born in the U.S. to parents in the country illegally.
"Any person born after the date of enactment of this title to...a mother who is neither a citizen of the United States nor admitted to the United States as a lawful permanent resident...shall be considered as born subject to the jurisdiction of that foreign country and not subject to the jurisdiction of the United States," the proposal said. "Therefore, [the child] would not be a citizen of the United States or of any State solely by reason of physical presence within the United States at the moment of birth."
In his Wednesday statement, Reid said his time in Washington taught him "the power of immigrants" and that there was "no issue I worked harder on than fixing our broken immigration system."
"Immigrants are the lifeblood of our nation," he concluded. "They are our power and our strength. This president wants to destroy not build, to stoke hatred instead of unify. He can tweet whatever he wants while he sits around watching TV, but he is profoundly wrong."