Harvey Weinstein Could Receive Lifeline Instead of Sentence Today
Harvey Weinstein is facing the possibility of a legal lifeline ahead of his sentencing, two months after he was found guilty of rape in a Los Angeles court.
Weinstein, 70, who is already serving a 23-year prison sentence in New York for sexual assault, was found guilty on three criminal charges, including rape, forced oral copulation and another sexual misconduct count involving an Italian model who said Weinstein showed up to her hotel room in 2013 uninvited, according to the Associated Press (AP).
The jury was unable to reach a verdict on several other counts Weinstein faced in California, however, including charges relating to the wife of state Governor Gavin Newsom.
Jennifer Siebel Newsom, a documentary filmmaker, testified that Weinstein had raped her in a hotel room in 2005, the AP reported.
Siebel Newsom was one of four women who accused Weinstein of assault from 2005 to 2013. December's guilty verdicts were all tied to one of the accusers known as Jane Doe #1 in court, reported NBC News.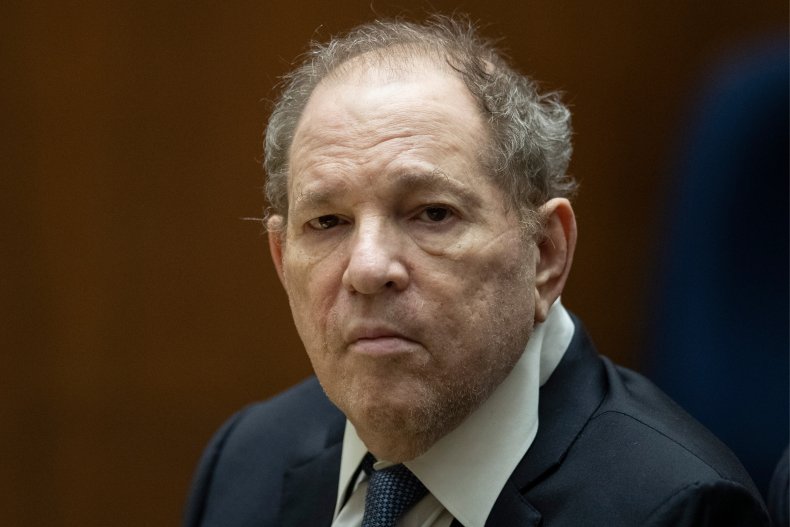 Additionally, AP noted, the four women and eight men of the jury were hung on the charges involving Lauren Young, who also testified at Weinstein's New York trial. Weinstein was acquitted of a sexual battery allegation leveled by a massage therapist from a 2010 encounter in a hotel.
In the weeks leading up to Weinstein's sentencing—which is scheduled to take place in a Los Angeles court on Thursday—the Miramax co-founder's legal team, led by Alan Jackson and Mark Werksman, requested a new trial with a new jury.
Their January filing, which was obtained by Variety, shows the attorneys asking for the court to "reconsider its ruling."
The attorneys stated that they were precluded from showing evidence to the jury that they allege would have impeached Jane Doe #1's credibility and thus impacted the guilty conviction.
The defense stated in the motion that they spoke with three of the 12 jurors after the guilty verdict and ascertained that two of those individuals would not have voted to convict Weinstein had they known the evidence presented to them.
Per Rolling Stone, Judge Lisa B. Lench, said on January 9 that she would hear the pitch from Weinstein's team for a retrial at the sentencing hearing. Should the motion be denied, she will then proceed with handing down her punishment.
Weinstein, who faces up to 24 years behind bars for his latest conviction, had been due to be sentenced in January for his conviction, but the judge postponed the day to February 23 to allow his defense time to prepare their argument for another trial.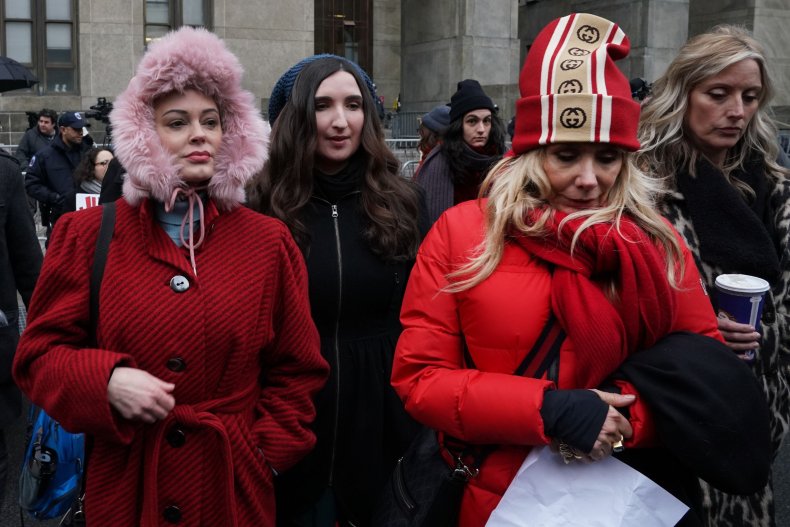 "The motion speaks for itself and is demonstrative of just how some, even in the halls of justice, are inspired by social and political outcry, rather than facts," Weinstein's spokesperson, Juda Engelmayer, told Variety.
"Witnesses lied about crucial evidence that would have exonerated Mr. Weinstein, and the court protected those lies and deemed them unnecessary for the jury to hear or know."
In a statement released shortly after the guilty verdict, California's first partner Siebel Newsom said: "Weinstein will never be able to rape another woman. He will spend the rest of his life behind bars where he belongs."
Jane Doe #1 also released a statement after the verdict, saying Weinstein "forever destroyed a part of me that night in 2013 and I will never get that back."
Since 2017, nearly 90 women have accused Weinstein of sexual misconduct, often involving allegations of the film producer offering aspiring stars boosts to their careers in return for sexual favors. The first women stepped forward with the help of two journalists at The New York Times, who reported in October of that year on more than three decades of sexual assault allegations against Weinstein.
Weinstein and his lawyers have remained adamant that the former Hollywood producer is not guilty of the allegations, and pleaded not guilty to the charges in Los Angeles.
In a statement shared with Newsweek, Governor Newsom said he was "so incredibly proud of my wife and all the brave women who came forward to share their truth and uplift countless survivors who cannot."
"Their strength, courage and conviction is a powerful example and inspiration to all of us," he continued. "We must keep fighting to ensure that survivors are supported and that their voices are heard."
It was announced in June 2022 that Weinstein will be charged in the U.K. with two further counts of indecent assault dating back to the 1990s.
The charges relate to an incident with a woman in London that allegedly took place in August 1996, said the U.K.'s Crown Prosecution Service.
Accusations of Weinstein's sexual abuse became a leading trigger of the #MeToo and Time's Up movements, which sought to end sexual harassment not only in Hollywood but by all people in positions of power.
Specialists from the Rape, Abuse, and Incest National Network (RAINN) sexual assault hotline are available 24/7 via phone (1 (800) 656-4673) and online chat. Additional support from the group is also accessible via the mobile app.