After Harvey Weinstein Scandal, 'Liar' Is Important Viewing: Joanne Froggatt on Believing Rape Survivors and 'Downton Abbey' Movie Update
Against the backdrop of the Harvey Weinstein sexual harassment scandal dominating headlines and a president accused of similar misconduct, and just a year removed from the high-profile Stanford rape case, SundanceTV's new British psychological thriller Liar is disconcertingly timely.
The series—written by brothers Jack and Harry Williams (Starz's The Missing)—is an intense exploration of the period of time following an alleged sexual assault and, as the title suggests, whether an alleged victim's family, their peers, the law and indeed society believe them or the alleged offender.
Statistically, the odds are in favor of the offender. One in six women in America have been the victim of rape or attempted rape, according to Rape, Abuse & Incest National Network, the U.S. anti–sexual violence organization. However, out of 1,000 incidents in the U.S., just over 300 will be reported to the police. The number of rape cases to lead to a conviction is also startling: Just seven offenders out of 1,000 incidents will face conviction, and six will be incarcerated.
In Liar, a taut and suspenseful drama that leaves viewers guessing who's telling the truth, Downton Abbey's Joanne Froggatt—lady's maid Anna in the hit period drama—makes a welcome return to screens as schoolteacher Laura Nielson, who accuses surgeon Andrew Earlham—Fantastic Four actor Ioan Gruffudd—of rape.
Speaking over the phone from her home country of Britain, where Liar has already hooked millions of viewers, Froggatt speaks about what compelled her to take on the role of purported rape survivor Laura, why she was scared of retreading old ground and, yes, the prospect of a Downton Abbey movie.
It must be nice to do something where you're not in elaborate period costumes. Are you spending less time in wardrobe?
Actually, no, it's not. [Laughs]You would think so, but if you take Downton as an example, I used to basically do one costume fitting at the beginning of a [season], and that was basically it. I had my hour [fitting], two dresses, job done. For Liar, because there's so many different scenes and looks—she's a normal person who goes shopping, who goes to work—we had to find [Laura] a whole wardrobe. I did a lot more costume fittings for Liar than I did for Downton, surprisingly.
The viewers are left wondering, at least for the first few episodes, who is telling the truth about the rape allegation. How much did you and Ioan know before filming—was the reveal kept a secret?
I did know whether my character was telling the truth or not. Ioan and I did know the storyline for the whole series before we signed on. But it's a tricky balance, because you can't play a scene for the audience to throw them off the scent of something else—that would be me not doing my job properly. So you have to make it truthful to the character and what they're feeling.
We did question, "If we play it like this, will that give too much away?" It was getting that balance right. Our director said, "Let's do one like, one like that," so he had options in the edit of very different emotional responses in key scenes. Some, he thought, gave us away too early and weren't used—they went for the more ambiguous thing.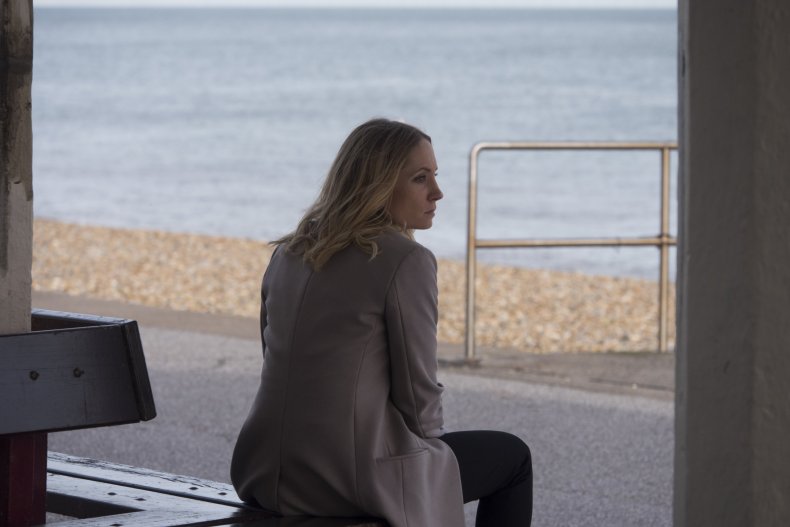 Liar really does confront some uncomfortable truths about how we, as a society, deal with allegations of rape and rape survivors. Often women are not believed, like Laura. In what ways does Liar deal with that, in your experience?
The show highlights the difficulties [of reporting rape and being believed]. That's not to say the show is saying, "Oh, you might as well give up" [as a victim]—that's not the message in any way, shape or form.
It's highlighting the realities at the moment. It is incredibly difficult—and it must be incredibly difficult and frustrating for the police as well—to be able to prove what happened between two people if they are the only two people that witness the event, whether it be sexual assault or any other event.
If it's sexual assault, if one person is saying it's consensual, and the other is saying it isn't, how do you prove when it's one person's word against the other's? My character, Laura, says in the first episode: "How badly does he have to hurt me before you call it rape?" They're really important questions. It's important we constantly keep looking at the system and try to support people who report sexual assault or rape.
Ultimately, this is a drama, and this is a thriller, and a piece of entertainment, and we mustn't get above ourselves with that. But what I liked so much about it was that it's a thriller with a real intelligence behind it, and it asked thought-provoking questions.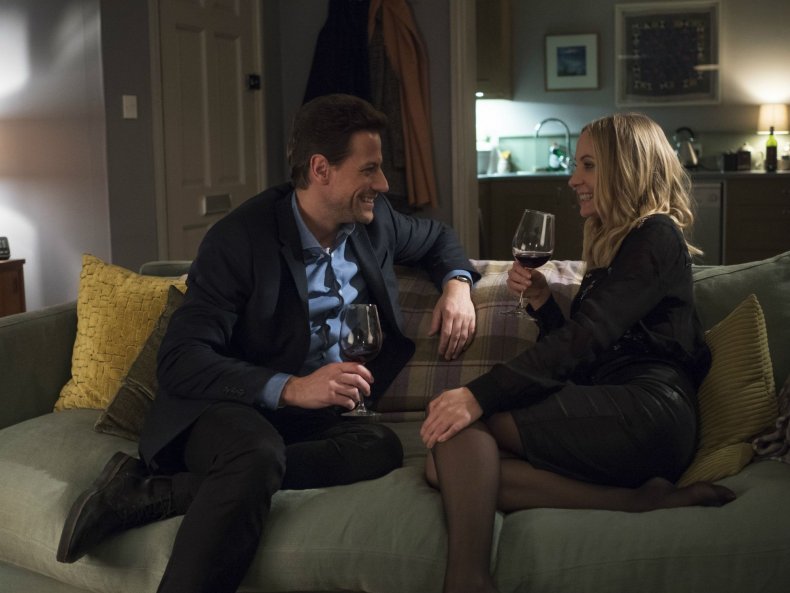 The conversations about rape culture the show encourages are salient in any part of the world. But do you think it's got a real significance at the moment in the U.S., following cases like Brock Turner and allegations against President Donald Trump?
It's prevalent everywhere, is the sad truth of it, really. Ultimately, the only way to change anything is by education. Educating ourselves as adults, and our young people, what constitutes consent. I watched a documentary about a lot of cases on university campuses in America, and I was shocked by that because I didn't realize it was a very different system than it is [in the U.K.]. Universities there have their own police, and it's all dealt with, or not dealt with, within that structure. I found that flawed. I was very surprised that is the system [in the U.S.].
Your character, the beloved Anna, in Downton Abbey was also a rape survivor. Were you wary about doing a similar story again?
I wasn't looking to tackle this subject matter so soon again, [but] you don't look for subject matter as an actor—you look for good roles, good scripts and good stories. There was a thought process about that. But I thought, it's four years between those episodes of Downton airing and this coming out. Also, I've played a murderer three times, and I've been an actor for 20 years, so stories do repeat, situations do repeat. The characters are also so polar opposite, so I thought, Why should I feel strange about doing this again? It still feels like such a taboo subject matter—why? That's part of the problem: We should be talking about it more. For those reasons, I felt it was silly for myself to think like that because the only reason to say no to this job was because of my fear of people's opinions of me, and, well, that's not a reason to not do something.
On the subject of Downton, it's been nearly two years since the show ended and Anna, Bates and their baby got their happy ending. Do you ever wonder what they might have gotten up to after we last saw them?
I'd just like to think that they lived happily ever after with their new baby. And that they don't have any more prison visits, or prison terms, or any more horrible dramas.[Laughs] They've finally found their feet, and they've got their family. That's what I'd like to think.
The burning question: Is the long-rumored Downton movie happening? The show's Facebook page teased a big announcement to come on October 2.
I don't know. I was actually with Julian Fellowes [recently]. Julian mentioned to me, "Apparently, there's been this thing on the Facebook page, but we don't know what it is."
We're all talking about [a movie], and we're all wanting it to happen. As far as all of us know, including Julian, there's nothing to be announced just yet. There's definitely a will [to make it happen] but it's a complicated process.
Liar airs Wednesdays at 10 p.m. ET on SundanceTV.