A Complete List of All the Women Accusing Harvey Weinstein, From Rose McGowan to Kate Beckinsale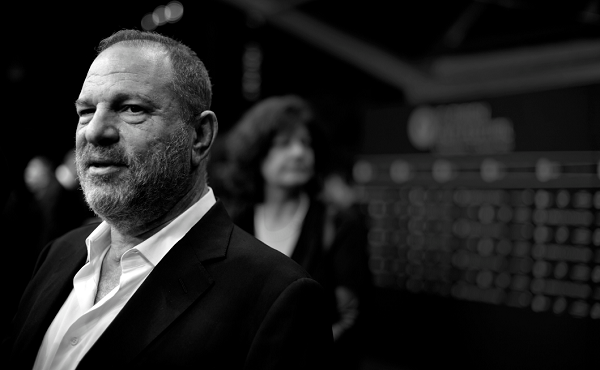 Harvey Weinstein's fall from grace has been swift. After a week of damning allegations of sexual misconduct, the former Weinstein Company owner has gone from one of Hollywood's most powerful figures to Tinsel Town's biggest pariah.
Since The New York Times released a horrifying report on October 5 accusing Weinstein of sexually harassing actresses, including Ashley Judd and Rose McGowan, former Weinstein Company employees and other unnamed victims, more women have emerged with accusations—including sexual assault—that go back to the 1980s.
While details of Weinstein's abhorrent behavior had long been rumored in the film industry, the 65-year-old had seemingly escaped any real repercussions beyond going into his wallet to keep a handful of victims quiet—until now. He was fired from his company on Sunday and is currently being investigated for sexual assault in New York and London.
Read on for the complete list of women who have come forward with sexual harassment and assault claims.
*This list will be updated as victims continue to come forward.
1. Emily Nestor: The former Weinstein Company front desk assistant was 25 and just out of law school when she was first approached by Weinstein in 2014. During a breakfast meeting, Weinstein allegedly badgered Nestor for sex in exchange for mentorship.
2. Lauren O'Connor: A former Weinstein Company assistant, O'Connor wrote a searing email in 2015 exposing not just her own account of sexual harassment, but other women who allegedly had been harassed and assaulted by Weinstein.
3. Laura Madden: Weinstein's former employee told The New York Times she first started being asked for massages by Weinstein in 1991.
4. Zelda Perkins: An assistant at Weinstein's London office, Perkins was 25 years old when she confronted Weinstein over the sexual advances she says he subjected her and other female co-workers to in 1998. After threatening to take legal action, Perkins received a settlement orchestrated by Miramax entertainment lawyer Steve Huntensky.
5. Ashley Judd: The actress was invited to Weinstein's hotel room while filming his 1997 movie Kiss the Girls. While there, Judd said Weinstein asked if he could give her a massage, rub her shoulders and if she would watch him take a shower.
6. Rose McGowan: The Scream actress was 23 when she was approached by Weinstein in 1997. She received a $100,000 settlement for her altercation with the producer.
7. Ambra Battilana Gutierrez: Weinstein grabbed the Italian model's breast during a meeting at his Tribeca office in New York City in 2015, she says. After going to the police with her complaint, Gutierrez participated in a sting operation with investigators and went back to Weinstein's room, where he tried to convince her to watch him shower. When she confronted him about why he touched her breast, he told her, "I'm used to that."
8. Lucia Evans: An aspiring actress, Evans says she was forced to perform oral sex on Weinstein in 2004 at his Miramax office in New York City.
9. Asia Argento: The Italian actress was invited to a party at the Hôtel du Cap-Eden-Roc in 1997, except no one was there besides her and Weinstein. After baiting her for a massage, Argento said Weinstein pulled her skirt up, forced her legs apart and performed oral sex on her while she begged him repeatedly to stop.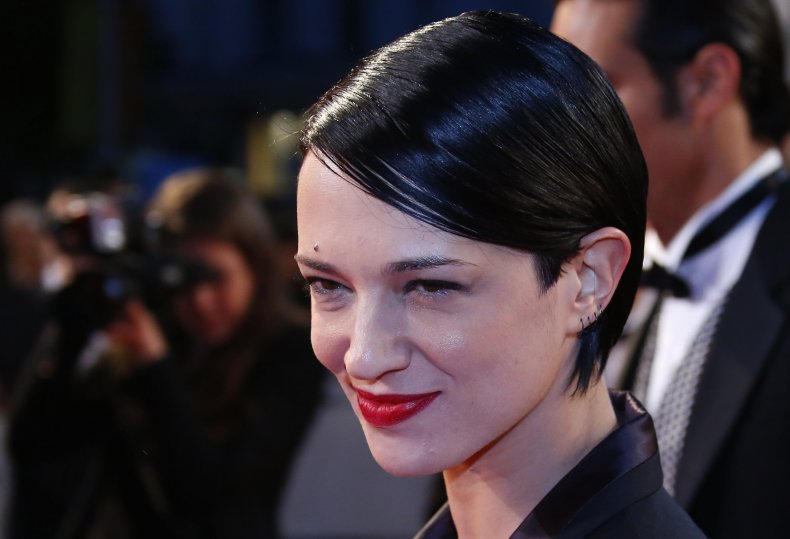 10. Mira Sovino: The first time Weinstein allegedly tried to make a move on the actress in 1995 at his hotel room during the Toronto International Film Festival, she managed to get away. However, a few weeks later, Weinstein showed up at her apartment after midnight.
11. Emma de Caunes: The French actress says she was coerced in 2010 to come to Weinstein's room at Hôtel Ritz in Paris, where he tried to have sex with her. De Caunes said Weinstein had went to the bathroom and returned to the room fully naked and erect, ordering her to lie on the bed before she managed to escape.
12. Rosanna Arquette: The actress said she went to Weinstein's hotel room in the early '90s to pick up a movie script. Weinstein allegedly opened the door wearing nothing but a bathrobe and asked her to give him a massage before grabbing her hand and pulling it toward his penis.
13. Gwyneth Paltrow: Just 22 years old at the time, Paltrow visited Weinstein in his hotel room for a meeting about the movie "Emma." While there, Paltrow told The New York Times Weinstein began touching her and suggested they go in the bedroom for massages.
14. Angelina Jolie: It was during the release of the 1998 movie Playing by Heart when the producer reportedly made unwanted advances on the actress at a hotel room.
15. Tomi-Ann Roberts: A 24-year-old waitress at the time, Roberts was convinced to audition for one of Weinstein's movies in 1984 and was invited to his hotel to discuss the film. When she arrived, Roberts said Weinstein was naked in the bathtub and encouraged her to take off all of her clothes in front of him under the pretense that the character she was auditioning for had a topless scene.
16. Katherine Kendall: In 1993, a 23-year-old Kendall was chased around Weinstein's apartment—while he was in the nude—following a meeting regarding a part in the movie Beautiful Girls.
17. Judith Godrèche: The actress was already a star in 1996 when she was invited to breakfast with Weinstein during the Cannes Film Festival. After the meal, Weinstein asked Godrèche to come up to his room to see the view and talk about a movie she was starting in, Ridicule, which he had recently acquired the rights to. But instead, he reportedly tried to give her a massage.
18. Dawn Dunning: An aspiring actress at the time, Dunning was invited to meet Weinstein at a Manhattan hotel to discuss her career in 2003. When she arrived, Weinstein allegedly told her that he had three movie contracts for her but she could only sign them if she agreed to have a threesome with him.
19. Zoe Brock: The New Zealand model and writer wrote in a blog that she was just 23 when she was invited to meet with Weinstein at his hotel room in 1997, when the producer took off all his clothes, asked her for a massage and chased her around the room while naked. She said she locked herself in his bathroom in an attempt to get away from him and was able to talk him into putting his clothes back on before she came out and left.
20. Romola Gara: The actress was just 18 years old when she was forced to audition for a Weinstein film at a hotel while he watched her wearing nothing but a bathrobe.
21. Lauren Sivan:The Fox News Host told HuffPost that Weinstein trapped her inside of a closed New York restaurant in 2007 and masturbated in front of her.
22. Liza Campbell: The writer and artist told London's Sunday Times that Weinstein tried to get her to take a bath with him in 1995 when she arrived at his hotel room to discuss a freelance script reader position at Miramax.
23. Léa Seydoux: After wrapping up Weinstein's Blue is the Warmest Color, the French actress said the producer tried to kiss her on the lips in 2012. She ran into Weinstein at a Paris fashion show, and after being convinced to visit him in his room to discuss her career, Weinstein reportedly came on to her.
24. Cara Delevingne: The model and actress wrote of her experience with Weinstein in an Instagram post, saying she was invited to Weinstein's room, where he tried to get her to kiss another woman on the lips. When she tried to leave, he blocked the doorway and tried to kiss her on the lips, but she fought him off and was able to get out of the room.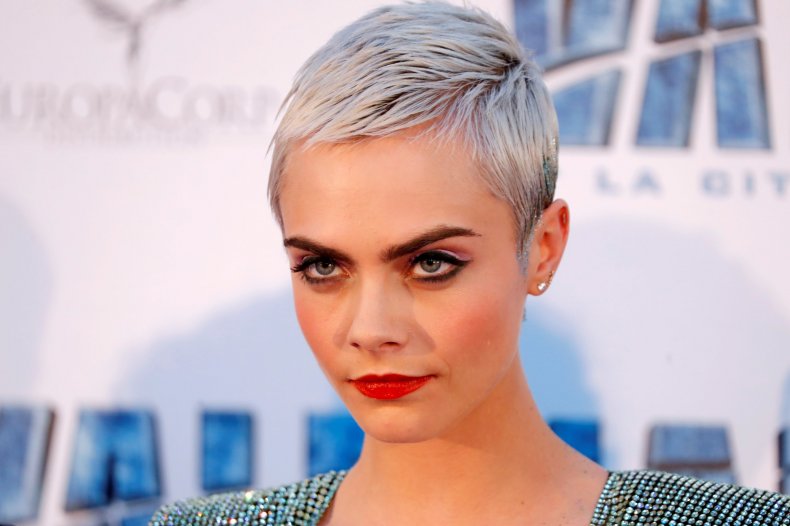 25. Kate Beckinsale: In a statement, the actress said she was just 17 when she was summoned to Weinstein's hotel room to talk about her career. Upon arrival, Weinstein greeted her wearing only his bathrobe and offered her alcohol, which the now 44-year-old said she declined.
26. Jessica Barth: In 2011, Barth visited Weinstein at the Peninsula Hotel under the impression they'd discuss film opportunities. However, when she arrived Weinstein asked her to give him a massage while he laid in the bed naked.
27. Sophie Dix: The British actress told The Guardian she was 22 when she was sexually assaulted by Weinstein. After allegedly meeting the film mogul at a London hotel room to watch unprocessed footage of a film she was staring in, he pushed her on the bed and attempted to take her clothes. She ran from him and locked herself in the bathroom, and when she finally opened the door she said she found Weinstein standing in the doorway masturbating.
28. Eva Green: The French actress' mother Marlène Jobert told Europe 1 that her daughter was harassed by Weinstein in 2010 and 2011, explaining that he would call Green incessantly when he came to Paris.
30. Lysette Anthony: The British actress told London's Sunday Times that Weinstein raped her in the 1980s in her London home. Shortly after Anthony's account was released on October 11, a second unnamed woman came forward with accusations of Weinstein sexually assaulting her in 2010, 2011 and 2015, London police confirmed to the Sunday Times.
31. Paula Wachowiak: Wachowiak told the Buffalo News Weinstein exposed himself to her when she worked for him as an intern in the 1980s. Wachowiak said she was instructed to deliver a folder to Weinstein's hotel room, and when she arrived he was only wearing a towel, which he dropped when she entered the room. She was 24 years old at the time.
32. Lena Headey: In a series of tweets, the Game of Thrones star said that she has also been harassed by Weinstein. Headey said that Weinstein tried to lure her to a hotel room in Los Angeles. Headey had been at breakfast with Weinstein when he told her he had a script for her in his room, and after she explained she was only interested in discussing work with him, Headey said Weinstein put his hand on her back and started "marching me forward" to his hotel room. However, when they arrived at the room's door, his key fob didn't work, so he walked her back down to the valet "grabbing and holding tightly" to her arm. "He paid for my car and whispered in my ear, 'Don't tell anyone about this, nor your manager, not your agent.' I got into my car and I cried," Headey wrote.
33. Katya Mtsitouridze: The Russian TV host and CEO of the country's state film board Roskino said Weinstein sexually harassed her at the Venice Film Festival in 2004, according to The Hollywood Reporter. Mtsitouridze was scheduled to have a public meeting with Weinstein during the festival, which he relocated to his hotel room at the last minute. Weinstein's assistant escorted Mtsitouridze to the room, and shortly after the assistant left Mtsitouridze said Weinstein appeared wearing nothing but a robe and told her that his masseuse was late while suggesting that they could "have fun without her." Mtsitouridze was only able to escape after a waiter came to the room with champagne. When she saw him years later at Cannes Film Festival, Mtsitouridze said Weinstein threatened her, saying, "Don't even think about saying anything. Forget all about it. Be a smart girl."
34. Lupita Nyong'o: The Oscar winner first encountered Weinstein while she was still studying at the Yale School of Drama. In an open letter released by The New York Times, Nyong'o recalled a time in 2011 when she was invited to Weinstein's home to watch a screening of a film with his family. After about 15 minutes, Nyong'o said Harvey told her he wanted to show her something. He took her to his bedroom and told her he wanted to give her a massage. She was able to convince him to let her give him a massage instead, but when he said he wanted to remove his pants she protested, explaining she was uncomfortable with him taking off his pants. He commented on how "stubborn" she was, but obliged and called for the driver to take her home.
35. Mimi Haleyi: The former production assistant alleged Weinstein "orally force himself" on her when she was in her 20s. In a statement, Haleyi said she first met Weinstein at the 2004 London premiere of The Aviator and then again in 2006 at the Cannes Film Festival, at which time Weinstein invited her to his hotel room to discuss a potential job in New York. When she arrived, Weinstein attempted to coerce Haleyi into giving him a massage, she declined and managed to get out of his room. However, after the incident, Haleyi was offered a job on the set of a television show in New York. Months later Haleyi visited Weinstein in New York at his home hoping to maintain a professional relationship with the producer. It was then when Weinstein sexually assaulted her by forcibly performing oral sex on her while she was menstruating. "He then orally forced himself on me while I was on my period. He even pulled my tampon out. I was in disbelief. I would not have wanted anyone to do that with me even if the person had been a romantic partner," Haleyi said.
Correction: A previous version of this article stated that Lauren O'Connor's memo included claims of sexual harassment other women endured, including an actress named Nicole Page. Page is O'Connors lawyer and was not a victim of Weinstein.