Harvey Weinstein Sentence: Will Former Mogul Spend Life in Prison?
Former film producer Harvey Weinstein on Thursday was sentenced to 16 years in prison by a Los Angeles judge for the 2013 rape of an actress.
In December, Weinstein was found guilty on three criminal charges, including rape, forced oral copulation and another sexual misconduct count involving the Italian actress, who said Weinstein showed up to her hotel room in 2013 uninvited.
On Thursday, Los Angeles County Superior Court Judge Lisa Lench denied a motion from Weinstein's attorneys that argued their client deserved a new trial because the jury should have seen evidence that could have affected the guilty conviction.
Weinstein, 70, is currently serving a 23-year prison sentence after being convicted of rape and sexual assault charges in New York in 2020. Judge Lench ruled Weinstein cannot serve the two sentences concurrently, thus effectively putting the Hollywood mogul behind bars for life.
Weinstein pleaded not guilty to all charges in both criminal trials and has said all of his sexual encounters were consensual.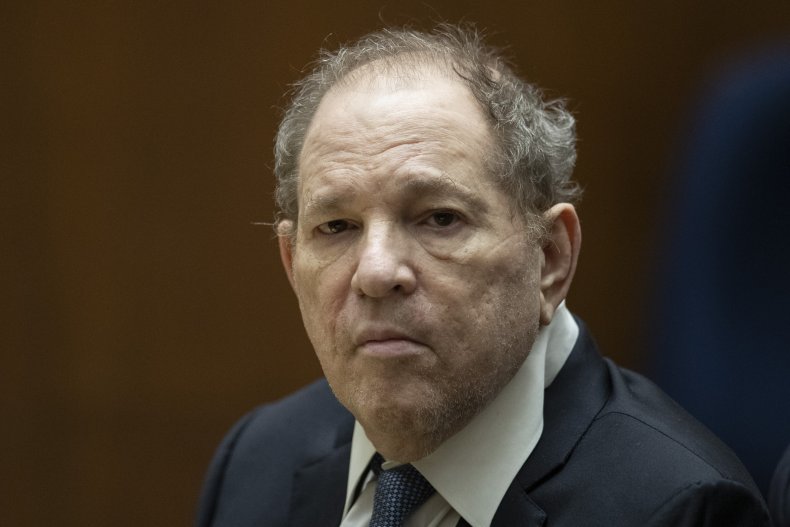 Nearly 90 women have accused Weinstein, who produced hits like Pulp Fiction and Shakespeare in Love, of various forms of sexual misconduct. Many have said the Oscar winner offered career help in return for sexual favors. The allegations stretch back nearly three decades.
The allegations against Weinstein helped give rise to the #MeToo and Time's Up movements of women speaking out to end sexual harassment by people in positions of power.
When Weinstein was convicted in December of assaulting the Italian actress, who testified as "Jane Doe #1," he was acquitted by jurors of assaulting another woman.
The jury at that time failed to reach a verdict on whether Weinstein raped or assaulted two other women. One of those women was Jennifer Siebel Newsom, an actress and film producer who is now married to Governor Gavin Newsom of California.
In a statement released shortly after December's guilty verdict, Siebel Newsom said: "Weinstein will never be able to rape another woman. He will spend the rest of his life behind bars where he belongs."
Governor Newsom said in a statement shared with Newsweek about the guilty verdict that he was "so incredibly proud of my wife and all the brave women who came forward to share their truth and uplift countless survivors who cannot."
In January, Weinstein's legal team filed an appeal of his New York conviction with the state's highest court, arguing the judge who presided over the case had sought "to punish centuries of male misbehavior by setting an example in convicting one man."
Newsweek reached out to Weinstein's attorneys for comment.
Specialists from the Rape, Abuse, and Incest National Network (RAINN) sexual assault hotline are available 24/7 via phone (1 (800) 656-4673) and online chat. Additional support from the group is also accessible via the mobile app.