Have Democrats Already Launched an Impeachment Inquiry into Trump? Members Say 'In Effect,' Yes
Speaker of the House Nancy Pelosi has said she's not slow-walking a potential impeachment inquiry into the president and that such a process will play out in a "timely fashion."
But if you ask House Democrats, more specifically members of the Judiciary Committee, including chairman Jerrold Nadler, they say an inquiry has not only already been initiated — it's been underway for quite some time.
"What we've been doing," Representative Mary Gay Scanlon of Pennsylvania said Friday, "is starting a process where we're engaging in an investigation to see if we should recommend articles of impeachment. It's a process. We've started it some months ago."
Nadler, flanked by several Judiciary Committee members, said they have already been "in effect" conducting an impeachment inquiry through their ongoing investigations into Trump and whether he may have committed obstruction of justice based on evidence in the Mueller report. At a press conference, he and his colleagues conceded they were investigating whether articles of impeachment should be filed against Trump.
Or, in other words, an impeachment inquiry.
"Whether you call that an inquiry, or whatever you want to call that, that's what we've been doing, and are doing, and will continue to do," Nadler said.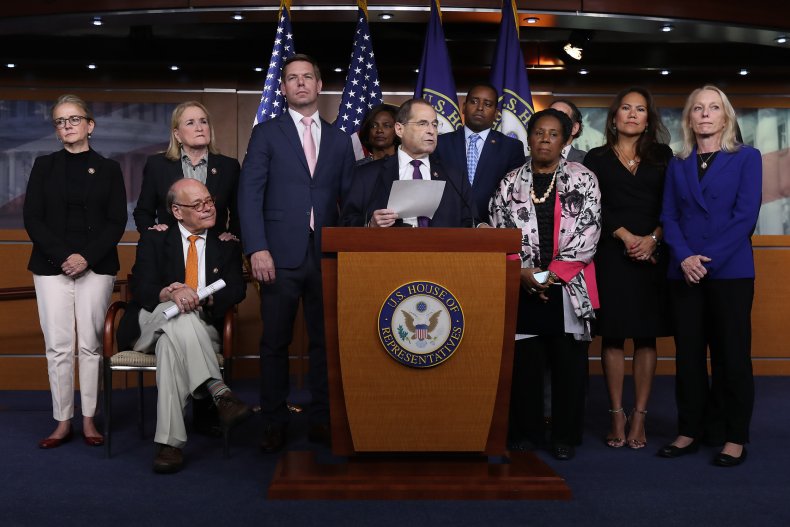 He announced that the committee was filing a lawsuit for the redacted grand jury material in the Mueller report, information that he said was vital "to investigate the president's misconduct." Nadler also warned that if White House counsel Don McGahn continues to not comply with a subpoena for testimony, he would move next week to enforce it through the courts. Democrats have long argued that an impeachment inquiry would aid their court efforts.
Part of their filing for the grand jury material, as was read aloud by Nadler, states that, because longstanding Justice Department guidelines prohibit the indictment of a sitting president, the House must hold Trump "accountable" by having "access to all the relevant facts and consider whether to exercise its full Article 1 powers, including a constitutional duty power of the utmost gravity: recommendation of articles of impeachment."
"The mode we were operating under before, it really was an oversight function," said Representative Veronica Escobar of Texas. "We're now crossing a threshold with this filing... officially entering into an examination of whether or not to recommend articles of impeachment."
"From my personal standpoint," said Representative Jamie Raskin, a Maryland Democrat. "I would say we're in an impeachment investigation."
Representative Eric Swalwell, a California Democrat and former presidential candidate, agreed.
"This is an impeachment investigation," Swalwell said.
The remarks by the Democrats revealed that, although it may not be a formal impeachment inquiry without a House or committee vote, they were essentially bypassing Pelosi's opposition by stating they are in the midst of one.
Nadler and Pelosi have both stated publicly they're opposed to an inquiry, but privately it's been reported that Nadler has pushed the speaker toward supporting it. Prompted whether he would ever reach the point at which he would formally break with Pelosi and advocate for an impeachment inquiry, Nadler responded: "We are continuing an investigation of the president's malfeasances. There's no point speculating whether the speaker will agree with our decision at that point."
He thanked Pelosi, saying that the committee could not have proceeded with the lawsuit "without the help and support of Speaker Pelosi, who is as dedicated to holding this president accountable for his crimes as any of us gathered here today."
Just minutes earlier, standing behind the same lectern, Pelosi denied the notion she was slow-going launching an official inquiry at her final press conference before the House officially embarks on a 6-week August recess. She reiterated her desire for there to be a methodical process that plays out in the courts.
"No, I'm not trying to run out the clock. Let's get sophisticated about this, okay?" the California Democrat told reporters. "We will proceed when we have what we need to proceed. Not one day sooner."