OLC Opinion Explained: Why Robert Mueller Couldn't Indict Trump, Despite 10 Obstruction Incidents
Robert Mueller reiterated during his congressional testimony Wednesday morning that, despite detailing 10 instances of alleged obstruction of justice in his 448-page report, he could neither determine whether Donald Trump committed a crime nor indict the sitting president due to longstanding Department of Justice legal opinion.
"We, at the outset, determined that, when it came to the president's culpability, we needed to go forward, only after taking into account the OLC opinion that indicated that a sitting president cannot be indicted," the former special counsel said.
A major focal point for Democrats at Wednesday's hearing has been why Mueller could not charge Trump with any crimes, something they allege would have occurred with any other individual.
Detailed in his report were 10 instances that Democrats have alleged to be obstruction of justice and amount to impeachable offenses. Included among those 10 instances were efforts by Trump to thwart Mueller's probe by ordering those under him to have the special counsel removed from his post. Mueller determined that Trump was unsuccessful in influencing the 22-month-long investigation largely because the president's aides refused to carry out his orders.
Mueller later told lawmakers that Trump could be charged with obstruction once he leaves office.
The position by the DOJ's Office of Legal Counsel (OLC) that a sitting president cannot be indicted was first determined in a 1973 memo during the midst of the Watergate scandal, which soon thereafter led to the resignation of President Richard Nixon as he faced articles of impeachment.
"The spectacle of an indicted president still trying to serve as Chief Executive boggles the imagination," the memo stated.
In 2000, after reexamining its 1973 position, the OLC reaffirmed its position that a sitting president could not be indicted in a 39-page memo.
In 1973, the Department concluded that the indictment or criminal prosecution of a sitting President would impermissibly undermine the capacity of the executive branch to perform its constitutionally assigned functions... We believe that the conclusion reached by the Department in 1973 still represents the best interpretation of the Constitution.
In his report and his previous public remarks, Mueller has reiterated that "if we had had confidence that the President clearly did not commit a crime, we would have said so."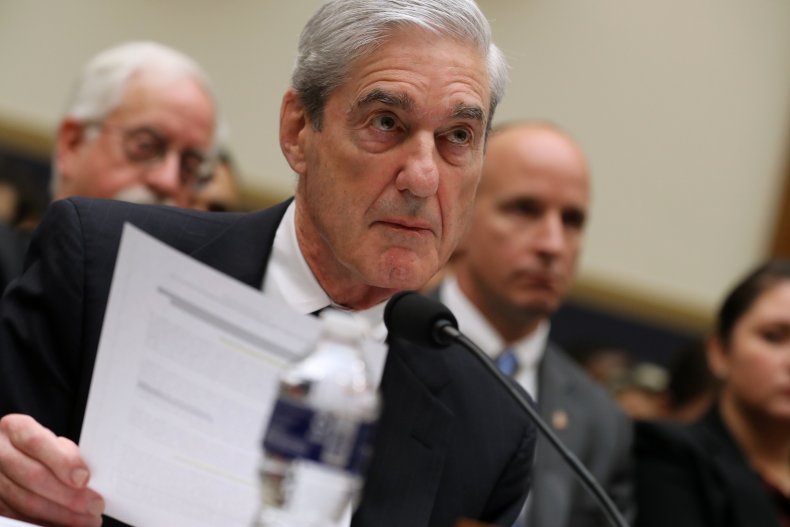 He further explained in May that charging Trump was not under consideration due to the OLC opinion and the inability for the president to stand trial against alleged crimes.
"Charging the president with a crime was... not an option we could consider," Mueller stated at the time. "It would be unfair to potentially accuse somebody of a crime when there can be no court resolution of the actual charge."
Mueller confirmed to House Judiciary Committee Chairman Jerrold Nadler, the first congressional panel Mueller was scheduled to testimony before on Wednesday, that he could not publicly state if Trump committed obstruction—or any crime, for that matter.
"The statement would be that you would not indict because of the OLC opinion," Mueller stated.
"But he could be prosecuted after he leaves office?" Nadler asked.
Mueller responded: "True."
He later said that "the president was not exculpated for the acts he allegedly committed," a reiteration that his report did not exonerate the president, as has been falsely claimed—repeatedly—by the president.