Former special counsel Robert Mueller repeated that his report in no way exonerated Donald Trump of wrongdoing in his two-year investigation into Russian interference in the 2016 election, despite the president's claims of innocence.
Mueller appeared before Congress on Wednesday to testify about the probe and his 448-page report detailing the key findings of the investigation. It was the first time the former special counsel has fielded questions from lawmakers on the Russia investigation.
House Judiciary Committee Chairman Jerrold Nadler kicked off the questioning during Mueller's appearance before the congressional committee and addressed Trump's questionable behavior throughout the investigation. In his report, which was redacted and released by Attorney General William Barr in April, Mueller said Trump was not being charged with a crime but he was not being cleared either, but the president claimed there was "total exoneration."

"Director Mueller, the president has repeatedly claimed that your report found there was no obstruction and that it completely and totally exonerated him. That is not what your report said, is it?" Nadler asked on Wednesday.
"Correct, that is not what the report said," Mueller said.
"Did you actually totally exonerate the president?" Nadler asked Mueller on Wednesday, to which the special counsel responded "no."
Mueller has previously said that the Russia investigation did not "make a determination" regarding the president's alleged crimes, but the exchange was an important moment for Democrats who hope the testimony will help paint a picture of the Trump administration's alleged wrongdoings.
Trump reiterated his innocence in a series of tweets hours before the hearing began on Wednesday, writing that there was no obstruction or collusion. He also wondered why Mueller didn't investigate Hilary Clinton and her emails.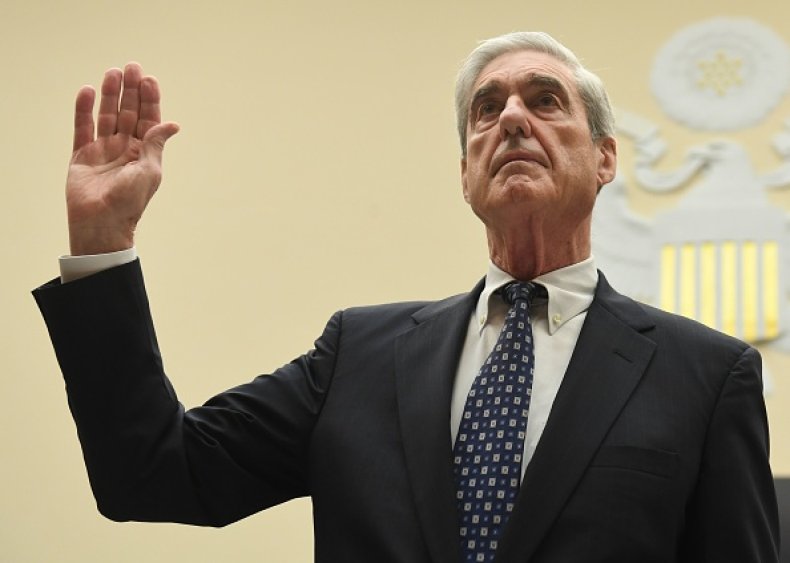 The former special counsel investigated 10 episodes in which President Trump potentially obstructed justice throughout the Russia probe. Those instances include the firing of former FBI director James Comey, Trump's efforts to have former Attorney General Jeff Sessions take control of the investigation and the president's attempt to have the White House counsel remove Mueller as special counsel.

Mueller did issue more than 100 criminal counts throughout the investigation, including for six Trump officials. Members of the president's inner circle who were found guilty include his former attorney Michael Cohen, former national security adviser Michael Flynn, former campaign adviser George Papadopoulos and former business partners Paul Manafort and Rick Gates.
But Mueller did not take prosecutorial action over whether Trump obstructed justice throughout the 22-month probe, citing long-standing Justice Department policy not to indict a sitting president—a policy that does not apply to Congress.
Although Mueller did not reach a conclusion "one way or the other" on whether Trump obstructed justice, Attorney General Barr and Deputy Attorney General Rod Rosenstein determined that there was insufficient evidence to prove the president committed a criminal offense.
Former federal prosecutors have slammed Barr for clearing the president of wrongdoing, accusing him of acting as a defense lawyer for Trump rather than the attorney general. In May, more than 1,000 bipartisan former prosecutors signed a petition maintaining that Trump would have been indicted on multiple charges for obstruction if he weren't president on the United States.
"But if he weren't in the White House, President Trump would be charged with serious crimes. This isn't even a close case," the former federal prosecutors said.