Coronavirus Fears Cost Family $32,000 As Cruise Ship Company Won't Give Refund, Says Insurance Doesn't Cover Epidemics
A Hawaii family is losing the $32,000 they spent on a cruise to China after cancelling the trip due to their concerns over the coronavirus.
Pua Morrison, from Maui, said she and seven family members paid $4,000 each for a cruise with Norwegian Cruise Line that departs in the next couple of days and stops in Hong Kong, KHON2 reported.
She told the station that the trip was booked through Costco in February last year, long before the outbreak of a new virus that has so far killed more than 250 people in China and spread to dozens of other countries, with seven cases confirmed in the U.S.
Despite looking forward to the trip for months, Morrison said she now doesn't want to risk traveling in the direction of the outbreak. The cruise operator has refused to issue the family a refund.
"We definitely wanted to go on this Asian cruise," Morrison told the station. "I just want to be safe and I don't want to go in the direction of the virus."
Morrison says she contacted Costco first, but they referred her to Norwegian Cruise Line who told her that she was not eligible for a refund and that her trip insurance doesn't cover an epidemic.
Morrison said she was told the "bottom line is, if you cancel you lose all your money."
"Rather than put myself through all that headache and most of all the risk of getting this virus, I just want to be able to cancel my cruise and get my refund. That's all I ask," she said. "And I don't think that's a lot to ask with what's going on. And it's getting worse every day."
A spokesperson for Norwegian, which is based in the U.S., told CNBC that it hasn't altered any of its itineraries due to the coronavirus outbreak, but that none of its vessels are currently porting in mainland China.
The spokesperson added that it has implemented non-touch temperature screenings for all passengers who embark on a Norwegian cruise ship in Hong Kong.
"Guests who register a body temperature screening of 100.4 degrees Fahrenheit (38 degrees Celsius) or higher and are embarking on a voyage in Hong Kong will not be allowed to board," the spokesperson said. "In addition, guests who have visited mainland China in the last 30 days will not be allowed to board any of our vessels."
However, several American cruise lines, including Royal Caribbean, Carnival and Crystal Cruises, have announced cruise cancellations following the outbreak of the coronavirus. Newsweek contacted Morrison and Norwegian Cruise Lines for additional comment.
The graphic below, provided by Statista, illustrates the spread of the virus around world as of January 30.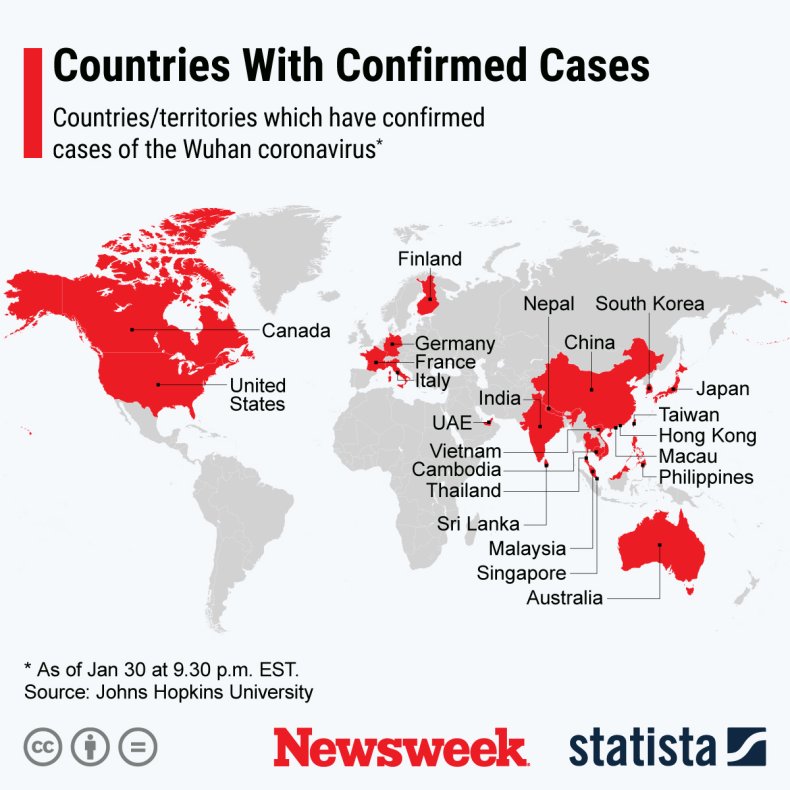 The news comes after the U.S Department of State issued the highest level of warning advising Americans not to travel to China due to the coronavirus outbreak. The Level 4 "Do Not Travel" advisory alerted Americans in China to "consider departing using commercial means."
"Travelers should be prepared for travel restrictions to be put into effect with little or no advance notice," the advisory added.
The U.S. has declared a public health emergency and announced on Friday that foreign nationals, except the immediate family of American citizens and permanent residents, who have visited China in the past 14 days will be temporarily barred from entering the country starting Sunday.
Also beginning Sunday, the U.S. will direct flights from China to seven major airports where passengers can be screened. Meanwhile, both Delta Air Lines and American Airlines have suspended all flights between the U.S. and China.