Hawaii Shark Attack: Blacktip Reef Shark Bites Woman Twice, Public Told to Stay Out of Kealakekua Bay
A woman has been hospitalized after a shark bit her off the coast of Hawaii. The attack caused a popular bay to close.
The woman was swimming around 50 to 100 feet offshore from the Napoopoo area of Kealakekua Bay, around 12 miles south of the city of Kailua-Kona, when the shark struck at 8:15 a.m., the Hawaii Tribune Herald reported citing officials. The Honolulu Star-Advertiser and CBS News stated the woman was 27-years-old, while the Hawaii Tribute Herald said she was 26.
Fellow beach-goers helped the woman walk out of the water to the west side of Hawaii island and seek help from medics, the Hawaii Fire Department told the the Hawaii Tribune Herald.
A witness told police the shark had a gray tip. Hawaii Fire Department Battalion Chief William Bergin told the Honolulu Star-Advertiser he believed the animal was a blacktip reef shark measuring 6 feet in length. The animals, which inhabit warm coastal waters around the world, can measure up to 8 feet long.
The woman suffered wounds to her right hip and lower back, and was taken to Kona Community Hospital. She was initially in a serious condition, but by 11 a.m. was described as in good health and was due to be released, police told the Hawaii Tribune Herald. Judy Donovan, a spokeswoman for Kona Community Hospital, told West Hawaii Today the victim was in a stable condition.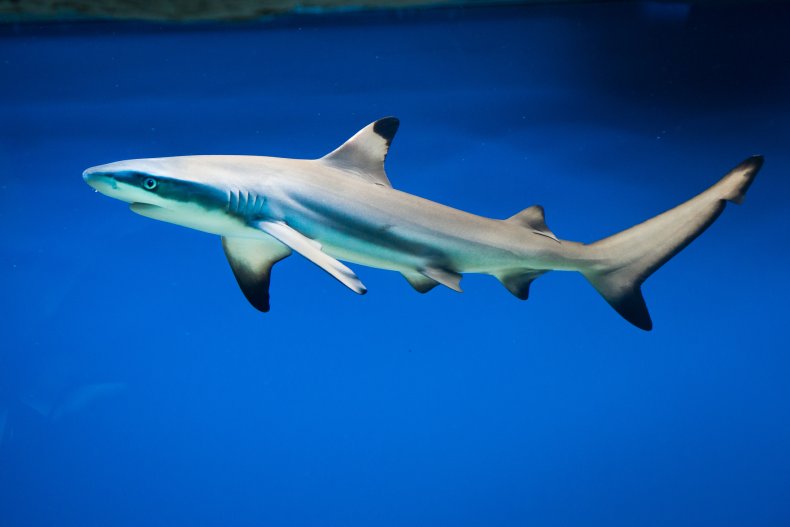 Hawaii County displayed signs at Kealakekua Bay State Historical Park—a Marine Life Conservation District area popular with snorkelers, scuba divers and kayakers—alerting the public to the incident, Honolulu Star-Advertiser reported. Tours in the area were also stopped.
Officials closed Kealakekua Bay after the incident, causing 17 kayakers to become stranded at Kaawaloa Flats near the Captain Cook Monument. They were rescued by Jet Ski and taken to Napoopoo Landing, and their vessels towed, West Hawaii Today reported. The bay will stay closed until at least midday on Wednesday, officials told the Honolulu Star-Advertiser.
Hawaii County's Chopper 1 will perform an aerial survey at 11 a.m. on Wednesday to check if the beach is safe to reopen, West Hawaii Today reported.
Hawaii Fire Department Battalion Chief William Bergin told the Honolulu Star-Advertiser it was unclear whether the woman was a tourist or Hawaii resident.
Bergin said the high surf can make visibility in the water poor. "According to local fishermen, this time of year there's a lot of fish in the area, so it does attract a lot of sharks and dolphins birthing," he said.
The incident is the ninth human encounter with a shark in Hawaii this year.
In May, a 65-year-old man died after a shark bit him while he was swimming in Maui, ABC13.com reported. Maui Police Department identified him as Thomas Smiley of Granite Bay, California. He emerged from the water without a leg.
Witness Allison Keller told Hawaii News Now Smiley was pulled from the water, and appeared to be unconscious.
Keller said: "As we got closer, I saw some blood on his stomach and then I got looking a little bit more and his wrist, it looked like the skin on his wrist was just torn off. And then I got looking closer and his entire left leg from his knee down was just missing."