Hawaii Shark Attack Victim, 56, Dies in Hospital
An amateur surfer who was attacked by a shark off the coast of Hawaii has died from his injuries.
The 56-year-old man from Lahaina, Hawaii, was paddling in Honolua Bay, Maui, on Tuesday morning when he encountered a shark. He was given first aid on shore and then rushed to hospital in a critical condition.
The man died on Wednesday, Tracy Dallarda, a spokesperson for the Maui Memorial Medical Center, told the Honolulu Star-Advertiser. No additional information was given.
Photos shared by the Hawaii Department of Land and Natural Resources (DLNR) showed a huge bite mark—about 17 inches wide—in the man's surfboard. It is not known which species of shark attacked him.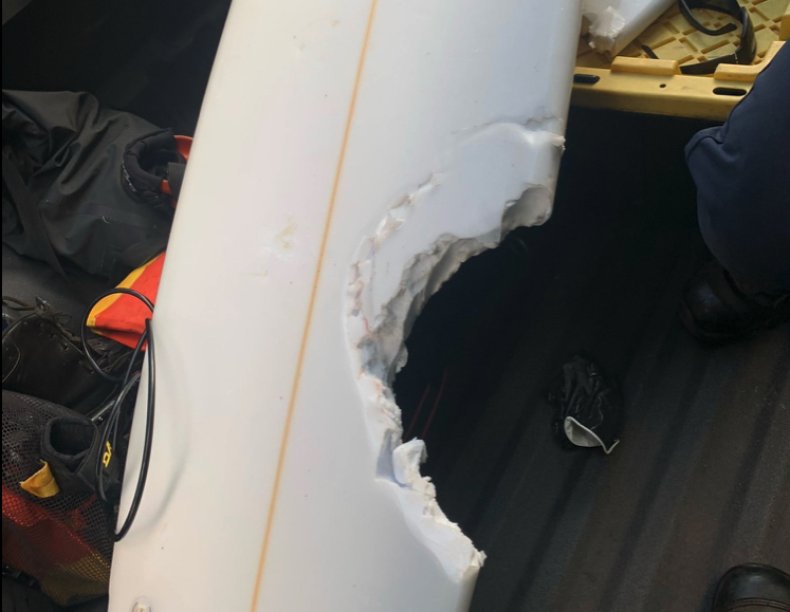 Signs warning that a shark had been in the waters were put up around Honolua Bay after the attack.
On Tuesday, the DLNR said it was not clear whether other people had been in the bay at the time. Water clarity was good, it added.
The incident prompted the organizers of the Maui Pro, a top women's competition and part of the 2021 World Surf League Championship Tour, to postpone its season opener. Surfers Tyler Wright and Sally Fitzgibbons, both from Australia, were among those due to compete.
The shark attacked the man about three hours before the start of the competition, the Australian Associated Press reported.
The World Surf League said in a statement on Thursday: "The WSL has learned that Tuesday's victim of the shark attack at Honolua Bay has tragically passed away. Our thoughts and hearts are with the victim's family and friends, as well as the entire Maui surfing community."
According to a list of human-shark encounters kept by the state of Hawaii and last updated in September, three such incidents have occurred this year. In one case, a person suffered a cut to their ankle while snorkeling. Another person was cut on their right hand while surfing.
The man's death comes after a woman was reportedly bitten by a shark off the coast of West Maui on Thanksgiving Day.
Maui County Fire Department attended the scene because of reports of a possible drowning and said the 35-year-old woman, who was visiting from California, had experienced "severe trauma from what was believed to be a shark bite."