Kilauea New Threat: Hawaii Volcano May Start Spewing Massive Boulders
Hawaii's Kilauea volcano could soon experience "explosive eruptions" that will bring acid rain, ash and rock projectiles, the U.S. Geological Survey (USGS) has warned.
After hundreds of people were evacuated last week following an eruption and an earthquake, local officials announced late on Wednesday that another fissure had opened up in the volcano.
Commenting on the so-called ballistic projectiles, Tina Neal, the scientist in charge of the USGS Hawaiian Volcano Observatory, told Reuters: "This is the first of perhaps more events like that to come."
Related: Hawaii hit by strongest earthquake in 43 years, as lava consumes homes
The USGS has estimated that by mid-May the volcano could begin shooting rocks weighing several tons for over half a mile.
"Steam-driven explosions at volcanoes typically provide very little warning," the USGS advisory explained.
"Once the lava level reaches the groundwater elevation, onset of continuous ashy plumes or a sequence of violent steam-driven explosions may be the first sign that activity of concern has commenced."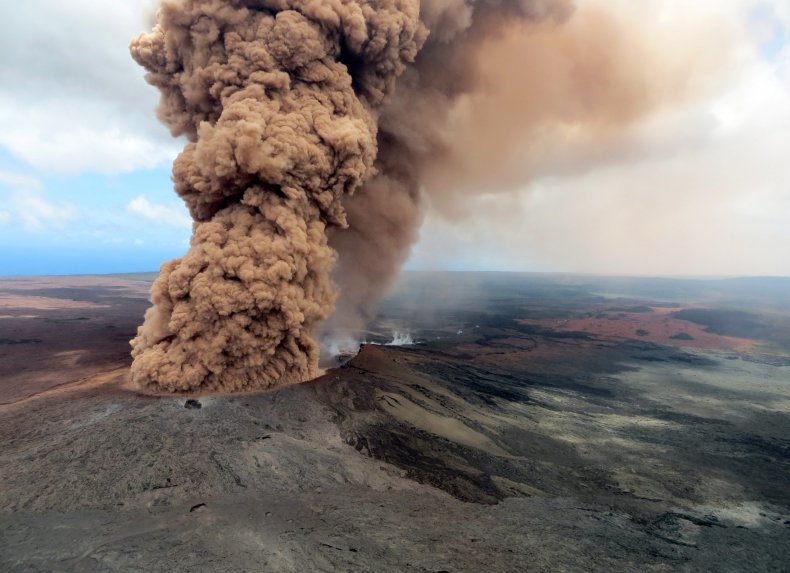 "At this time, we cannot say with certainty that explosive activity will occur, how large the explosions could be, or how long such explosive activity could continue," the report added.
Bad weather could also bring acid rain, according to the Weather Channel. Sulfur dioxide gas and other volcanic pollutants can form as volcanic smog when they settle with moisture and dust. The droplets in the so-called "vog" become sulphuric acid.
According to the U.S. Environmental Protection Agency the rain does not pose a serious threat to humans, but the vog buildup before acid rainfall can cause respiratory issues.
"Walking in acid rain, or even swimming in a lake affected by acid rain, is no more dangerous to humans than walking in normal rain or swimming in non-acidic lakes," the EPA says. "However, when the pollutants that cause acid rain are in the air, they can be harmful to humans."