Hawaii Volcano: Strongest Earthquake in 43 Years Hits Island as Lava Consumes Homes
Hundreds of people have left their homes in Hawaii after a volcano eruption and an earthquake hit the island, destroying at least two properties.
Lava from Kilauea Volcano destroyed two homes on the Big Island of Hawaii shortly before a 6.9-magnitude earthquake shook the area on Friday.
"We all have to understand how traumatic it is for the people being affected," Harry Kim, the mayor of Hawaii County said at a conference, ABC reported. He confirmed that besides the two ruined homes, the lava also damaged a subdivision road and heavily forested private property.
Kilauea is one of the world's most active volcanoes, existing in a state of constant eruption for 35 years, according to Reuters. Its lava flows have spread over an area of around 48 square miles, according to the U.S. Geological Survey, though predicting how long the eruption lasts is nearly impossible.
Read More: California beats the U.K. to become the world's fifth biggest economy again
The earthquake, although the most powerful on the island since 1975 according to CNN, was not as destructive as feared, authorities said. Four or five landslides forced a road closure near the coastline and a handful of buildings sustained "minor" damage, Talmadge Magno, Civil Defense administrator said. But beyond that, he concluded that "nothing came out of" the jolts.
On the other hand, the volcano devastation showed no signs of abating as Magno said on Friday the at least five volcanic vents had opened and the eruption did not " look like it is slowing down."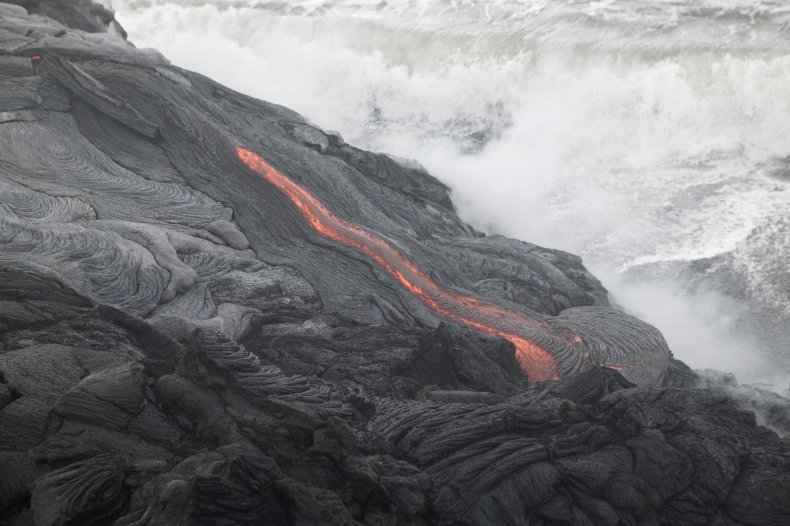 Authorities have ordered at least 1,800 people ro evacuate in the areas close to the volcano, currently mostly in the south. The state's National Guard was deployed on Governor David Ige's orders, "to provide support to county emergency response personnel to help with evacuations and security."
The guard will help evacuate around 770 structures that near the lava's path in the island's mountainside subdivision. Locals moved from their homes are being settled into shelters opened at two community centres, local NBC affiliate KHNL reported. So far, there are no immediate reports of injuries, according to Doug McCormick of Hawaii County's health and safety departments.