An endangered Hawaiian monk seal has died from a parasitic disease he had been battling for the last four weeks.
The seal, known as Kolohe by volunteers and members of the community, was admitted to The Marine Mammal Center's Kailua-Kona center in mid October after being diagnosed with toxoplasmosis. This is a deadly disease caused by the parasite Toxoplasma gondii, which enters the environment via cat feces.
Toxoplasmosis causes the vital organs to stop functioning properly, affecting the brain, heart, lungs, muscles and nervous system. Kolohe, also known as RW22, is at least the 15th Hawaiian monk seal to die from the disease since 2001. He is the only the second monk seal to survive with the disease for long enough to receive treatment.
"Toxoplasmosis is a complex and deadly disease that requires intensive daily treatment and management for an affected Hawaiian monk seal like RW22," Sophie Whoriskey, from the Hawaiian Monk Seal Conservation at The Marine Mammal Center, said in a statement. "All of us are deeply saddened about this unfortunate outcome but we find hope in knowing the valuable insights gained about how this deadly disease affects monk seals will have a positive impact on future patients."
A member of the public first noticed Kolohe was in trouble on October 4. He had been spotted with a fishing line, swivel and lead sinker coming from his mouth. He appeared inactive, floating around the water for long periods.
Staff from NOAA Fisheries picked Kolohe up and took him to their center for evaluation. X-rays showed he had ingested fishing gear and blood tests revealed he was also suffering from toxoplasmosis. The NOAA said it was with "heavy hearts" that they were announcing his death.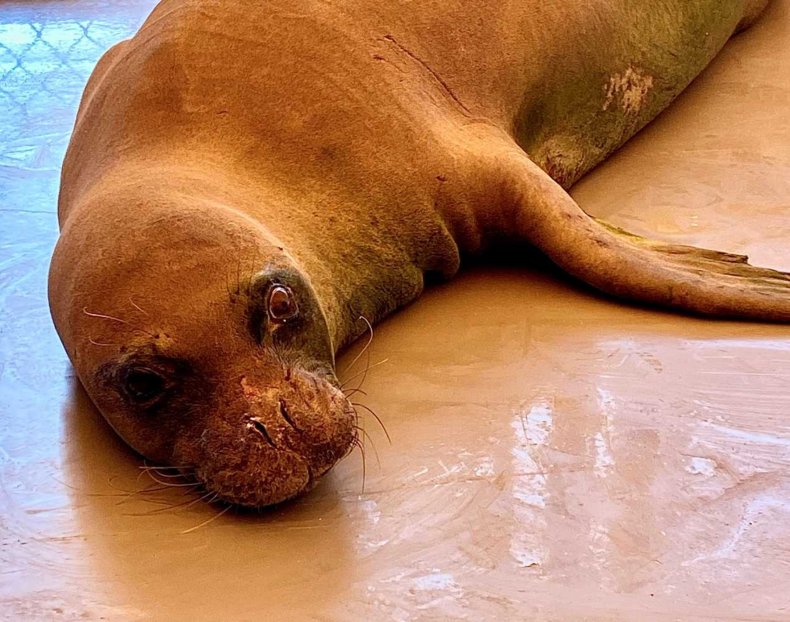 "Toxoplasmosis is the number one disease threat to recovery of these endangered animals," Angela Amlin, Hawaiian Monk Seal Recovery Coordinator at NOAA Fisheries, said in a statement. "The more partners and local communities can work to address this issue, the better for monk seals and other native species in Hawaii affected by this disease. We applaud our partners at the Center for their incredible efforts and are very grateful for their partnership and dedication to RW22 and the species."
The Hawaiian monk seal is one of the most endangered seals in the world. Its numbers have been falling for at least 60 years, with around 1,400 individuals left on the islands. Human induced threats include habitat loss, fishing entanglement and intentional killing.
In Kolohe's case, toxoplasmosis is preventable if cat owners keep their pets indoors. "To help protect endangered Hawaiian monk seals like RW22 from toxoplasmosis, simply dispose of cat litter in the trash, keep your cats safe indoors and tell your community about how they too can prevent this disease from harming more marine mammals," a statement from The Marine Mammal Center said.