'Hawkeye' Trailer: Where Is Linda Cardellini? First Look At MCU Disney+ Show
Hawkeye is coming to Disney+ on November 24 - right in time for Christmas - and the series itself seems to have a festive theme, as the first trailer has revealed.
In the new preview, Clint Barton (played by Jeremy Renner) waves his family goodbye once more to head off on another adventure, this time to try and find out about the new vigilante in town.
The vigilante seems to be wearing his old outfits and using his trademark bow and arrow, meaning he fears his past may come back to haunt him.
However, as Barton is seen bonding with his family, one vital component seems to be missing: Laura.
Where Is Linda Cardellini in the New Hawkeye Trailer?
Linda Cardellini, who plays Laura Barton, is conspicuously absent from the new Hawkeye trailer, which shows Clint Barton and his family trying to move on after The Blip and various other issues.
They are living in New York City, rather than their previous home in the country, and enjoy everything the city has to offer.
Apparently that includes a new musical about Steve Rogers, which many fans are certainly keen to know more about.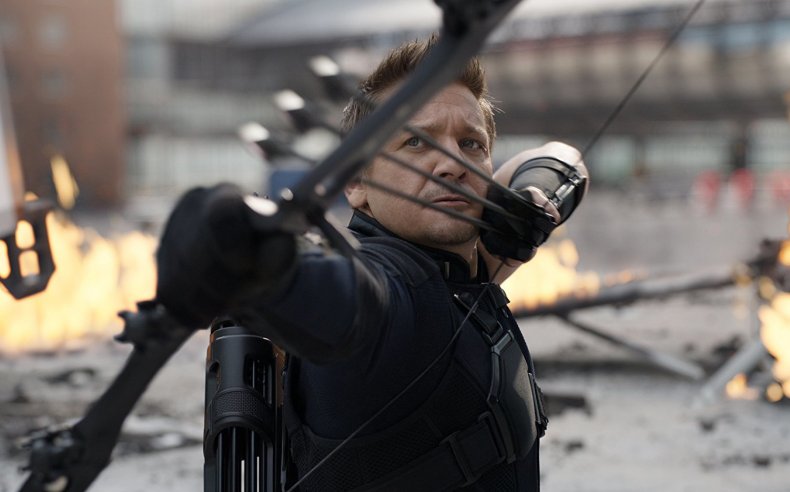 However, as Barton talks about "making up for lost time" with his family, he is only embracing his three children rather than his wife.
Further confusion comes when he speaks to someone on the phone while away on a mission, referring to them as "babe," which suggests his wife is still on the scene.
In the comics, Hawkeye's wife Laura does appear, and her death causes Clint to become an edgier vigilante than before.
This was seen as a result of Avengers: Infinity War, when Laura and the children were obliterated in The Snap.
However, things have moved on from there and he is about to begin working with a new partner, Kate Bishop (Hailee Steinfeld), though there does not seem to be anything romantic in the new series.
Fans have expressed their sadness at Cardellini's absence, though others have hypothesized about whether this could mean other exciting projects are on the way, such as a reunion of the hit Judd Apatow-produced series Freaks and Geeks, in which Cardellini starred.
There is also a chance Cardellini will appear later in the show, but has not featured in the first trailer.
So far, Cardellini has not been confirmed among the cast for the show.
Who Will Appear In Hawkeye?
The confirmed characters leading the show is Hawkeye himself, as well as Kate Bishop and Yelena Bulova (Florence Pugh), who had her debut in the Natasha Romanoff movie Black Widow.
Other stars joining are Fra Fee as Kazi, Alaqua Coz as Maya Lopez, A.K.A. Echo, and Vera Fermiga as Kate Bishop's mother Eleanor.
Tony Dalton will play Jack Duquesne, Clint's mentor, and Zahn McClarnon will plays William Lopez, Maya's father.
Brian d'Arcy James is to appear in an as-yet unknown role, while reports also suggested Vincent D'Onofrio, who played Kingpin in the Marvel series Daredevil, may also appear in the show.
Finally, Ben Sakamoto, Ava Russo, and Cade Woodward all return to the show as Clint's children.
Hawkeye lands on Disney+ on November 24.