Hawley Says It's Misogynistic to Ask Justice Thomas to Recuse Jan. 6 Cases
Senator Josh Hawley is pushing back on calls for Justice Clarence Thomas to recuse himself from cases related to the January 6 Capitol riot amid revelations that his wife, Ginni, urged former White House chief of Staff Mark Meadows to help overturn the results of the 2020 election.
Asked about the texts Ginni sent to Meadows, Hawley told CNN's Manu Raju on Monday that it would be "misogynistic" to suggest that the Supreme Court justice recuse himself. The senator added that he wouldn't comment further on the messages because Ginni is a "private citizen."
"She's an independent, adult woman," Hawley said. "It just seems a little strange to me all of these calls for her husband to be what, like, minding her better? Frankly, I think it's kind of misogynistic."
Since the Washington Post and CBS News broke the news of the texts last week, there have been growing calls from the Democrats for Thomas to bow out of cases involving the election, pointing to the conflict of interest created by his wife's role in seeking to overturn the results.
"You cannot have a justice hearing cases related to this election, and, in fact, the ethics rules that apply to all the other federal judges say that if it involves a family member—the appearance of impartiality—they have to recuse themselves," Senator Amy Klobuchar said in an appearance on ABC's "This Week" on Sunday.
Senators Dick Durbin and Richard Blumenthal, who both serve on the Senate Judiciary Committee, have also called on Thomas to recuse himself, with Blumenthal adding that he thinks the committee should investigate the matter.
"I think Chief Justice Roberts ought to demand a public explanation from Justice Thomas, and he must absolutely recuse himself," Blumenthal told Raju on Monday.
The latest developments have cast a shadow over Thomas' lone dissenting vote from earlier this year during which the justice voted to block the National Archives from releasing documents related to the January 6 attack to the House panel investigating the event.
Questions as to whether Thomas was trying to protect documents that could implicate his wife have arisen in the days since the news of the text messages to Meadow were reported.
Over the weekend, Senator Cory Booker said the moment should be used for the Supreme Court—which is not governed by a code of ethical conduct—to reevaluate how justices police themselves.
"There are ethics rules that they hold lower courts responsible for that they don't put upon themselves," Booker said on NBC's "Meet the Press."
"I think that [Supreme Court justices] need to use this Thomas affair as an opportunity to change their ethics rules," he added.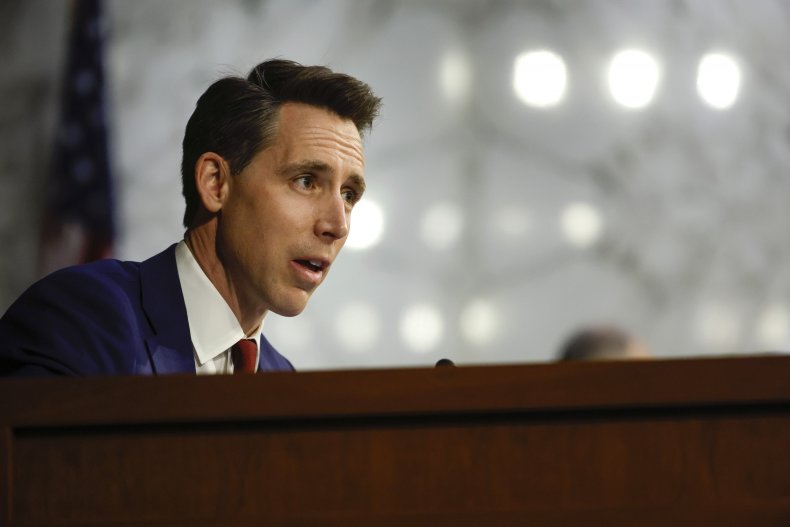 On Monday, it was reported by CNN that the House committee investigation January 6 will request to interview Ginni Thomas, who is a conservative activist, about the 29 text messages in which she pleads with Meadows to overturn the election.
She recently revealed she attended the rally that preceded the storming of the Capitol but said she did not play a role in planning the event.
Newsweek reached out to Blumenthal for further comment but did not hear back before publication.