The head of the second largest teachers union in the United States voiced concerns about the spread of the Delta variant in schools, saying that masks will help protect students and keep them in schools while on CNN Monday morning.
Randi Weingarten, the president of the American Federation of Teachers and Congress of Industrial Organizations [AFT-CIO], stressed the importance of schools safely reopening to host Jim Sciutto.
"Schools will be open. They need to be open," she said. "We need to make sure that they are safe and healthy."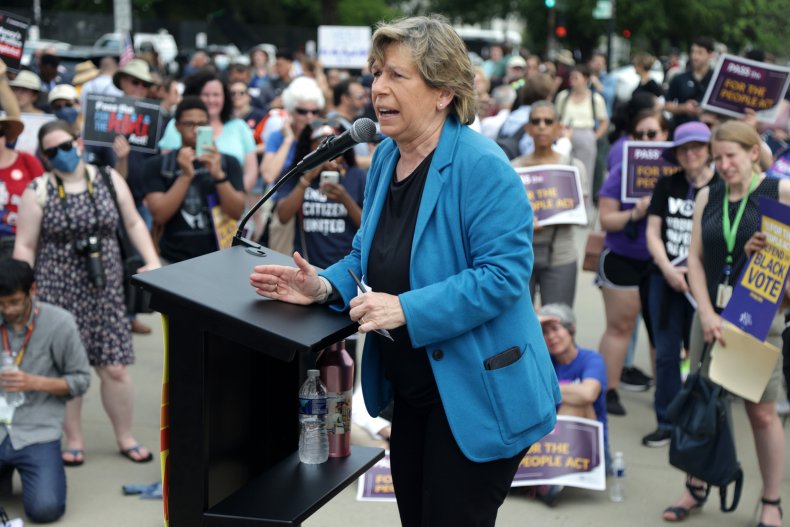 When Sciutto asked if schools will stay open, she responded: "That's where we worry because when you have lots of kids, particularly every child under 12 has not been vaccinated. We see the Delta variant being very transmissible, so that's why what masks do—masks stop transmission."
She said universal masking will "be very helpful to keep kids safe, to keep the unvaccinated safe, and to keep schools open."
"We need kids to be in school," she said. "We need everybody to be safe. We need to focus on accelerated learning. We need to focus on the emotional and social well-being of kids."
She said teachers are concerned about keeping every student from the virus when schools reopen.
"Teachers are very scared about this," she said. "I was with two groups of teachers on Saturday—one in Jacksonville, one in Polk County [Florida]. Again, we're very serious about reopening schools, safe and welcome environments for all. All educators want that."
Weingarten has long supported students safely returning to school. In a press release sent to Newsweek, the AFT-CIO said they were launching a $5 million "Back to School for All" initiative to go door-to-door to engage students, families, and educators, as well as promoting the COVID-19 vaccine and in-person learning. In the statement, she described the Delta variant as a "curveball."
"We need to exercise caution and continue with mitigation strategies: masking, ventilation, testing and, of course, the promotion of vaccines—the single most effective tool we have," she said.
She described schools as "critical for our kids recovery."
"This moment is an opportunity to fund our future fully and equitably, to create public schools where educators want to teach, parents want to send their kids, and kids can learn," she said in the statement.
Teachers have a high vaccination rate. By the end of March, nearly 80 percent of teachers, school staff, and childcare workers received at least one shot of the vaccine, according to the CDC. Sciutto said that number has increased to about 90 percent when speaking to Weingarten.
Medical experts are warning that students should wear masks ahead of schools reopening. In July, the American Academy of Pediatrics issued a recommendation that all students should wear masks in the fall.
Sara Bode, MD, the chairperson-elect of the AAP Council on School Health Executive Committee had said "it's important to use every tool in our toolkit to safeguard children from COVID-19," including masking.
"Universal masking is one of those tools and has been proven effective in protecting people against other respiratory diseases, as well," she said. "It's also the most effective strategy to create consistent messages and expectations among students without the added burden of needing to monitor everyone's vaccination status."
The CDC now recommends fully vaccinated people wear masks in public in counties where COVID-19 transmission is high. They also advise all people in K-12 schools wear masks, even if they are vaccinated.