When the survivors of the Parkland, Florida, massacre began channeling their grief into a call for change, 18-year-old Sean Jenkins, a student at a Pennsylvania high school, knew this school shooting would be different.
The Pennridge High S chool senior and his classmates are among a new generation of student activists making their voices heard in the fight for gun control. On Saturday, thousands of teenagers from across the U.S.—Pennridge kids included—will descend on Washington, D.C., for the March for Our Lives, led by the survivors of the Parkland shooting and calling for an end to gun violence.
Seeing students in Florida move the gun control needle was inspiring, Jenkins told Newsweek. "Even though we're just students and most of us can't even vote yet, the Parkland kids showed us and thousands around the country that we can make a real difference if we fight for it."
'We Are a Force to Be Reckoned With'
Jenkins and his friends went viral when he and more than 200 of his classmates received detentions for participating in a national student walkout on March 14. In a show of solidarity with their peers in Parkland, the Pennridge students have become active participants in a national debate over gun control, the Second Amendment and the roles young people can play in politics, and have started using the hashtag #Pennridge225 to help spread their anti-gun violence message.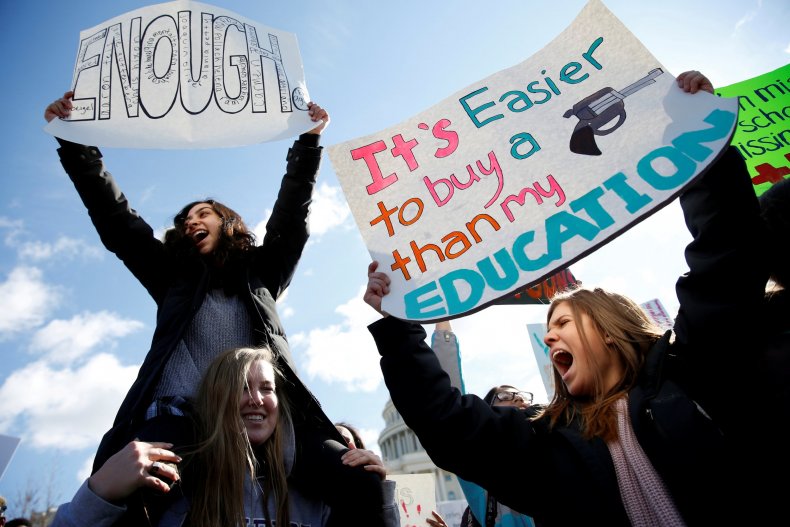 Joey Merkel, a 17-year-old junior at Pennridge, told Newsweek that he learned about the shooting from a notification on his phone.
"As heartbroken as it made me, the fact of the matter is, it almost began to be unsurprising," he said, adding that the incident made him realize the state the country was in when 17 dead at a school shooting was "just another occurrence."
"From then on I have done everything in my power to support the victims of Parkland in making sure that school shootings become a thing of the past, and to where our nation does not become desensitized to horrific tragedy," he said.
Senior Vinny Polignano, 18, said he also was not surprised by the shooting in Parkland. "I wasn't as...incredulous as I had been for past mass shootings," he told Newsweek. "It didn't take my breath away or cause a physical response. It has become commonplace, disturbingly."
Polignano told Newsweek that it was important to rally his fellow students to participate in the national walkout "because we are not the apathetic, self-absorbed, glued-to-our-phones teens that many adults make us out to be."
He added: "I hoped to show people in positions of power, as well as my classmates, that we are a force to be reckoned with. Our thoughts matter, our votes matter, and most importantly, so do our lives."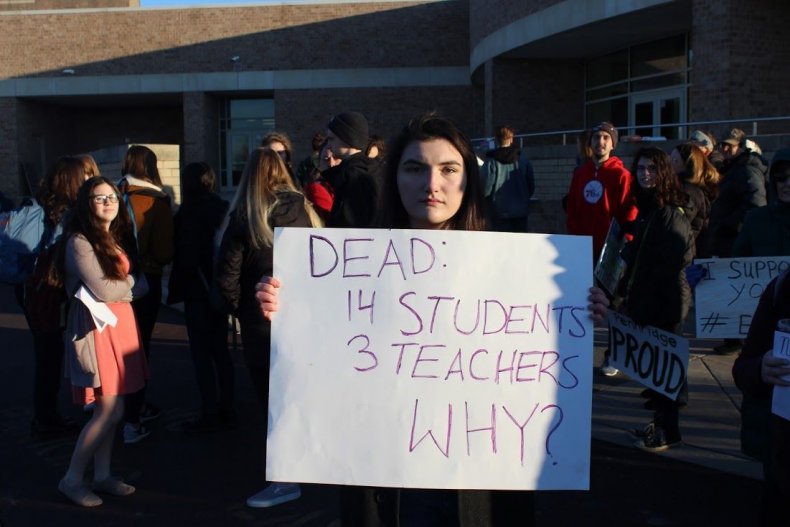 'I Was Praying It Was a False Alarm'
As the students prepared to head down to D.C. for the March for Our Lives, news emerged that another school shooting had occurred.
Two students were shot at Great Mills High School in Lexington Hills, Maryland, on Tuesday. The student shooter, identified as 17-year-old Austin Wyatt Rollins, was later killed after exchanging shots with the school resource officer.
"I couldn't believe my eyes as I read the news. I was praying it was a false alarm, or even just an accidental firing with no injuries. Hearing that it was an intentional attack was heartbreaking," Anna Sophie Tinneny, a 17-year-old senior at Pennridge, told Newsweek. "But I feel more motivated than ever to make mass shootings a thing of the past, for Great Mills, for Parkland, for Las Vegas, and for everyone."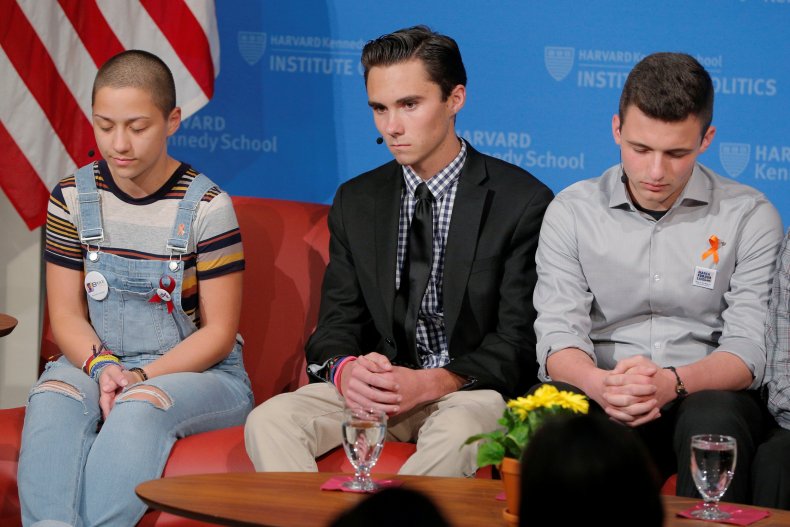 The Pennridge students will be among hundreds of thousands in D.C. on Saturday advocating for immediate change—Mayor Muruel E. Bowser told reporters the District is prepared to accommodate an estimated 500,000 people for the anti-gun violence march. But they are also looking toward the future. Jenkins told Newsweek that he and his fellow #Pennridge225 admins were chosen as ambassadors for Eighteen X '18, a campaign founded by actress Yara Shahidi to encourage younger generations to get involved and vote.
Minette Nelson, a 63-year-old from San Francisco who identifies as a supporter of Eighteen X '18, first reached out Tinneny after hearing of the detentions. Nelson rallied people on social media and crowdfunded pizza for the students who were handed punishments while participating in the walkouts.
Nelson said she became involved with Eighteen X '18 because she thinks "this generation needed to be heard from and deserved a voice." She went on to draw parallels between the rise of student activism now to that seen during the Vietnam War, calling both a "fight for their lives."
"I think it's about time," Tinneny's mother, Heather McCarron told Newsweek about the surge of political activism among American teens. "These school shootings have been happening for a long time. You know, 18…20 years. And if somebody doesn't do something, they're going to continue."
McCarron and her husband said they will be driving the Pennridge students down to D.C. for the march. "I think the Parkland students opened the floodgates," she said, adding that the survivors inspired other students to step up.
Students participating in the march have also received the support of politicians, including President Barack Obama, and survivors of other mass shootings.
Emma McMahon was 17 when she survived the Arizona shooting that nearly killed Representative Gabrielle Giffords and is part of a group of mass shooting survivors who will be marching on Saturday as part of Everytown for Gun Safety. She told Newsweek that the way the students of Parkland and those across the country have responded gives her hope for future generations.
"I know the pain of having a safe place taken from you," she said. "It shatters your sense of security and suddenly everything feels like a threat. These young activists took that fear and that trauma and have transformed that energy into action."
'We're Not Going Away'
Saturday's march is not an end game for the students fighting for gun legislation and an end to gun violence. The four students appear determined to continue their work long after the march in D.C.
Tinneny told Newsweek that her group has spent time looking at current gun legislation and figuring out what they want to change and how to make that change happen. "We are prepared to keep protesting, speaking out or meeting with politicians to ensure that the epidemic of gun violence ends here," she said.
"We've been contacting legislators in hopes to meet and discuss gun reform," she continued. "We hope that the march shows lawmakers that we demand gun control reform, we haven't forgotten, and we're not going away."