Health Officials Warn Against Self-Medicating With Chloroquine for Coronavirus After Man Dies From Taking Fish Tank Cleaner
Amid the pandemic of COVID-19 for which there is currently no treatment, doctors have urged the public not to self medicate after an Arizona man died and his wife was put in critical care. The pair, both in their 60s, took chloroquine phosphate, an additive used to clean fish tanks.
A different formulation of the compound is also used in antimalarial medication, which has hit headlines recently as a potential treatment for COVID-19. Scientists in Australia are among those planning to test the drug on COVID-19 patients in a clinical trial, while researchers in France published promising results from a preliminary trial on the closely related medication hydroxychloroquine.
In a press conference last week President Donald Trump said the common malaria drug had "shown very very encouraging early results" in COVID-19 patients. The U.S. Food and Drug Administration (FDA) commissioner Stephen Hahn said the body would "take a closer look" at the drug in clinical trials "to actually gather that information and answer that question that needs to be asked and answered." The FDA states on its website it has not approved any drugs specifically for the treatment of COVID-19 patients.
According to a statement by nonprofit health care system Banner Health in Phoenix where the husband and wife were treated, 30 minutes after taking the substance "the couple experienced immediate effects" and were hospitalized.
The man's wife, who did not want to be named, told NBC News that when she heard Trump mention chloroquine as a potential COVID-19 drug, she recognised the name as a parasite treatment for her koi fish.
"I saw it sitting on the back shelf and thought, 'Hey, isn't that the stuff they're talking about on TV?'" she said, adding: "We were afraid of getting sick."
Around 20 minutes after taking the drug the couple felt "dizzy and hot," and she started vomiting.
"My husband started developing respiratory problems and wanted to hold my hand," she said.
The woman called 911, but "was having a hard time talking, falling down."
She urged others to "be careful and call your doctor," adding: "This is a heartache I'll never get over."
Dr. Daniel Brooks, medical director of Banner Poison and Drug Information Center, said in a statement: "Given the uncertainty around COVID-19, we understand that people are trying to find new ways to prevent or treat this virus, but self-medicating is not the way to do so.
"The last thing that we want right now is to inundate our emergency departments with patients who believe they found a vague and risky solution that could potentially jeopardize their health."
Banner Health stated most COVID-19 patients will simply need to manage their symptoms and self-isolate to prevent spreading the virus to others.
"The routine use of specific treatments, including medications described as 'anti-COVID-19,' is not recommended for non-hospitalized patients, including the anti-malarial drug chloroquine," the Banner Health statement read.
The organization said: "Medical toxicologists and emergency physicians are warning the public against the use of inappropriate medications and household products to prevent or treat COVID-19. In particular, Banner Health experts emphasize that chloroquine, a malaria medication, should not be ingested to treat or prevent this virus."
In a tweet on Friday, the Nigeria Centre for Disease Control and Prevention similarly urged the public not to take chloroquine for COVID-19 as it has not been approved after people were poisoned, according to officials in Lagos.
Professor Martin Marshall, chair of the U.K.'s Royal College of GPs [General Practitioners], told Newsweek: "News about COVID-19 has saturated the media and social media—but as well as important advice for patients about the pandemic, there is also a lot of dubious and sometimes dangerous information out there.
"Unfortunately, there is currently no treatment for COVID-19, although a lot of work is ongoing to find a vaccine for the virus. If people do read about a treatment online, it is likely to be fake news."
Marshall warned using unverified health advice as a basis for self-medication "can have potentially harmful consequences" and increase the strain on health care systems. He advised people to turn to official sources for information about COVID-19, such as the website of the U.K.'s National Health Service.
As indicated in the map by Statista below (accurate as of March 23), the U.S. and Nigeria are among the countries where the virus which causes COVID-19 has spread. Since the epidemic started in China late last year, more than 382,000 cases have been confirmed, over 16,500 people have died, and more than 101,800 have recovered.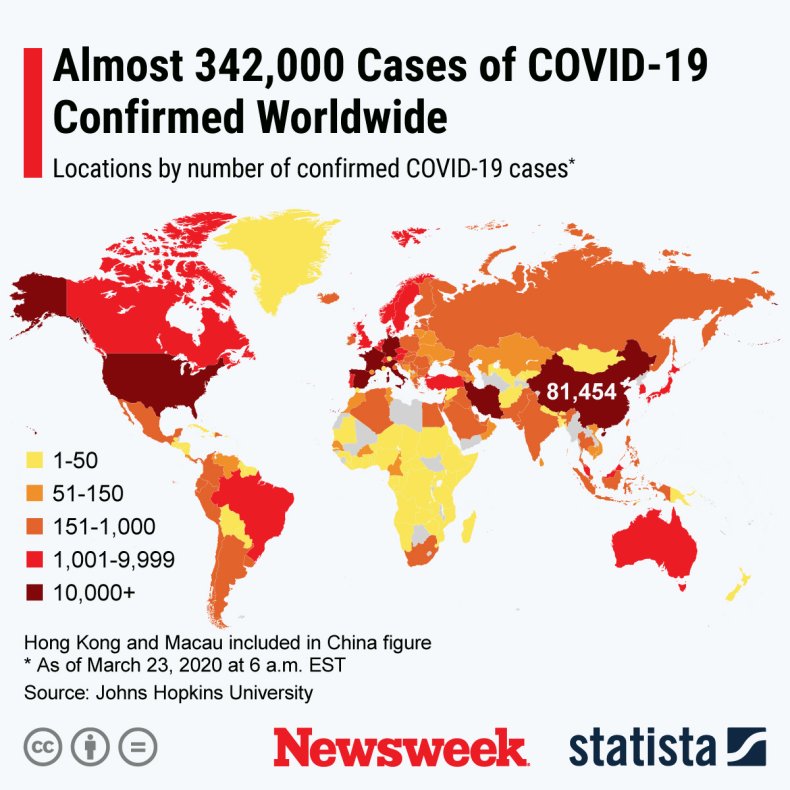 World Health Organization advice for avoiding spread of coronavirus disease (COVID-19)
Hygiene advice
Clean hands frequently with soap and water, or alcohol-based hand rub.
Wash hands after coughing or sneezing; when caring for the sick; before, during and after food preparation; before eating; after using the toilet; when hands are visibly dirty; and after handling animals or waste.
Maintain at least 1 meter (3 feet) distance from anyone who is coughing or sneezing.
Avoid touching your hands, nose and mouth. Do not spit in public.
Cover your mouth and nose with a tissue or bent elbow when coughing or sneezing. Discard the tissue immediately and clean your hands.
Medical advice
If you feel unwell (fever, cough, difficulty breathing) seek medical care early and call local health authorities in advance.
Stay up to date on COVID-19 developments issued by health authorities and follow their guidance.
Mask usage
Healthy individuals only need to wear a mask if taking care of a sick person.
Wear a mask if you are coughing or sneezing.
Masks are effective when used in combination with frequent hand cleaning.
Do not touch the mask while wearing it. Clean hands if you touch the mask.
Learn how to properly put on, remove and dispose of masks. Clean hands after disposing of mask.
Do not reuse single-use masks.
This article has been updated with comment from Professor Martin Marshall.