Heartbreaking Photo Shows Family Contacts Written on Ukrainian Child's Back
A heartbreaking image that shows one Ukrainian family's contact information written on their child's body has gone viral.
The image was posted to Instagram over the weekend by the child's mother, Sasha Makoviy. It was later reposted to Twitter by Anastasiia Lapatina, a journalist with The Kyiv Independent. The photo has amassed more than 23,000 likes on Instagram and over 244,000 likes on Twitter.
It's also received thousands of comments across both platforms from upset social media users, many of whom said they can't "imagine the terror" Ukrainian parents are enduring.
"[I] signed [my daughter] in case something happened to us," Makoviy wrote in her post's caption, according to Google translate. "Then a crazy thought flashed through [my] mind—'Why didn't I tattoo her with this information?'"
Before Russia launched its full-scale attack on Ukraine, Makoviy and her family were living in the center of Kyiv, said Today. The family has since fled the city, but before they left, Makoviy wrote the identifying information on her daughter's back in permanent marker.
"I tried to imagine if something happened with me and her dad, there would be no information for her," Makoviy told Today. "Who would care for her if she survived? And I really want her to know who she is. So maybe someone could connect her with some relatives."
Makoviy also created a contact card for her daughter, which, according to Today, contained her daughter's grandparents' information.
"I still can't bring myself to [pull] this paper...out of my overalls pocket," she said in her post's caption regarding the contact card. "Although now we are where it is safe."
As previously mentioned, the photo upset many online commenters.
"Really brings things home, can only imagine the terror parents are going through," wrote Denise.
"Omg...there are no words. How is this happening in 2022?!" asked another commenter, also named Denise.
Irina.VanPatten.Author said: "l can't look at this little girl's back without sheer horror. My granddaughter's back is just like hers: small, skinny, innocent. I can't imagine us writing her name on her back. I can't imagine her being scared like this little girl was. I'm so angry right now, I can't breathe."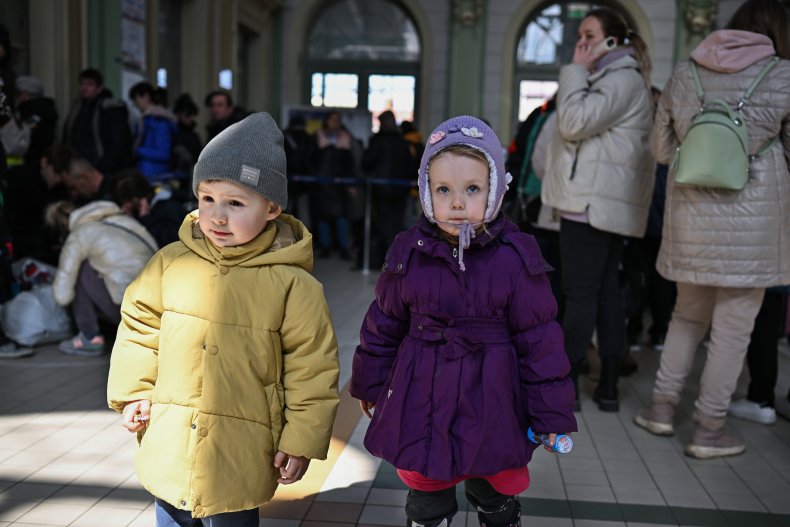 Jac K added: "And here's me with the privilege of knowing my children are safe in their beds as they sleep, they will be safe in school tomorrow and they will still be safe walking to meet their friends the day after. We don't realize how bloody lucky we are."
Data from the United Nations High Commissioner for Refugees (UNHCR) revealed that over 4 million of Ukraine's 41.4 million total population have fled the country since the beginning of Russia's invasion of Ukraine. That number represents roughly 10 percent of Ukraine's pre-war population.
In an effort to help European countries that are struggling to help refugees, The Biden Administration has pledged to resettle 100,000 Ukrainian refugees into the U.S.
For more information on the war in Ukraine follow Newsweek's live blog.